UPDATE - 11/15@4:26PM: Here's the audience selfie taken from the stage:
THE SELFIE! From Geddy's first show in NYC! pic.twitter.com/M0jhbnixe6

— RushCon (@RushCon) November 15, 2023
----- snip -----
UPDATE - 11/15@8:26AM: Here's another show review courtesy the New York Post.
UPDATE - 11/14@8:30AM: Here's Geddy talking about the 2 new songs he's releasing, courtesy YouTuber Lisa D:
Several other video snippets are available on this channel here
----- snip -----
UPDATE - 11/14@8:26AM: RushCon also posted a detailed review of the night where they describe the progression of the show:
----- snip -----
UPDATE - 11/14@8:25AM: Some great video snippets of Ged courtesy RushCon's IG:
----- snip -----
UPDATE - 11/13@10:54PM: Also of note: Geddy's new music was played during intermission.
UPDATE - 11/13@10:16PM: More photos:
Geddy now reading from his book. pic.twitter.com/7QIJNmHYSj

- RushCon (@RushCon) November 14, 2023
Taking audience questions. pic.twitter.com/3T7vf2q4Wq

- RushCon (@RushCon) November 14, 2023
----- snip -----
UPDATE - 11/13@8:59PM: Here's a photo gallery from tonight's event courtesy Cygnus-X1.net.
UPDATE - 11/13@8:30PM: Some photos!
November 14, 2023
November 14, 2023
March. Stage. Book! pic.twitter.com/Ke5zMY5FzW

- RushCon (@RushCon) November 14, 2023
----- snip -----
UPDATE - 11/13@8:21PM: It looks like the show is underway now. Reports indicate that attendees were given their copy of My Effin' Life (unsigned) when they came in the venue, along with the 16-page tour program. There is also a swag stand with Geddy Lee tour shirts! And it definitely is Paul Rudd doing the interview for this night.
November 14, 2023
----- snip -----
UPDATE - 11/13@5:56PM: This guy might be the guest interviewer. He was seen entering the venue.
HOST SPOILER: Seen spotted entering the venue: pic.twitter.com/n0sJG1V7G9

- RushCon (@RushCon) November 13, 2023
----- snip -----
UPDATE - 11/13@3:25PM: Photo from outside the venue:
The time is now again... pic.twitter.com/E8oOflZfSc

- Cygnus-X1.Net (@cygnusx1net) November 13, 2023
----- snip -----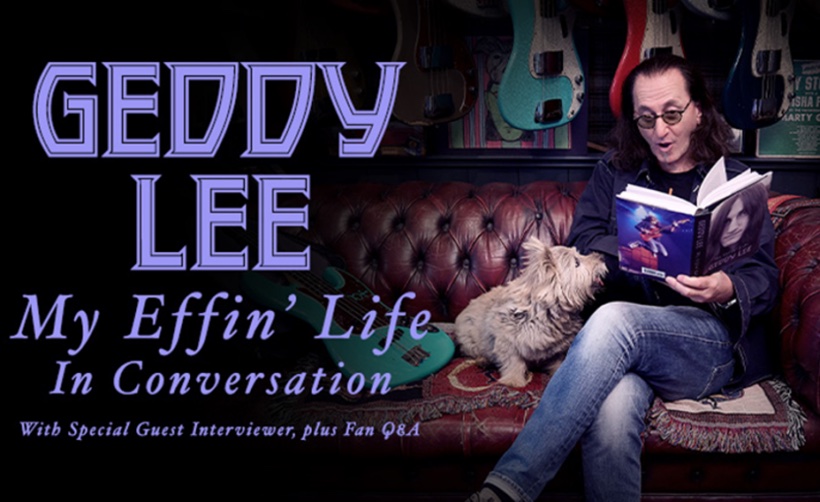 Geddy Lee's long-awaited memoir My Effin' Life is officially released tomorrow, November 14th, and TONIGHT Geddy kicks off his spoken word In Conversation book tour at the Beacon Theatre in New York City. Tickets for the show can be purchased at this location. From the original announcement:
... The evening promises to be an extraordinary experience, a once-in-a-life-time event. After the curtain rises, Geddy Lee will give his fans a peek into the very fabric of his life: from a deep reflection into his family and childhood, to a steep dive into the history of Rush; from the determined pursuit of music, to the personal memories of his life-long friends and band-mates Alex Lifeson and Neil Peart. Joined on stage by a special guest interviewer, Geddy Lee will be reading key passages from his forthcoming book My Effin' Life; he will then share thoughts and stories taken from his experience. Fans will then have the chance to participate in a special Q&A, with Geddy Lee answering their questions directly. ...
There's no word yet on who tonight's guest interviewer will be, but Geddy had mentioned in a previous interview that the interviewer will be different for each night. With regards to the Q&A mentioned, Rush has set up an online form where attendees can submit questions for Geddy prior to the show at this link. All attendees will receive a copy of Ged's book, along with a 16 page color tour book which features unpublished stories, photographs and more. RushCon will be hosting a pre-show hangout at the West Side Comedy Club with special guest Jonathan Dinklage, and you can get tickets to that at this location. After tonight's appearance, Geddy will then hit another 13 dates across the US and Canada throughout late November and early December. The North American leg ends on December 7th at Massey Hall in Toronto before crossing the pond for the UK tour in Wolverhampton on Sunday, December 10th. You can get all the details and learn how to get tickets at Rush.com (North America, UK). In addition to tonight's show, RushCon will also be hosting pre-show hangouts prior to Ged's appearances in Boston (special guest Donna Halper), Chicago, and Toronto, with details and ticket info available at Rushcon.org.