UPDATE - 11/19@10:53AM: Geddy finally got around to posting the group selfie:
----- snip -----
UPDATE - 11/16@1:30PM: Here's a great gallery of photos courtesy John at Cygnus-X1.net:
Geddy Lee "My Effin' Life In Conversation" Tour Pictures - The Met - Philadelphia, Pennsylvania - November 15th, 2023

See the complete gallery here: https://t.co/drUf9lNLtW pic.twitter.com/CsTGOtOi6S

- Cygnus-X1.Net (@cygnusx1net) November 16, 2023
----- snip -----
UPDATE - 11/16@10:12AM: Here's video of the entire show from last night (thanks RushFanForever):
----- snip -----
UPDATE - 11/16@8:16AM: Geddy posted a message to IG after the show, thanking all the fans who showed up in Philly:
----- snip -----
UPDATE - 11/16@8:12AM: Some photos from the night:
What an incredible Effin night it truly was last night at The Met in Philly with #geddylee @rushtheband @themetphilly pic.twitter.com/AJFbdYXTGZ

- Dave Maida (@DaveMaidaMusic) November 16, 2023
----- snip -----
UPDATE - 11/15@9:58PM: John of Cygnus-X1.net is at the event and repports that there are two guest interviewers this evening. The first half was showrunner/producer Brian Koppelman and the second half is DJ Pierre Robert. Here's one photo with Koppelman onstage:
So effin' lucky to see @briankoppelman interview @rushtheband's Geddy Lee tonight in Philly pic.twitter.com/8HpaQ0WqZE

- PhilaFoodie (@PhilaFoodie) November 16, 2023
----- snip -----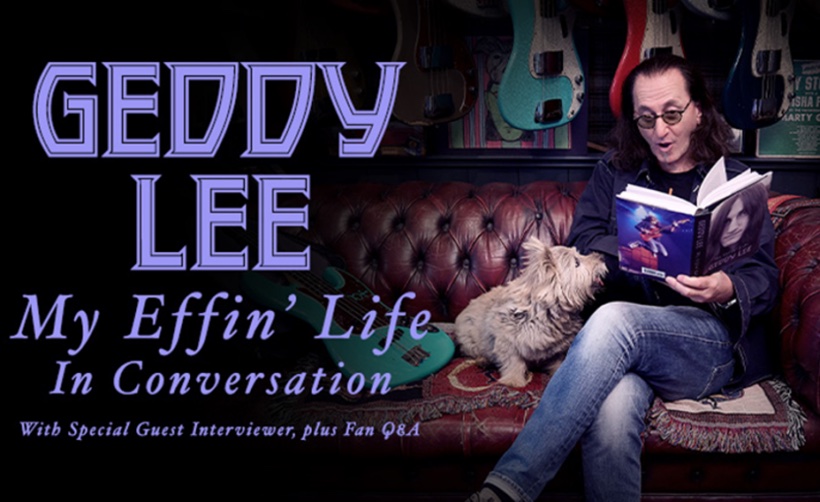 Geddy Lee's long-awaited memoir My Effin' Life was officially released yesterday, and Monday night Geddy kicked off his spoken word In Conversation book tour at the Beacon Theatre in New York City. The tour continues tonight at The Met Philadelphia in Philly, and tickets for the show can be purchased at this location. Geddy will be joined onstage by a surprise guest interviewer; the opening night interviewer was Paul Rudd. All attendees will receive a copy of Ged's book, along with a 16 page color tour book upon entering the venue. Rush has set up an online form where attendees can submit questions for Geddy prior to the show at this link. For a complete rundown of what went down on opening night, and how the show is put together, check out this post. After tonight's appearance, Geddy will then hit another dozen dates across the US and Canada throughout late November and early December. The North American leg ends on December 7th at Massey Hall in Toronto before crossing the pond for the UK tour in Wolverhampton on Sunday, December 10th. You can get all the details and learn how to get tickets at Rush.com (North America, UK).