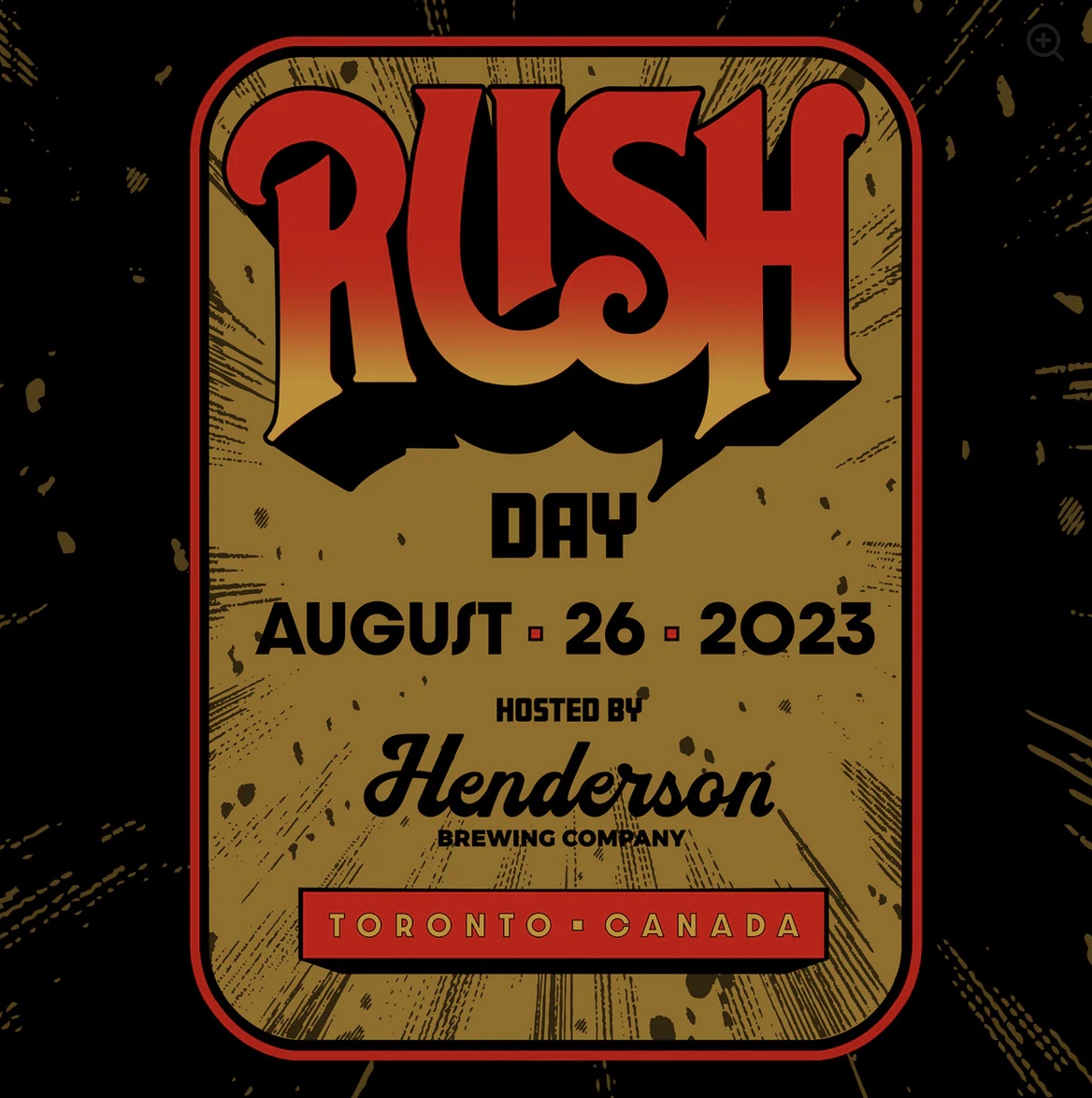 Toronto-based Rush beer producers Henderson Brewing Company will be hosting a Rush Day event at their brewery in Toronto tommorrow, August 26th. The event will feature Rush trivia, limited edition items, Rush memorabilia, a screening of the Time Stand Still documentary, Rush beer guided tastings (attendees will receive a personalized Beer Genuis certificate upon completion), and - of course - lots of Rush beer! Anyone can attend the event, but those who secure their free ticket online will receive a door prize and exclusive access to purchase a LE Rush Day Growler. The beer tastings also require the purchase of a ticket, which are available here. The Rush Day tentative schedule is as follows:
Rush Beer Tastings - Every 45 mins starting at 12PM with tickets limited to 20 per tasting time (ticket required).

Rush Karaoke - 2 sessions: 2 PM & 5 PM - Free to join

Rush Trivia - 2 sessions: 1 PM & 4 PM - Free to join

Rush Storytelling - 3 PM - Free to join, sign up for a slot the day of

Rush Raffle - Every hour starting at 12:30 PM - 7:30 PM - tickets available the day of, plus they'll be auctioning off special Rush items

Screening of Time Stand Still - 8 PM till 10 PM
You can get all the details and reserve a spot here.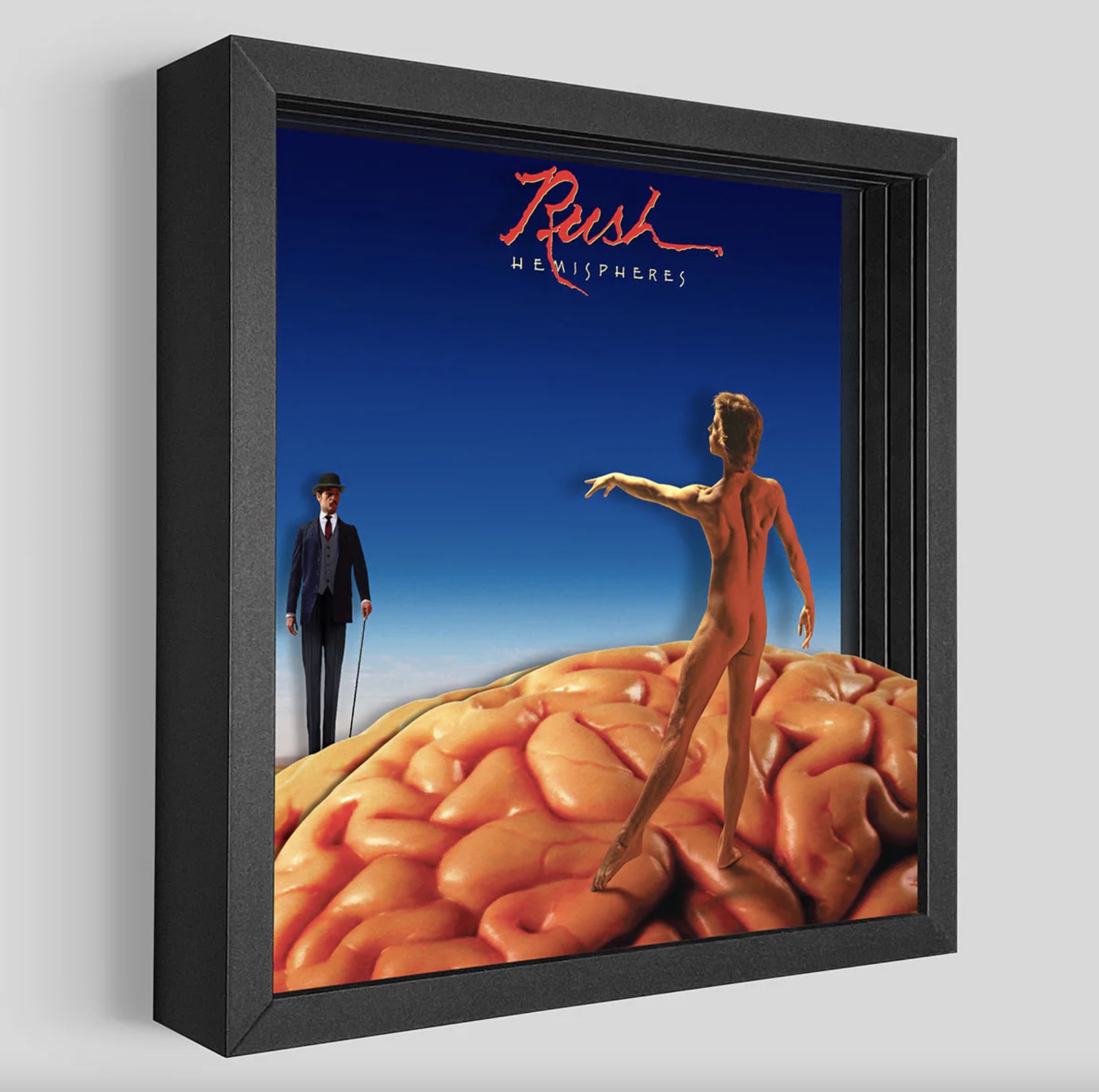 Artovision is a Wisconsin-based company that creates 3-dimensional collectable artwork inspired by popular culture, video games, food and Americana. In April of 2021 they released a set of officially-licensed pieces in celebration of the 40th anniversary of Rush's Moving Pictures album, and followed those up with a pair of pieces commemorating the 30th anniversary of Roll the Bones later that year, two more pieces celebrating Hold Your Fire's 35th anniversary last summer, and a few pieces celebrating the 40th anniversary of Signals including these 2 back in October along with this desktop art piece earlier this year. The latest addition to their collection are a pair of pieces celebrating the upcoming 45th anniversary of Rush's Hemispheres album this October. The first piece is a shadowbox art piece depicting the iconic album art and measuring 14"x14"x2.5" as described here:
This collectible shadowbox art piece measures 14" x 14" x 2 1/2" and comes ready to hang with an official Rush Certificate of Authenticity (COA). Each piece is printed on 1/8" thick optical-grade acrylic with vibrant UV cured inks and set in a high quality finished MDF wood frame, our shadowbox art pieces are handcrafted in Eau Claire, Wisconsin. Officially Licensed by Rush - SRO/YYZ Under License to Merch Traffic
You can purchase the Hemispheres shadowbox piece for $159 at this location. The second piece is a desktop art piece depicting the extended album cover printed on 3/4" thick optical-grade acrylic with vibrant UV cured inks and measureing 12.75"x6". You can purchase the desktop piece for $99 at this location. For more information on Artovision, and to see their complete line of officially-licensed Rush pieces, visit their website at artovision3d.com. You can also follow them on Facebook, Twitter and Instagram, and watch a YouTube video demonstrating the 3-D effect of their Shadowbox art here.



The New York Times online game Connections had a Rush-related clue for this past Monday's puzzle. The idea of the game is to find connections between 4 of 16 things listed out in a grid of tiles. Four of the tiles were Rush, Genesis, Yes and Kansas - which when grouped together formed a Classic Rock Bands connection as seen in the screenshots. Thanks to Derek B and Phil Simon for the heads up.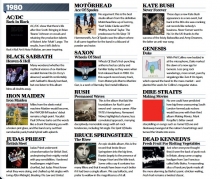 The latest issue of Classic Rock magazine is a special edition celebrating the rock music of the '80s. The issue includes a graphic showing 12 Albums that Built the '80s, one of which is Rush's Permanent Waves (thanks RushFanForever):
This is the album that laid the foundations for Rush's post-sword-and-sorcery career. After 1978's Hemispheres, Permanent Waves highlighted a leaner, less convoluted approach, marrying deceptively memorable songs with art-rock tendencies, including hit single "The Spirit of Radio".
Former Eagles producer Bill Szymczyk was recently interviewed for the Rock History Music YouTube channel, and when asked about what band(s) he wished he could have worked with, he said Rush, as seen in this YouTube clip. When asked why he chose Rush, he says, "I wanted to work with 3 of the greatest musicians I'd ever heard." Thanks to RushFanForever for the heads up.
Blogger, Rush fan and longtime RIAB reader Jay Roberts recently published a series of posts at his blog Jaybird's Jottings, where he shares his Rush Scrapbook. The series has 12 parts, and the final installment was posted this past week here.
TUKO posted their list of the 20 most famous pop culture trios of all time this past week, and Rush made the cut at #13:
Rush was a famous Canadian rock band that comprised Geddy Lee, Alex Lifeson and Neil Peart. Originally the band was formed in 1968 in Toronto with Lifeson, John Rutsey and Jeff Jones, who Lee replaced. After Lee's arrival, the band members continued changing until they arrived at the classic power trio with the addition of Neil Peart in 1974. The line-up remained intact for the entire band's career, and it achieved great commercial success in the 70s with Hemisphere (1978), A Farewell to Kings (1977), 2112 (1976) and more.
DailyMusicRoll.com posted their list of the Top 10 Progressive Rock Bands of All Time earlier this week, and Rush took the number 2 spot:
Rush is a progressive rock band, which has been built with only three male musicians. It is a Canadian trio that has amazed global listeners with its charming set of music. The three artists of the band, Geddy Lee, Alex Lifeson, and Neil Peart, all of them are immensely talented. Their unique talents have made their songs even more interesting. This band has received a huge appreciation from all, which has led them to achieve Rock and Roll Hall of Fame. This band has also achieved huge recognition from everyone with their fascinating music and well-versed lyricism.
Yardbarker is starting their Labor Day celebration a week early, posting their list of The most famous songs about work for Labor Day this past week, and Rush's Working Man is included:
Rush is a divisive band. People seem to either love them or hate them. Also, Neil Peart was an overt fan of Ayn Rand and her whole shtick, so it seems weird the band would have a song called "Working Man." Perhaps unsurprisingly, this song was written by Geddy Lee and Alex Lifeson, aka the members of Rush who aren't Peart, at a time when John Rutsey, not Peart, was their drummer. Peart was an incredibly accomplished drummer, but the working man is not necessarily on his mind.
Goldmine Magazine posted their list of the Top 20 most influential rock drummers this past week, and Rush's Neil Peart took the #2 spot:
You know what? I feel like the top five on this list are absolutely the right picks and in the right order. After that, all hell breaks loose, although I tried hard to get it right. The Professor belongs here because the drum world's embrace of Peart is mostly about the giddy excitement novices experienced hearing Peart's snappy, snazzy, hi-fidelity drumming. So there's the scholarly element missing from the Kiss and Beatles picks, but given the persona and the tornado tour de force he was, along with his golden era being the mid-70s, there's a lot of that magic nostalgic element as well. But the best reason to put him so high: he's absolutely mentioned as a critical influence by almost every drummer I've ever talked to that wasn't actually one of Neil's contemporaries or older. As for what he actually does and is, yes, Peart is very regularly cited as the greatest drummer of all time.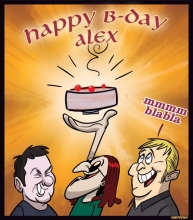 70 years ago this coming Sunday, August 27th, our favorite guitarist - Alexandar Zivojinovich (aka Alex Lifeson) - was born in Fernie, British Columbia to Serbian immigrants, Nenad and Melanija Zivojinovich. That'll make Lerxst 70 years young, which will catch him up with his bandmate Geddy Lee; Alex is the youngest member of Rush, being born about a month after Geddy Lee and just under a year after the late Neil Peart. Happy early birthday Lerxst!! May you have many more, blah, blah, blah.
On the latest episode of Rush Roundtable (#196) on the Rushfans YouTube channel, the panel continues their Counterparts song discussions with Alien Shore:
That's all for this week. Have a great weekend!!