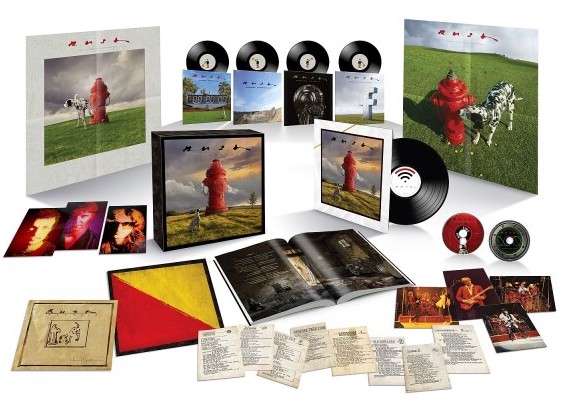 Rush will be releasing a Signals 40th anniversary box set next month - the latest in a string of 40th anniversary box sets released by the band over the past several years, beginning with a 2112 set back in 2016. The set will be available in three distinct configurations, including a Super Deluxe Edition, an LP Picture Disc Edition, and a Dolby Atmos Digital Edition. There will also be a limited edition Super Deluxe box set edition featuring eight lithographs of Neil Peart's original hand-drawn lyrics for each song on the album. The band has been releasing visualizer videos from the box set over the past few weeks in the lead up to its release, the latest of which is a visualizer for Digital Man which you can watch below or on YouTube here. There are also visualizers for The Analog Kid, and Chemistry along with an unboxing video which you can watch here. The set is slated for release on April 28th, and can be pre-ordered via this link, or via Amazon. All the details regarding the set can be found in the press release.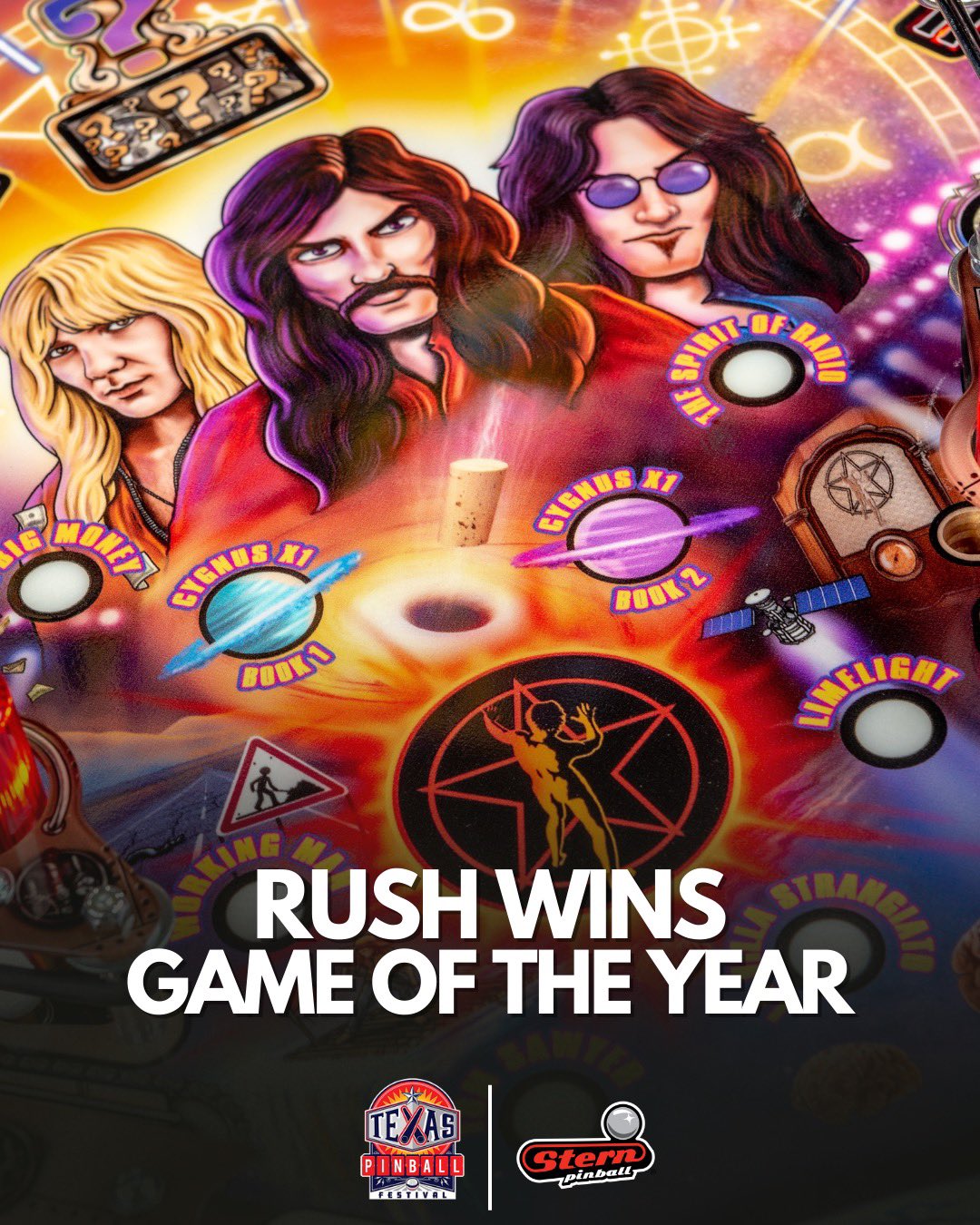 Back in January of last year, Rush teamed up with pinball machine company Stern Pinball to release a line of Rush pinball machines. The machines were a huge hit, garnering accolades from both Rush fans and pinball aficionados, and can now be found in game rooms across the country. This Week in Pinball hosted their 6th annual TWIPY Pinball Awards this past weekend at the Texas Pinball Festival, and Stern Pinball's line of Rush machines took home the big prize, being named Game of the Year! Congrats to both Rush and Stern Pinball. The Rush pinball machines and accessories are available to order through authorized Stern Pinball distributors and dealers around the world, and are available to play at a number of locations across the country as seen at pinballmap.com (just search "Rush").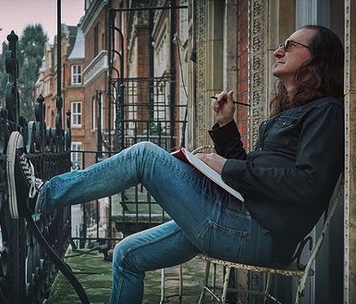 Back in September of 2021, Geddy Lee announced via Instagram that he was working on a memoir with a planned release via Harper Collins in the Fall of 2022. He later clarified via a Classic Rock interview last April that the book would instead probably release sometime in the spring of 2023. This was confirmed back in November when the publisher's website posted a listing for the as-yet-untitled memoir, and it gave a tentative release date of May 16, 2023. Since then, the listing has been updated and is now saying that the book will release on July 11th. It also indicates that the book will be around 512 pages and available as a hardcover or as an e-book. There's also a listing on Amazon where you can pre-order the hardcover for $35 and the e-book for $17.99. Amazon also shows a CD option for $39.99 but it's not clear what that includes. From Geddy's original Instagram post announcement:
... My friend and collaborator on the Big Beautiful Book of Bass, Daniel Richler, saw how I was struggling in the aftermath of Neil's passing, and tried coaxing me out of my blues with some funny tales from his youth, daring me to share my own in return. So I did-reluctantly at first, but then remembering, oh yeah, I like wrestling with words. It's a less physical version of arguing with musical notes, without a Ricky doubleneck breaking my back! And soon my baby-step stories were becoming grownup chapters. Being the nuclear obsessive that I am, I'd write and re-write them, reassessing perspectives in the narrative not just by scouring my memory banks but my diaries and piles of photo albums too. I was piecing together a mystery of a different kind.

I'd then send these improved and even illustrated stories to Daniel, who'd clean up some of the grammar and remove a lot of the swearing (I love to fucking swear), and presto! In a voice that sounded, well, just like me, a presentable, epic-length account of my life on and off the stage was taking shape: my childhood, my family, the story of my parents' survival, my travels and all sorts of nonsense I've spent too much time obsessing over. And Daniel said, "I think you're writing a book. An actual memoir, in fact." To which I replied, "Hmm... I guess I am."

I'm rounding third on this as-of-yet untitled memoir, which will be published by HarperCollins, edited by Noah Eaker, and is scheduled for release in Fall 2022.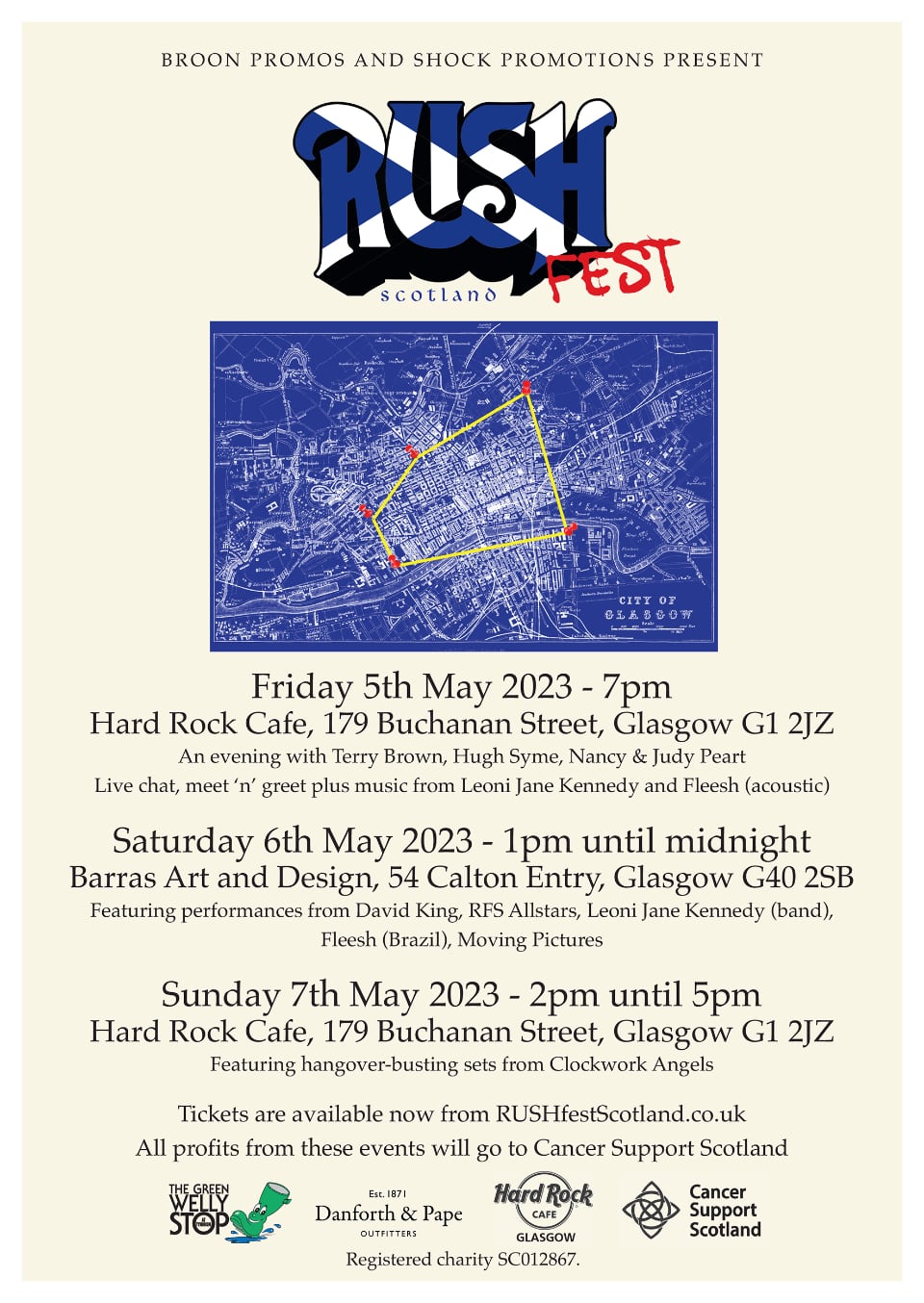 The annual RUSHfest Scotland Rush fan gathering will take place in Glasgow over the weekend of May 5-7. The event will feature games, performances from multiple Rush tribute bands, special guest appearances from Hugh Syme, Terry Brown, Judy and Nancy Peart, and more. For all the details and to purchase tickets, visit RUSHfestScotland.co.uk.
A new documentary on iconic Toronto radio station CFNY (The Spirit of Radio) is in the works, and former DJ Alan Cross (one of the film's producers) gave an update on the film's progress via a recent post to his A Journal of Musical Things blog (thanks RushFanForever). The station and their slogan was the direct inspiration for Rush's The Spirit of Radio from 1980's Permanent Waves album. Both Geddy Lee and Alex Lifeson are slated to be interviewed for the documentary, and they hope to release it next year:
... We have to finish the first cut by November 3. The goal at this point is to submit a 90-minute version to SXSW to hopefully get a screening there in March 2024. And if all goes well, there should be a teaser video before long. Maybe in time for Canadian Music Week? We'll see. ...
Grapes for Humanity is an organization that helps to raise funds to benefit humanitarian causes around the world with the assistance of the international wine community, and Geddy Lee is a member of the board of directors. Back in October the Charity hosted their 2022 Grapes for Climate Change online fundraiser auction to raise funds to aid in the battle against the threat of climate change. The auction included several items of interest for Rush fans including autographed bottles of wine from Geddy Lee's personal cellar, a Geddy Lee autographed Fender Jazz Bass, an Alex Lifeson autographed Epiphone Les Paul, and dinner for 8 at Barberian's Steak House in Toronto hosted by Geddy and Alex along with Les Claypool and his wife. It looks like the dinner at Barberian's took place this past weekend judging by this tweet featuring photos of Geddy and Alex at Barberian's with who I assume were the winners of the auction.
Media historian, former radio DJ and music director, author, professor, and - most importantly to Rush fans - Rush's unofficial big sister and discoverer Donna Halper will be inducted into the Massachusetts Broadcasters Hall of Fame this summer as outlined in this Patriot Ledger story from earlier this week:
... "I was absolutely stunned when I got the call. This is not something you apply for. When they called to tell me, I just about fell over," Halper said. "You do this work for so many years and you wonder if anyone notices." Halper − an associate professor of communication at Lesley University − is credited with discovering the Canadian rock trio Rush when she was a disc jockey in Cleveland in the 1970s. She was the music director at WMMS in Cleveland in 1974 when she noticed the band. She also helped the band land a recording contract. The band members, in turn, dedicated their first two albums to her. Halper and the band − Geddy Lee, the late Neil Peart and Alex Lifeson − remained close friends. She was instrumental in getting Rush a coveted star on the Hollywood Walk of Fame in 2010 and helped the band gain entry into the Rock and Roll Hall of Fame in 2013. Halper will also receive the Hall of Fame Pioneer Award, recognizing her "lasting contributions made to the broadcast industry." ...
Far Out magazine posted their list of 10 moments of delusional self-confidence in music this past week, and Rush's Roll the Bones was included:
The number one rule for Rush is that no genre is off the table. The Canadian icons played to their strengths throughout their career while expanding their horizons, going from intense prog-rock beginnings to synth-heavy songs in their middle period. As the '80s died down, the band bit off more than they could chew going into the Roll The Bones album. Having already made some questionable decisions on albums previously, like the song 'Tai Shan', the title track of this album starts as a decent Rush song before having a rap breakdown. Rather than having a professional rapper spit over the beat, the trio thought they'd make do themselves, as Geddy Lee performed the rap with his voice lowered during post-production. Although the content of the rap verses has some eye-opening messages and good lyrics to take to heart, it's impossible to take it seriously when it sounds like an average dad trying to get in touch with what his kids are listening to. Rush's original plan was to have John Cleese come in and perform the rap as a joke, which would have worked a thousand times better than whatever happened here.
YardBarker.com posted their list of 20 late career albums that were surprisingly great this past week, and Rush's Clockwork Angels was included:
'Clockwork Angels,' Rush (2012): With Clockwork Angels, we have the 19th and final studio album from Rush. In terms of the Rush hierarchy of work, Clockwork Angels probably does not rate top-10 consideration, but for this late in the band's remarkable career, it remains an ambitious and concise concept album. Much like many of those records from the second half of Rush's career, Clockwork Angels likely is not lauded by die-hards of the band, but it received steady critical praise. It can be argued that the late Neil Peart's lyrics were as strong as ever. Bookend tracks "Caravan" and the severely underrated "The Garden" are solid examples of that notion.
This week's episode of Rush Roundtable on the RushFans YouTube channel features a great panel discussion about Rush's Red Tide and Hand Over Fist:
That's all for this week. Have a wonderful weekend everyone!!