UPDATE - 5/18@9:52AM: Classic Rock has also posted the entire interview online here.
UPDATE - 4/2@4:10PM: John at Cygnus-X1.net has transcribed the entire article/interview and made it available online here.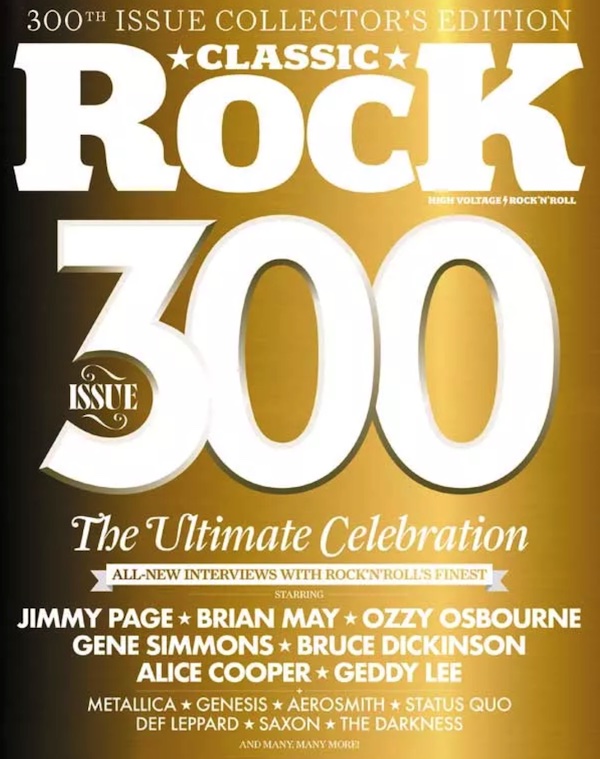 Classic Rock magazine released a special Collector's Edition today celebrating their 300th issue, which features dozens of new interviews with rock celebrities, including Rush's Geddy Lee. In the short interview, Philip Wilding chats with Geddy about a number of subjects including his 2000 solo album My Favorite Headache, the band's resurgence in the wake of Neil Peart's late-90s tragedies, and more. Here's what Geddy had to say about what it was like to get back together as a band after their 5-year hiatus to record Vapor Trails:
... Oh, it was awesome. Within minutes we're laughing and gabbing. Whenever we saw each other, it was like yesterday. Within five minutes we're razzing each other and laughing and catching up. Everybody had been through a lot. No one more than Neil. But it was just like getting back on the bike. ... That first tour back as a band, different world. We took a different attitude on that tour; we were much more open and appreciative of the opportunity. Five years away from it took a lot of cynicism out of our behavior. When we did our first gig after all those years, and were welcomed back so strongly, I think everyone was taken aback: "Wow, these people waited for us." ...
Geddy also comments on his relationship with Alex Lifeson:
... [Alex and I] recently went out to dinner, just the two of us, and we sat down, looked at each other and we did a high five. And it was just like I was sixteen again, driving my mother's car with Al next to me. We were laughing in seconds. I don't have another friend like that in my life. That'll never change.
The article's introduction also mentions that Geddy is working on his memoir and that it is due out in the spring of 2023 - it had originally been slated for release later this year. You can read the entire interview in the special Classic Rock 300th issue, which hit newsstands today. Thanks to RushFanForever for the heads up and transcript.