UPDATE - 3/14@10:33AM: The Super Deluxe Edition is now also available via Amazon.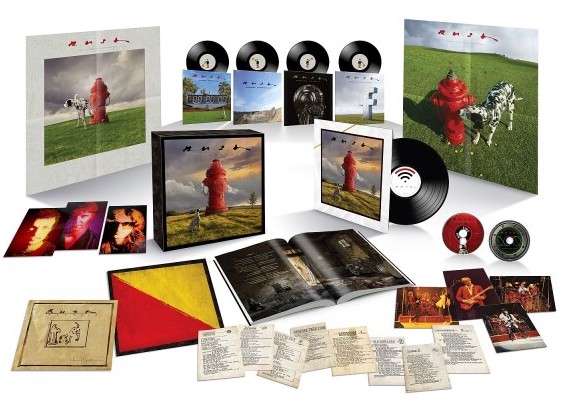 Rush has announced that they'll be releasing a Signals 40th anniversary box set later this spring. The set is the latest in a string of 40th anniversary box sets released by the band over the past several years, beginning with a 2112 set back in 2016. The set will be available in three distinct configurations, including a Super Deluxe Edition, an LP Picture Disc Edition, and a Dolby Atmos Digital Edition. There will also be a limited edition Super Deluxe box set edition featuring eight lithographs of Neil Peart's original hand-drawn lyrics for each song on the album. The set is slated for release on April 28th, with all configurations already currently available for pre-order via this link. The band have also released an unboxing video which you can check out below or on YouTube here, and there are also several other Signals 40th merchandise items available. More details from the press release:
... The Super Deluxe Edition includes one CD, one Blu-ray Audio, one high-quality 180-gram black vinyl LP with new artwork from original album designer Hugh Syme in a premium tip-on jacket, and four 7-inch singles ("Subdivisions," "Countdown," "New World Man," and "The Weapon (Single Edit"), all of them with new artwork from Syme. The set encompasses the Abbey Road Mastering Studios 2015 remastered edition of the album for the first time on CD. The Blu-ray Audio disc contains the core album newly mixed from the original multi-tracks in 48kHz 24-bit Dolby Atmos (the second Rush album to appear in Atmos, following Moving Pictures) and 96kHz 24-bit Dolby TrueHD 5.1 as done by esteemed producer/engineer Richard Chycki, alongside the previously available 48kHz 24-bit PCM Stereo mix. Also included on the Blu-ray are new animated visualizers for all eight songs, as well as two bonus remastered vintage promo videos: the high-school halls narrative of "Subdivisions" and "Countdown," the latter of which features authorized Space Shuttle Columbia launch footage. Additionally, the LP in the Super Deluxe Edition has been cut via half-speed Direct Metal Mastering (the second Rush album to have been done as such, again following Moving Pictures) on a 180-gram audiophile black vinyl LP, and it has been pressed at GZ Media in the Czech Republic.

The Super Deluxe Edition will also include several exclusive items, including a 40-page hardcover book with new song illustrations and new artwork by original album designer Hugh Syme and unreleased photos from the Signals Tour, along with three lenticular lithographs that transition from the original black-and-white band headshots into the original album's "Digital Man" color headshots; four Signals Tour band lithographs; Syme's original album cover sketch lithograph; and a double-sided 24×24-inch poster featuring Syme's new Signals artwork on one side, and an outtake photo from the original album cover shoot on the other side. All contents are housed in a premium lift-top box, which features significantly reimagined cover artwork by Hugh Syme.

The second configuration will be released in is a one LP Picture Disc Edition. The picture disc is housed in a transparent plastic sleeve, and it showcases new Hugh Syme artwork on both album sides.

Finally, the third configuration, the Dolby Atmos Digital Edition, is the digital equivalent of Richard Chycki's expert Atmos mix of all eight tracks from the original album.