UPDATE - 4/8@5:31PM: The interview has been posted online here (thanks RushFanForever).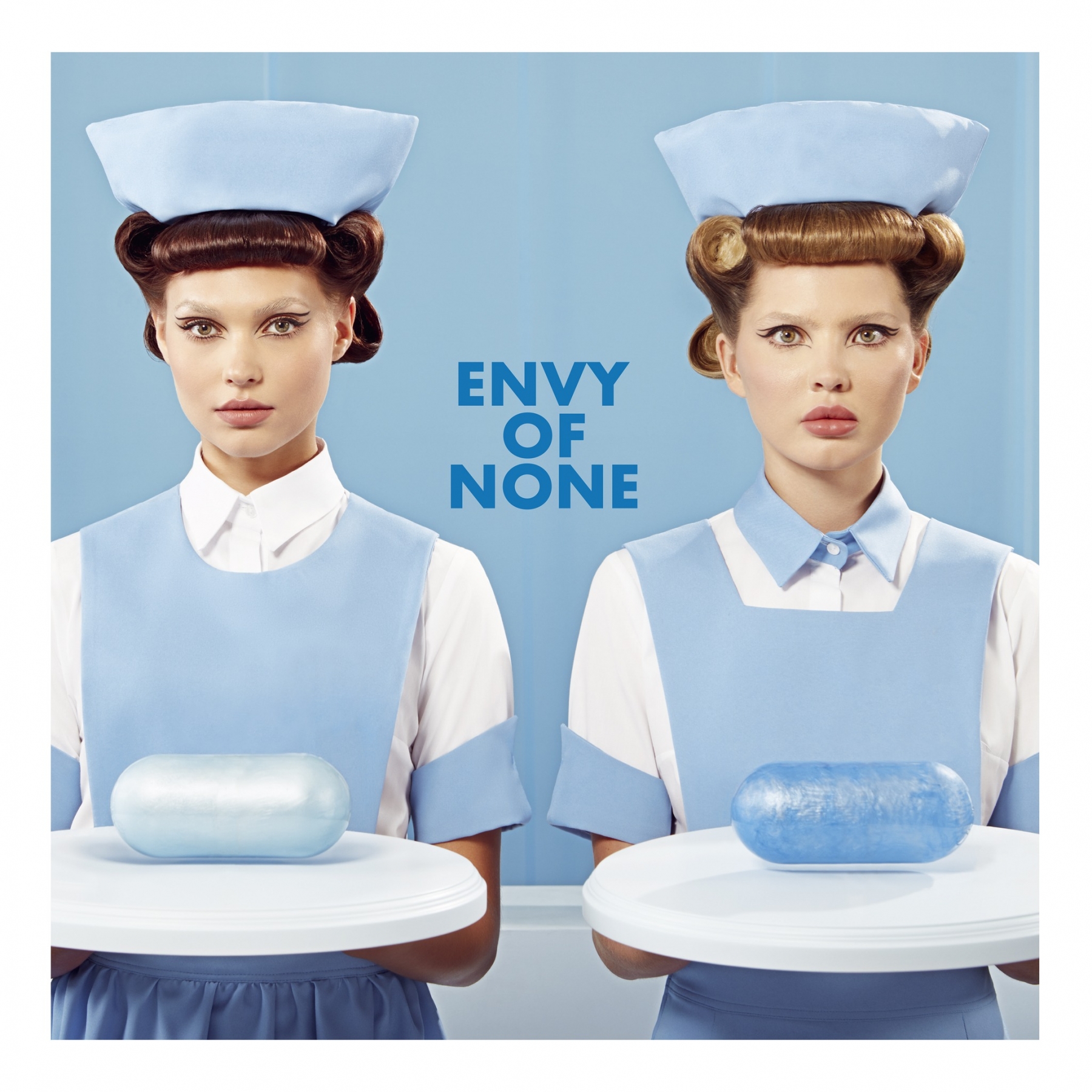 The April, 2022 issue of Next magazine contains a 2-page interview feature with Alex Lifeson where he talks about his Envy of None project, which will be releasing their self-titled debut album next month (thanks RushFanForever). He talks a bit about losing his musical drive after the passing of Rush drummer Neil Peart 2 years ago, and how Envy of None revitalized him:
... "It was really difficult, particularly that last year after Neil passed," ... "I just didn't feel like playing. I didn't feel like listening to music or anything, and it really bothered me because I've been doing this since I was 12 years old. It's so much a part of who I am as a person." But Lifeson started to hear something in a project he had been working on for years, casually, with pal Andy Curran of Coney Hatch. Curran was impressed by a young woman from Montana, 25-year-old Maiah Wynne, whom he spotted when he was judging a talent contest. When she had the guts to suggest she work with him, Curran liked the bravado - and what he heard. She was invited into what would become Envy of None, and a heated process of exchanging sound files began. "Though it started five years ago, it wasn't until this last year that we really started ramping up. And through this process, I just realized this is who I am; this is what I love. I love playing, I love writing music. I came to recognize that I had a hole in my soul - the loss of Neil, the loss of this important part of my life that was central for 40 years. Then this project reinforced what I'm all about in terms of music and what music means to me. I just felt there was so much great stuff she was doing and that I could get inspired by," ... "I started writing around her vocals in a more camouflaged way for the guitar. I wanted my guitar parts to be less traditional guitar parts and more interesting tones and coloring and atmospherics, and that's the real fun for me and the real joy to write those kind of guitar parts that don't sound anything like the guitar. I wasn't the guitarist, I was just one of four on this project, and my job was to make every thing sound richer, more interesting and more mysterious. That was the challenge, and that's what drove me and made me happy every day that I spent there." ... "Maybe it's because my attitude had changed, maybe because I thought I was just some old fart that was over it and I became this old fart that wasn't quite over it."...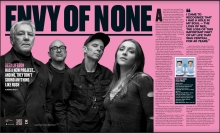 You can read the entire interview online here on pages 26-7. Envy of None will be releasing their self-titled debut album in 2 weeks on April 8th, and have already released 2 singles from the album - Liar and Look Inside. You can stream both songs via all the major streaming platforms here, and watch the official music video for Look Inside on YouTube at this location. Envy of None consists of Lifeson, Andy Curran, guitarist Alfio Annibalini and vocalist Maiah Wynne. The band's self-titled 11-track debut album will arrive on April 8th from KScope Music on black, white and blue vinyl (the latter is exclusive to North America) and also on CD. A limited-edition deluxe version of the release will feature a five-track bonus CD and a 28-page booklet with exclusive content. You check out all the available purchase options here, and follow the Project via their website, on Facebook, Twitter and Instagram for all the latest news.
Related Posts:
[Alex Lifeson and Maiah Wynne talk Envy of None in new Ultimate Classic Rock interview]
[Alex Lifeson and Maiah Wynne talk Envy of None in new Music Radar interview]
[Alex Lifeson talks Envy of None touring plans, future projects and more in new Ultimate-Guitar.com interview]
[Watch the official music video for Look Inside - the latest single from Alex Lifeson's Envy of None project]
[Listen to Look Inside, the next single from Alex Lifeson's Envy of None project]
[Enter Envy of None's contest to win an Alex Lifeson Signature Les Paul Axcess Standard guitar]
[Alex Lifeson and Maiah Wynne talk Envy of None in new PROG magazine interview]
[Listen to Liar, the first single from Alex Lifeson's Envy of None project]
[Alex Lifeson's Envy of None project with Andy Curran and Maiah Wynne to release January 12th]