UPDATE - 3/25@12:07PM: The Moving Pictures album art video is now live and you can watch it below or on YouTube here. It's another FANTOONS-produced video that runs for over 3 minutes, and features Syme describing the making of the album cover over some neat animations from FANTOONS.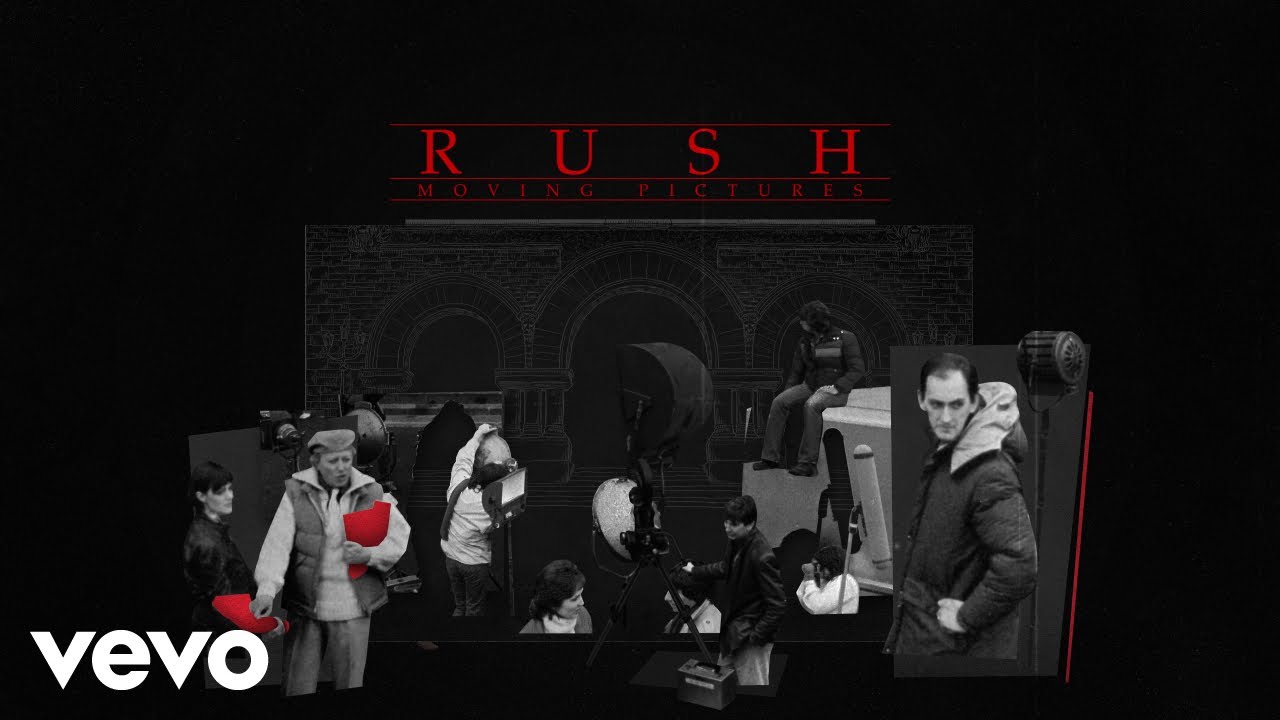 Just an hour from now at 12PM EST, Rush will be premiering a new video titled Rush - Behind The Cover: Moving Pictures where Rush album artist Hugh Syme narrates the creation of the iconic album art on Rush's Moving Pictures album as part of the lead up to the release of the long-anticipated Moving Pictures 40th anniversary box set next month. You can watch the video below or on YouTube at 12PM EST. No other details as far as the content or length of the video are available at this time.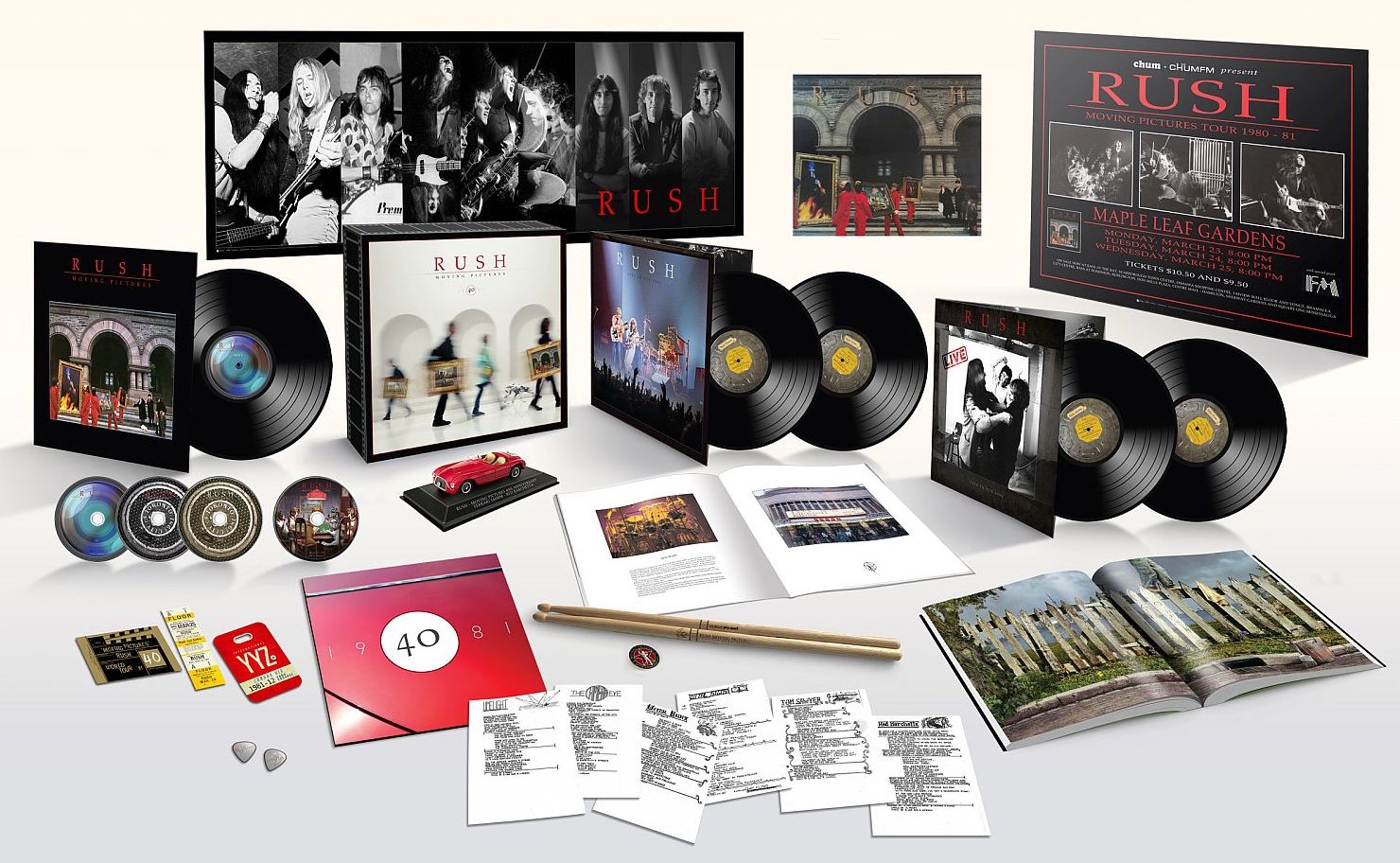 The Moving Pictures 40th anniversary box set will release three weeks from today on Friday, April 15th and a number of purchase options/combinations will be available, including a Super Deluxe Edition which will contain three CDs, one Blu-ray Audio disc, and five high-quality 180-gram black vinyl LPs. The CDs include the Abbey Road Mastering Studios 2015 remastered edition of the album, along with two discs of previously unreleased and newly restored bonus live content titled Live In YYZ 1981. These 2 discs are newly mixed from the original analog live multi-tracks by Rush's original producer, Terry Brown, and feature the band's complete, unreleased Toronto concert from Maple Leaf Gardens in Toronto on March 25, 1981. The Blu-ray Audio disc includes the core album newly mixed from the original multi-tracks by producer/engineer Richard Chycki in Dolby Atmos (a Rush catalog first), Dolby TrueHD 5.1, and DTS-HD Master Audio 5.1 surround sound, alongside the previously available PCM Stereo mix. Also included on the Blu-ray are four bonus videos: a brand-new video for YYZ plus three remastered vintage promo videos for Tom Sawyer, Limelight and Vital Signs. Additionally, all of the vinyl in the Super Deluxe Edition has been cut via half-speed Direct to Metal Mastering (DMM) (another Rush catalog first) on five 180-gram audiophile LPs. The Super Deluxe Edition is housed in a premium lift-top box and also contains several exclusive items, including a 44-page hardcover book with unreleased photos and new artwork by original album designer Hugh Syme, a Red Barchetta model car mounted on a black perch with an MP40 nameplate, two Neil Peart signature MP40 branded drumsticks, two metal-embossed guitar picks, a replica of the Moving Pictures 1981 official tour program, an MP40 logo enamel pin, a 3D lenticular Moving Pictures in motion lithograph, an 18×24-inch Toronto 1981 concert poster, a replica concert ticket from the 1981 Maple Leaf Gardens show, a 12×36-inch Rush Through The Years 1973-1981 poster, a YYZ luggage tag, and an All Access World Tour '81 insert. You can check out the official streaming audio on YouTube for both Vital Signs and Limelight from the Live in YYZ 1981 bonus disc, along with a Super Deluxe Edition unboxing video here. There's also an official, FANTOONS-produced animated video for YYZ which you can check out here. You can get all the details regarding the box set via the press release at Rush.com and pre-order your copy today via Amazon and other retailers.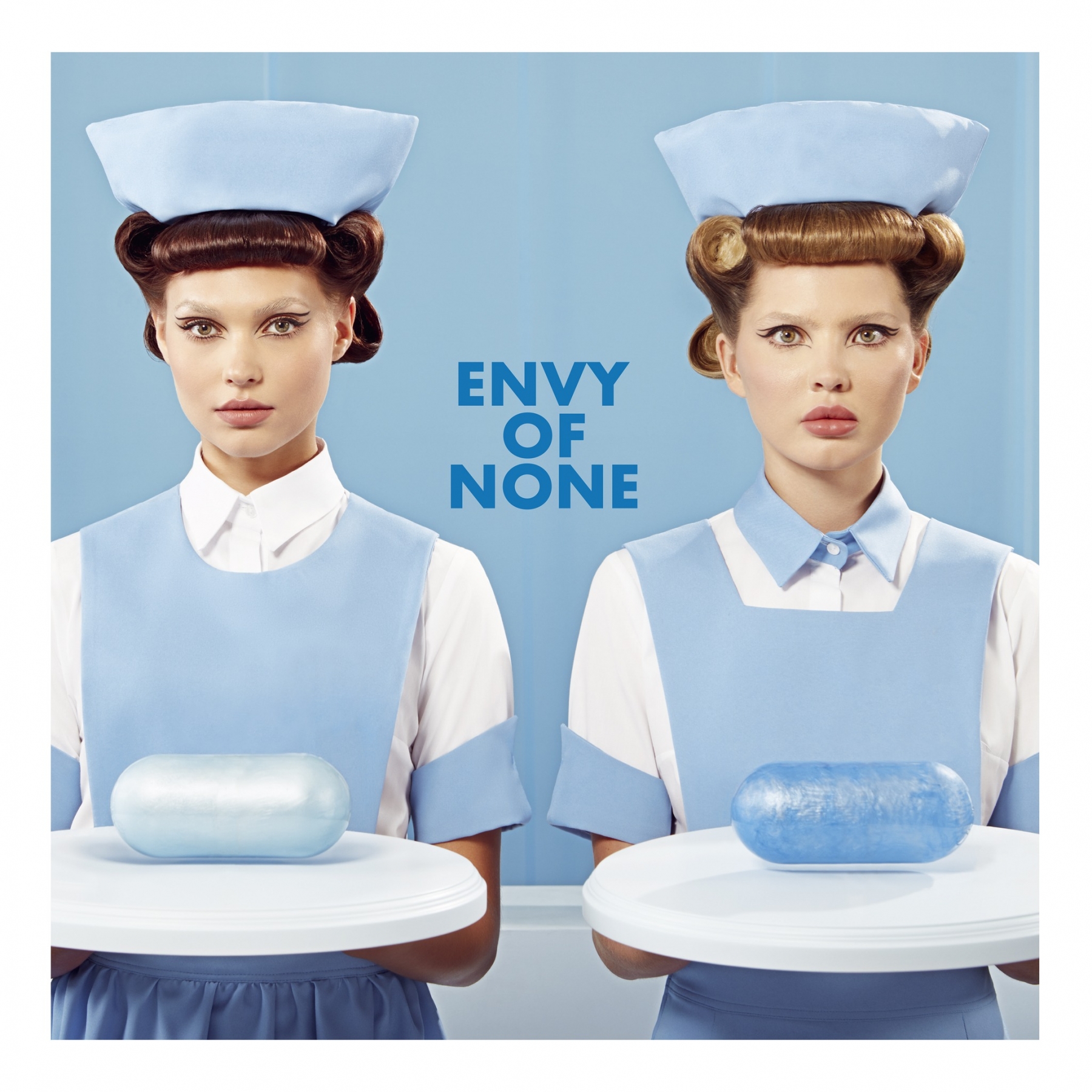 Rush's Alex Lifeson and vocalist Maiah Wynne hit the interview circuit this past week to promote their Envy of None project, which will be releasing their self-titled debut album next month. The pair conducted interviews with Music Radar and Ultimate Classic Rock, and Alex also did a solo interview with Ultimate-Guitar.com. One common theme/question that came up in all these interviews was whether there was any possibility of the band performing live shows, and Alex said the following in his Ultimate-Guitar.com interview:
... if [the album]'s received really well, and there's a demand for it, then what I would like to do, is maybe do a few shows where I would be involved. I think Andy kind of feels the same way, [we would] put a band together for Maiah to take on the road and do a small theater tour. Because I think this material, with a great light show, and that really evocative kind of presentation would be really great. I would like to sit in the audience and watch that. I think because of the way we recorded the material, it would require some extra players to really do it right. Between the three of us, we can definitely put a great band together. And Maiah certainly, in our view, Maiah is the face of Envy of None. There's something about her voice that's just really unique and really special. The way that the music was created, the way her vocals sit on top of the song, they sit on top of this rhythmic mess below. It's just a really unique contrasting combination. So, you know, Andy and I, we've toured for decades, so we don't need to really go on the road and the bus and do all that stuff. In fact, we are not really interested in it. But you know, Maiah is young, and she's got a drive, and I think it would be great to do it in that way. ...
Alex was also asked about his future plans beyond Envy of None:
... I have a few things that I need to get done. If I ever stop doing these interviews...ha! I promised to do another thing with Marco Minnemann. He sent me a couple of song ideas and said, he'd like to get some guitar work on them. I have a few other friends submitting things for me to put guitar tracks on. I love doing stuff like that. I'm not fussy or stuck up or anything, it doesn't matter if it's a nothing sort of project. I know it's important to my buddy and if I can put a guitar on it when I've got a bunch of them here, and this is what I do, this is a great thing for me. After basically seven years of coming off what Rush was, and not, you know, playing golf, and not really doing what I've been doing since I was 12 years old. Coming into this project, and really devoting my time and energy to it, it was a rebirth for me, and now my horizon is sparkling again. Getting rid of the guitars - I feel like we're getting leaner in our lifestyle, and it just feels like this movement forward. I'll do these little things; we have talked about Envy of None II. Let's get Envy of None I out first, of course, but we've talked about continuing to work together and we're excited about the prospect. I know Maiah would like to get her own solo record out and she's asked me to play on that as well. I already have played on some of her other personal stuff. So there are a lot of opportunities and I just take them as they come. ...
Maiah Wynne was also a guest on the Jeremy Mills podcast, and spoke about her many projects, including Envy of None. You can check out that interview on YouTube here (thanks RushFanForever). And Andy Curran also did a few interviews to promote the project including this one for Sonic Perspectives. Envy of None will be releasing their self-titled debut album next month, and have already released 2 singles from the album - Liar and Look Inside. You can stream both songs via all the major streaming platforms here, and watch the official music video for Look Inside on YouTube at this location. Envy of None consists of Lifeson, Andy Curran, guitarist Alfio Annibalini and vocalist Maiah Wynne. The band's self-titled 11-track debut album will arrive on April 8th from KScope Music on black, white and blue vinyl (the latter is exclusive to North America) and also on CD. A limited-edition deluxe version of the release will feature a five-track bonus CD and a 28-page booklet with exclusive content. You check out all the available purchase options here, and follow the Project via their website, on Facebook, Twitter and Instagram for all the latest news.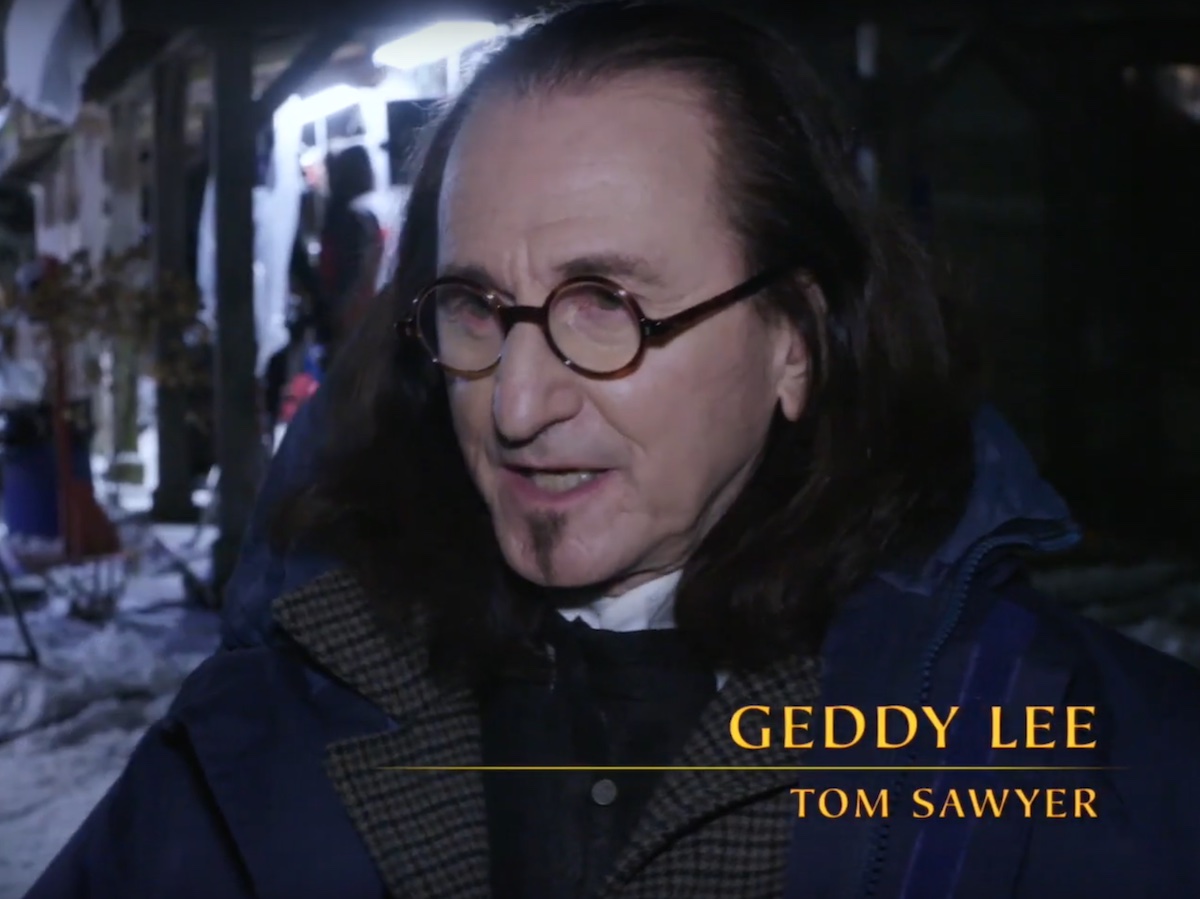 Rush's Geddy Lee made a guest appearance on this past week's episode of the long-running CBC mystery drama Murdoch Mysteries (Season 15, Episode 21 - Devil Music). Geddy plays a carriage driver named Thomas Sawyer (ha!) who escorts Detective Murdoch and an expecting Dr. Julia Ogden for a relaxing retreat in Muskoka. After a minor accident along the way, Geddy's character suggests the couple take shelter in a nearby cabin and is present for the show's most anticipated event of the season - the birth of Julia's child. The show's producer Shaftesbury Films posted a 1-minute, behind-the-scenes video about the episode and Geddy's involvement where they show several clips of Geddy's appearance in the show and on set, and also talk to the man himself. Apparently Geddy met the show's star Yannick Bisson (Detective Murdoch) at a fundraiser event (photo here), and Yannick invited Geddy to make a guest appearance on the show. You can watch the show in Canada on the CBC or stream it on CBC Gem, and it's also available on Acorn TV (subscription required). The show posted a few still shots of Geddy's appearance on the show earlier this week, as seen in this tweet:
In case you haven't already heard... 😉 We had a very special guest star join us for Monday night's episode. #GeddyLee may need to rethink his career path because his acting skills were music to our ears.🤘🏻Check out these #BTS snaps of his experience on set. pic.twitter.com/GsEd2Dv7uL

- Murdoch Mysteries (@CBCMurdoch) March 23, 2022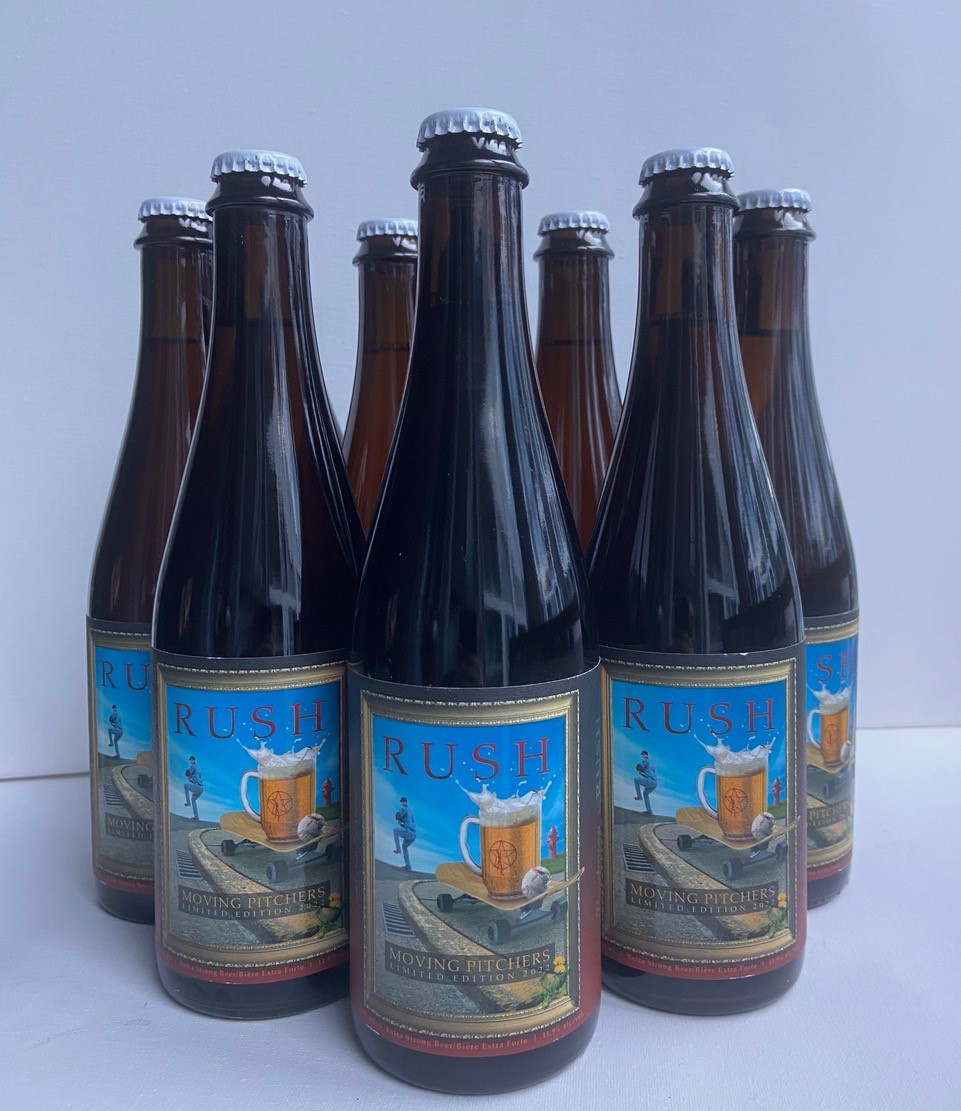 Back in August Rush teamed up with Henderson Brewing Company to release their first Rush-branded beer - Rush Canadian Golden Ale - and followed that up in October with Moving Pictures Ale. Earlier this week they announced yet another collaboration with Henderson Brewing Company, and have launched a new, limited edition beer cleverly called Moving Pitchers as described in the Rush.com announcement:
... a second premium beer has been approved for a special limited run; Moving Pitchers. This time, the winning recipe is a Belgian blonde beer with a Pinot Noir must. The name, a cheeky play on the famous album cover triple entendre, with the bottle's label art designed by longtime Rush art designer Hugh Syme. "When we started this project, we were really excited to create the perfect after-gig beer but after spending time working with Henderson we discovered so many styles and flavours for more complex, additional products," remarked Rush guitarist and Beer Scientist, Alex Lifeson. "We took the taste-testing very seriously," said Geddy Lee, Rush singer/bassist and Beer Drinker, "and picking just one was a tough decision, so we just decided to go with making all of them." ... The Moving Pitchers beer at 11.9% abv, is a strong ale with fruity notes of berries and grapes with a spicy and floral bouquet to round it out. Aromas of maple syrup add complexity while tannins help to balance out the sweetness. ...
Moving Pitchers premium beer began rolling out yesterday in Ontario and will be across Canada later next month, with a US rollout planned for later in 2022. You can order Moving Pitchers beer from Henderson Brewing or check your local LCBO for availability.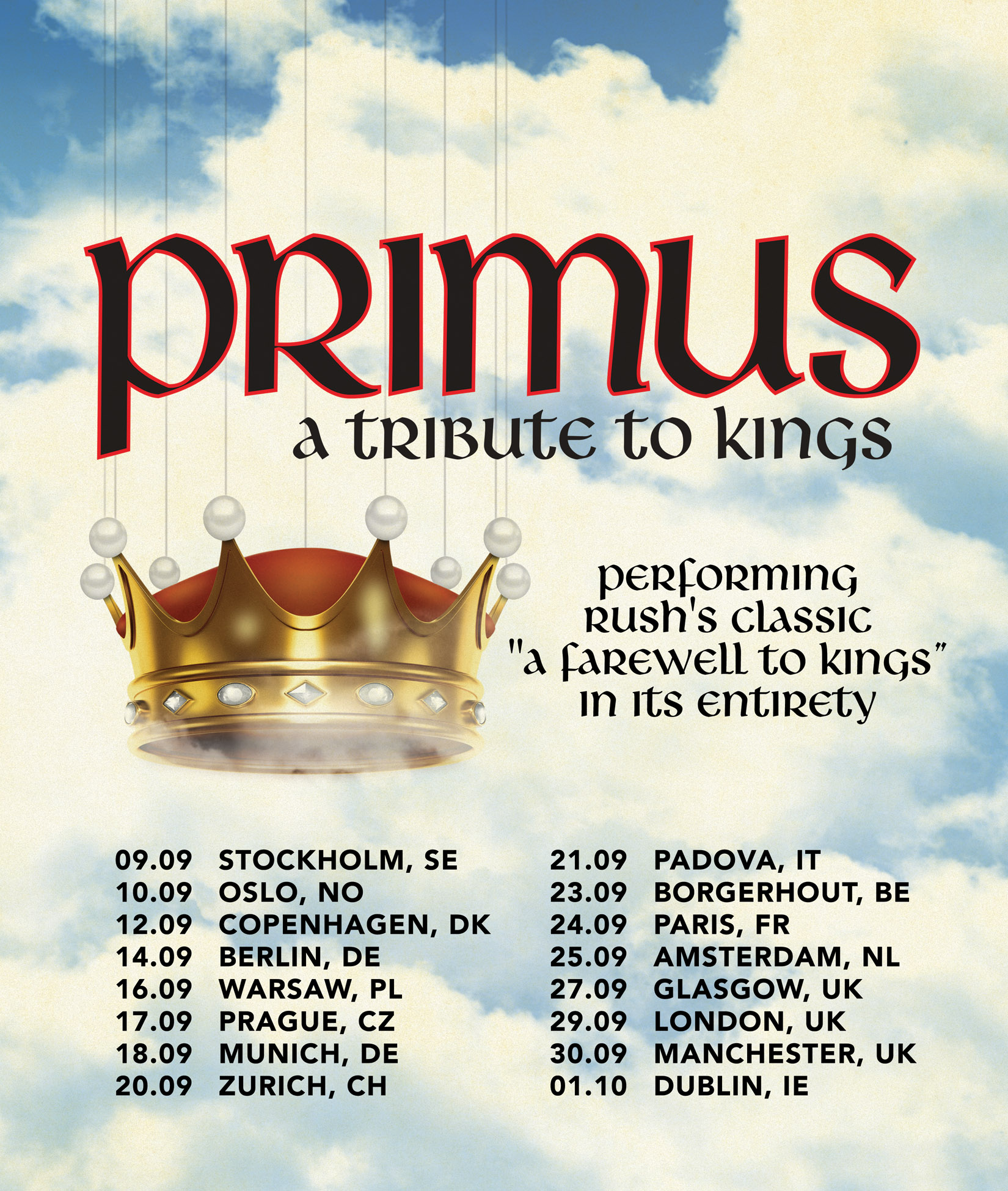 The 2021 leg of Primus' A Tribute to Kings Rush tribute tour finished off in Phoenix back in October, and - despite a few cancellations along the way due to COVID-19 - the tour was a huge success. The tour saw the band paying tribute to their musical heroes Rush by covering the A Farewell to Kings album in full as seen in these fan-shot videos (part 1, part 2), mixed in with a couple sets of Primus classics. Back in December, the band announced an extensive, 46-date, coast-to-coast 2022 extension of the tour, including several Canadian dates, which will kick off in Oklahoma City on April 15th, and conclude in Las Vegas on June 25th. European fans will now also have a chance to see the show, as Primus announced earlier this week that they'll be adding a European leg to the tour this coming September. The European leg will kick off in Sweden on September 9th, and make its way across mainland Europe before finishing off with 3 shows in the UK and one final show in Dublin on October 1st. For all the details and to purchase tickets visit primusville.com. Primus frontman Les Claypool was interviewed regarding the tour for a cover feature in the upcoming issue of Bass Player magazine (issue 421), and they also spoke briefly with Geddy Lee. You can check out a 13-page sampler of the issue which includes the cover and first 2 pages of the feature at this location (thanks RushFanForever). The issue will hit newsstands on April 1st.
In the latest episode of the Something for Nothing podcast, hosts Steve and Gerry continue their deep dive into Alex Lifeson's one and only solo album - 1996's Victor. You can listen to part 2 of the episode below or via your favorite podcast service:
That's all for this week. Have a great weekend everybody!