UPDATE - 2/21@1:05PM: The Night for Neil event is now listed on the Meridian Centre website, with prices ranging from $49-99 (tickets on pre-sale/sale next week).
UPDATE - 2/21@12:13PM: It looks like the Permanent Waves box set release has been pushed to May 29th (thanks Nick C).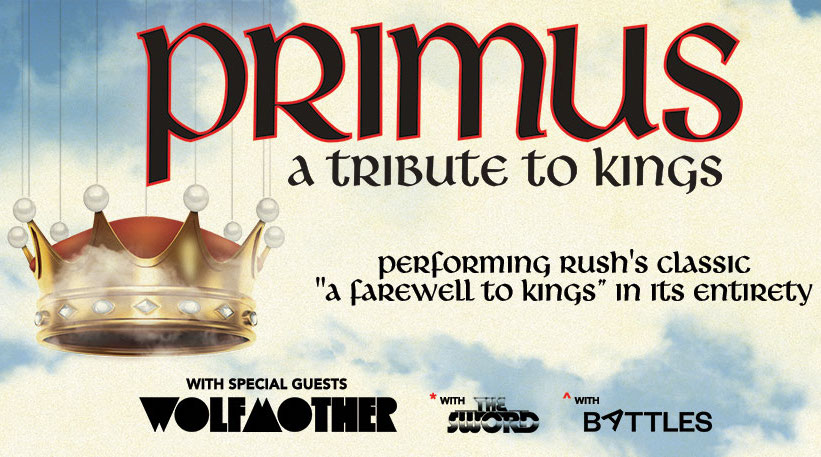 Primus's Les Claypool announced earlier this week that he and his Primus bandmates Larry LaLonde and Tim Alexander will honor their musical heroes Rush on a massive tour where they'll cover the band's A Farewell to Kings album in full every night, before playing a full set of Primus' own songs. The A Tribute to Kings tour will hit cities all across the US from late May through early August, with tickets now on sale. Rolling Stone magazine spoke with Claypool about the tour and how it came about:
... [the tour] will no doubt take on added significance in light of the death of iconic Rush drummer Neil Peart in January. The timing, as it turns out, is a complete coincidence; Primus' Rush covers run had been in the works since last year. "We're trying to be very sensitive about doing the tour and not having it be, 'Hey, all about Neil,'" Claypool says. "It's about admiration for these amazing musicians and friends." ... we had talked about doing an album in its entirety a while ago. ... we'd always talked about potentially doing Hemispheres because that was my first concert, and it may have been Ler's [LaLonde] first concert too, actually. And when it finally came down to it, we started looking at the different records and settled on Farewell to Kings. ... I talked to Geddy about it, yeah. I texted with him - I keep in touch with Geddy - just to make sure we weren't trodding on something weird. So I checked in with him to see what he thought of it, and he was excited about the notion. ... he thought it was a great idea. You know, we go way back with those guys so I think it made him feel good that it was going to be us that was going to do this thing. But I don't know, you'd have to ask him. I can't put words in his mouth, but he seemed excited about it. ...
Claypool addresses the choice of A Farewell to Kings in more detail later in the intervew, and also talks more about the passing of Neil Peart and his long relationship with Rush. You can read the entire interview online at this location.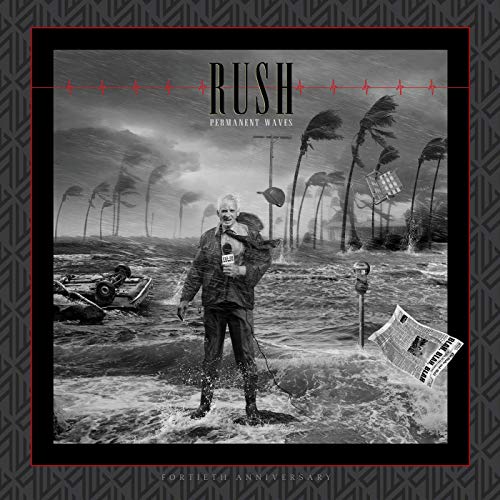 Rush is celebrating the 40th anniversary of the 1980 release of Permanent Waves with a new box set release, available as a 2-CD set, 3-LP set, or Super Deluxe Edition that includes both the CDs and LPs along with some bonus merch. The set is slated to release next month on March 27th on May 29th and is now available for pre-order (2-CD, 3-LP, Super Deluxe Edition). The first disc of both sets will include the 2015 Permanent Waves Abbey Road Studios album remaster on CD for the first time (previously released on vinyl), and the second disc of the 2-CD set (2nd and 3rd bonus LPs of the 3-LP set) will contain the following previously unreleased and newly restored (mixed by former Rush producer Terry Brown) live recordings from Rush's 1980 Permanent Waves tour:
1. Beneath, Between & Behind (Live in Manchester)
2. By-Tor & The Snow Dog (Live in London)
3. Xanadu (Live in London)
4. The Spirit Of Radio (Live in Manchester)
5. Natural Science (Live in Manchester)
6. A Passage to Bangkok (Live in Manchester)
7. The Trees (Live in Manchester)
8. Cygnus X-1 (Live in London)
9. Cygnus X-1 Book II (Live in London)
10. Closer To The Heart (Live in Manchester)
11. Jacob's Ladder (Live in Missouri)
12. Freewill (Live in London)
Earlier this week, Rush released The Spirit of Radio live in Manchester on multiple streaming channels, including Spotify, Amazon Music and YouTube (watch below). Unlike 2018's Hemispheres 40th anniversary box set, the Permanent Waves Super Deluxe Edition won't include a 5.1 surround sound Blu-ray Audio mix. As we'd pointed out in this earlier post, this could be due to the fact that the multi-track master tapes aren't available as Alex Lifeson explained in this 2012 interview. From the product listings, the Super Deluxe Edition will also include the following bonus merchandise along with a 40-page hardcover book :
* Official Permanent Waves World Tour 1980 Program
* The Words & Pictures Volume II - U.K. Tour Program
* 3 Neil Peart Handwritten Lyric Sheet Lithos
* 3 Band Member Backstage Laminates
* Le Studio 20-page Notepad
* Double-sided 24"x36" Poster
There's still nothing posted on any of the official Rush channels, or on the Rush Backstage Club site yet, but you can pre-order your copy of the Permanent Waves 40th anniversary box set on Amazon (2-CD, 3-LP, Super Deluxe Edition).
Earlier this week the Rush-themed nonprofit Overtime Angels announced the date and venue for a planned memorial concert and charity fundraiser in honor of the late Neil Peart. A Night for Neil: The Neil Peart Memorial Celebration will be held on Saturday, May 16th at the Meridian Centre in Neil Peart's hometown of St. Catharines, Ontario. The event has been in the works since shortly after Peart's passing as detailed by Overtime Angels' Jim Brunke in this January 22nd article from the St. Catharines Standard:
... Brunke said members of his team, including event planner Deb Huston, have been reaching out to musicians "of all calibres." Considering how influential Rush's music has been to even some of the biggest names in the music industry, Brunke said he expects there will be numerous rock bands and individual musicians "who would love to perform." The charity has teamed up with another passionate Rush fan on this side of the border - George Roche from Toronto-based entertainment agency The Booking House Inc. Although still early in the planning process, Roche, too, is confident the event would attract top-notch musicians from all over the world. "There are just so many great drummers who loved Neil and respected his complexity and style as a drummer," said Roche, himself a drummer heavily influenced by Peart. "We're definitely going to be reaching out to those people to participate." Brunke said members of Peart's family are in full support of the idea. "They were so appreciative, and want to be part of it," Brunke said. In addition to a live-music component, Brunke hopes to include opportunities for fans, friends and family members to participate. "We're just so excited about having the opportunity to be involved in doing this for, basically, our musical hero." ...
Pre-sale tickets will go on sale this coming Wednesday, February 26th at 12PM EST and will go on full public sale next Friday, February 28th. An official announcement will be released this coming Monday, February 24th with a link to purchase tickets, followed by the names of artists who will be performing/appearing. Please follow the event on social media (Facebook, Twitter, Instagram) and/or subscribe to the email list at this location to get the latest information.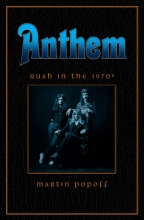 Music writer Martin Popoff will be releasing a new Rush book this coming May titled Anthem: Rush in the '70s. The book will be the first of a 3-part Rush Across the Decades series. Popoff was recently interviewed for Publishers Weekly to chat about the book and was asked if he came across anything about the band that surprised him over the course of writing it:
First was the loyalty in the band and their associates. The number of members of their management office and crew from the 1970s who were still there in the 1990s and beyond was staggering. This was a band that did not make many enemies throughout its career. Second was the remarkable friendship and chemistry of the three band members. There was a little struggle between them after their breakthrough hit "The Spirit of Radio" in 1980, as they added more keyboards to their songs throughout the 1980s and into the '90s. But what I found most impressive was that as they changed styles, sometimes radically, they didn't explode.
This will be the fourth Rush book from Popoff who also authored the 2004 Rush biography Contents Under Pressure, 2013's Rush: The Unauthorized Illustrated History (an updated edition was released back in 2016), and - most recently - Rush: Album by Album in 2017. Anthem: Rush in the '70s is currently slated for release on May 12th and can be pre-ordered at this location.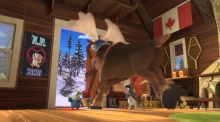 The Disney Kids show Puppy Dog Pals inserted a brief tribute to Neil Peart into their latest episode, Maple Cheer Up (Season 3, Episode 8). In the episode, the Puppy Dog Pals visit Canada to learn about maple syrup, and there's a poster on the wall of the maple syrup cabin that shows the Rush Starman with a puppy replacing the man, a heart in place of the star, and the words N.P. 2020 in place of Rush 2112 in the standard blue and purple 2112 font. You can get a good view of the poster just to the left of the door at about the 19:40 mark of the episode as seen in this screenshot. Thanks to Christopher M for the heads up.
Toronto Blue Jays catcher Caleb Joseph caught the attention of Rush fans this past week with this viral video showing him air-drumming to Rush's Tom Sawyer at Blue Jays spring training in Florida. The Score caught up with Joseph yesterday to chat about the video and his love for Rush (thanks RushFanForever):
... (I've been) playing drums, I'd say, 10 years," Joseph said Thursday in the Blue Jays' clubhouse at TD Ballpark. "(Been) playing the air drums for the past, probably, 25." Joseph's love for Rush started well before that: when he was 12 years old and his uncle first introduced him to the iconic Canadian prog-rock group by playing "Vital Signs" on the stereo in his Honda Accord. "I just thought it was the most amazing song of all time," Joseph said. "Then I was scooped in and, like many other Rush fans, you just kind of can't escape it." Over the years, Joseph saw Rush perform "around eight times," and the 33-year-old even managed during his five seasons with the Baltimore Orioles to forge a relationship with Geddy Lee, the band's inimitable lead singer and a devoted Blue Jays fan who can often be spotted in the front row behind home plate at Rogers Centre. As such, Joseph was "crushed" when Peart - who was the band's principal lyricist and whose incomparable drumming skills constituted Rush's signature - died in January, at age 67, from brain cancer."It ruined my week," he said. "I just thought Neil had arthritis, and then to find out he was battling brain cancer was just a crushing blow. "So that was just as much of a tribute to Neil and the band as it was just to get the guys going yesterday." It did, indeed, get the guys going. And you won't see anything cooler this spring.
Interviewer Marc Allen and producer Alan Berry started a podcast last year called The Tapes Archive where they present never-before-heard interviews with notable musicians, actors, comedians and other iconic people that took place during the 1980s and 90s. Back in September for Episode 7 of the podcast, they featured a 1990 interview with Neil Peart which you can listen to here, and earlier this month they posted another Peart interview from 1991 which is available here (thanks Will C). They have one more Peart interview lined up for a later episode as well.
The latest issue of Music Legends magazine (Issue #6) contains a 9-page Tribute and Retrospective article on Rush and Neil Peart. The entire issue is available online at this location and the article appears on page 52. The latest issues of Planet Rock magazine (issue #19) and Mojo magazine (April, 2020) also include tributes to Peart. Thanks to RushFanForever for the heads up.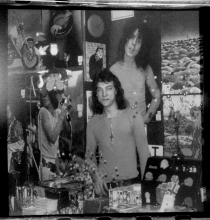 Alan Cross recently came across a new, 1971-era photo of Neil Peart that shows the young drummer at the jewelry shop he worked at during his brief residency in London, England. In this blog post, Cross explains the photo's background and how he came across it (thanks RushFanForever):
... At age 18, [Peart] was part of a St. Catharines band called J.R.Flood, but that was unfulfilling. Quitting school, he moved to London where he tried out the music scene in a variety of groups before ended up selling jewelry on Carnaby Street. This brings us to this photo. Anil, a regular reader of this site, teaches photography to high school kids. Wilfred Grenzberg, the grandfather of one of Anil's students, told a story about how he ran into Neil during a trip to London in 1971. Neil was one of Grenzberg's former English students in high school-and one of the few teachers Neil really liked. Anil's student brought in the negative and it was reproduced. Here's the result. ...
One of the more interesting (?) tributes to Neil Peart took place this past weekend in Peart's hometown of Port Dalhousie, where the 20th annual Chicken Chucking Championships were held on Sunday at Lakeside Park, honoring the late drummer as described in this NiagaraThisWeek.com article:
... Usually, the yearly event occurs on the ice at Martindale Pond with chuckers throwing frozen chickens, which are later donated. After inspecting the pond and the ice not being thick enough, it was decided to move the event onto land at Lakeside Park. This also meant replacing the frozen chickens with rubber ones. "It's fitting we're doing it at Lakeside Park," said Prentice, adding that this year the event's T-shirts are dedicated to Neil Peart, who passed away in January 2020. A famous drummer with the band Rush, Peart is a Canadian-born musician with ties to Port Dalhousie who wrote the lyrics to the group's 1975 song "Lakeside Park". Prentice thinks Peart had some hand in deciding the weather that led the chicken chucking to move from the pond to the park but said it didn't take away from the enjoyment and competition. ...
Treble magazine recently posted the first of a series of articles in tribute to Neil Peart where they present a historical retrospective of Rush's discography. The first installment covers Rush's first four albums and can be read online here.
Ultimate-guitar.com posted their list of the Top 6 Bands That Were Predecessors to Modern Progressive Metal this past week, one of which was Rush:
No talk of influential progressive rock music would be complete without mentioning the Canadian legends, Rush. The band that made so many kids pick up an instrument and try to play the complex parts of Lee, Lifeson, and Peart was formed back in 1968, which is impressive considering they are still being relevant and revered after all these years. The odd time signatures, incredibly technical musical parts, and flawless performances filled every Rush album making them the gold standard for modern progressive music with likes of Dream Theater and Symphony X looking up to them while beginning to write their own music.
Since the middle of last month, ThatHashtagShow.com has been posting a series of articles where they cover Rush and their storied career, reviewing each of their many studio albums. They've published 7 articles so far, each covering 1 or 2 of Rush's albums, with the latest installment moving into the mid-late 1980s and featuring Power Windows and Hold Your Fire. They've also covered Rush and Fly by Night, Caress of Steel, 2112, A Farewell to Kings and Hemispheres, Permanent Waves and Moving Pictures, and Signals and Grace Under Pressure.
In last week's Friday updates post, I briefly mentioned how the U.S. Army Band Pershing's Own vocal group Downrange posted a beautiful performance of Rush's Time Stand Still to YouTube as a tribute to the late Neil Peart. The video has since gone viral, generating nearly 400K views on YouTube. In case you missed it, you can watch it below:
That's all for this week. Have a great weekend!!