UPDATE - 5/1@2:02PM: The tour has officially been postponed:
The upcoming "Primus: A Tribute To Kings" tour is being rescheduled. Primus has been looking forward to celebrating this legendary Rush album, but want to ensure everyone's health and safety is not at risk. New dates are being worked on at this time and information will become available the moment it's able to be shared. Hang onto your tickets as they will be valid for the new dates. A majority of the shows will offer refunds when the new dates are announced or after 60 days if it takes extra time to find new dates. Please reach out to your original point of purchase with questions regarding refund policies and any other ticket inquiries. Thank you for your understanding and support during this unprecedented time.
----- SNIP -----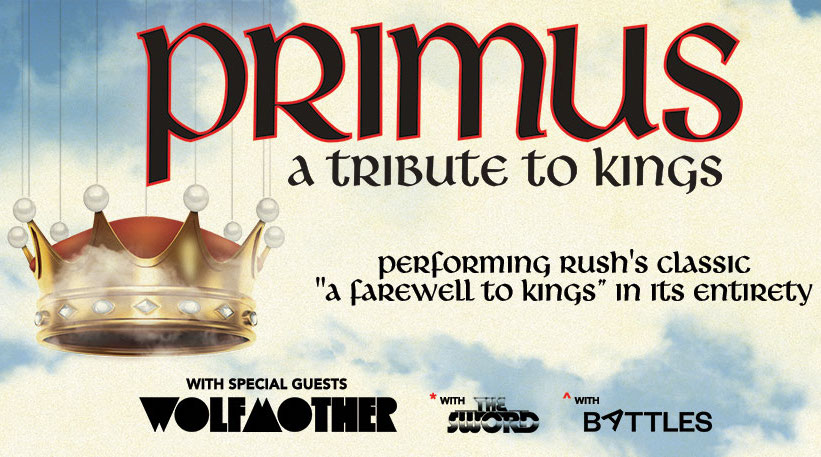 Primus's Les Claypool has just announced that he and his Primus bandmates Larry LaLonde and Tim Alexander will honor their musical heroes Rush on a massive tour where they'll cover the band's A Farewell to Kings album in full every night, before playing a full set of Primus' own songs. The A Tribute to Kings tour will hit cities all across the US from late May through early August, with ticket presales beginning later this week. Rolling Stone magazine spoke with Claypool about the tour and how it came about:
... [the tour] will no doubt take on added significance in light of the death of iconic Rush drummer Neil Peart in January. The timing, as it turns out, is a complete coincidence; Primus' Rush covers run had been in the works since last year. "We're trying to be very sensitive about doing the tour and not having it be, 'Hey, all about Neil,'" Claypool says. "It's about admiration for these amazing musicians and friends." ... we had talked about doing an album in its entirety a while ago. ... we'd always talked about potentially doing Hemispheres because that was my first concert, and it may have been Ler's [LaLonde] first concert too, actually. And when it finally came down to it, we started looking at the different records and settled on Farewell to Kings. ... I talked to Geddy about it, yeah. I texted with him - I keep in touch with Geddy - just to make sure we weren't trodding on something weird. So I checked in with him to see what he thought of it, and he was excited about the notion. ... he thought it was a great idea. You know, we go way back with those guys so I think it made him feel good that it was going to be us that was going to do this thing. But I don't know, you'd have to ask him. I can't put words in his mouth, but he seemed excited about it. ...
Here's what Claypool had to say about Neil Peart's death and how that may have affected plans for the tour:
... it makes the plans a little more....We're trying to be as sensitive as we possibly can, so it doesn't appear like we're just jumping on the, "Hey, a superhero has died - let's go out and do a tribute to him" type thing. So we're trying to be sensitive to that, and also Neil was a very, very, very private person, so I don't know how much he would want this or his family would want us talking about a lot of this stuff anyway. So I had known he had been sick for a while. Stewart [Copeland] was pretty close to him up 'til the end, so I would get little reports through Stewart every now and again as to what was happening. So it wasn't a huge surprise, but it's still a very jolting thing. When your heroes and friends start to leave the planet, it snaps you to.... there were rumors that he wasn't doing well, but we didn't know to the extent. And I never really talked about it with Geddy. It wasn't something I really wanted to talk about, and it wasn't something that even Neil wanted people to talk about. It's even uncomfortable talking to you about it right now, 'cause like I said, he's very private, the family's very private, so I don't think anybody in that camp really wants to harp on it. ...
Claypool addresses the choice of A Farewell to Kings in more detail later in the intervew, and also talks more about his long relationship with Rush. You can read the entire interview online at this location (thanks Richard G). Here's some video of Primus covering Cygnus-X1 from earlier this year: