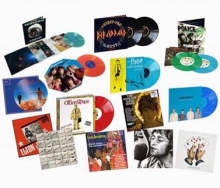 Yesterday the Record Store Day website posted their list of releases for this year's event coming up on April 13th, and Rush will be participating with a Hemispheres 12-inch vinyl picture disc. There are few details available at this time, but it's assumed this will be a re-release of the long out-of-print LE 1978 picture disc. The release will be limited to 5000 copies and is listed as an RSD First release - which means it will be available via other channels at some point after Record Store Day (likely via the Rush Backstage Club). To find participating store locations and to learn more about Record Store Day, visit the website at recordstoreday.com.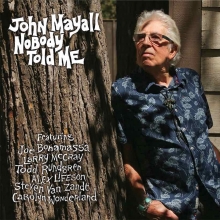 Legendary blues guitarist John Mayall's new album Nobody Told Me released last Friday via Forty Below Records, and features guest musicians Todd Rundgren, Joe Bonamassa, Larry McCray, Carolyn Wonderland, Steven Van Zandt and Rush's Alex Lifeson. Lifeson is featured on a recording of Evil and Here to Stay (a 1992 Jeff Healey song). Classic Rock magazine recently spoke briefly with Mayall and Lifeson about the track and made a streaming preview available as well:
... "Evil and Here to Stay is just one of the star studded songs you'll be playing over and over," says Mayall. "On this particular track you get to hear some great guitar soloing from special guest Alex Lifeson, who feels right at home with this special groove."

"One of the first songs Rush learned to play as a band in front of an audience was Snowy Wood in 1968," says Lifeson. "So our influences go a long way back with John Mayall.

"When I was asked to do this particular project I was actually quite thrilled by it. Long being an admirer of the many amazing guitar players that have been a part of the Bluesbreakers and to be considered in that esteemed group I was very, very honoured, and it's been a real pleasure." ...
The Arts Desk recently reviewed the album and gave it a respectable 3 out of 5 stars as seen here. Nobody Told Me is now available for purchase at this location.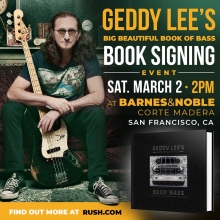 Geddy Lee will be signing copies of his Big Beautiful Book of Bass at Barnes & Noble in Corte Madera, CA (outside San Francisco) TOMORROW, March 2nd at 2PM PST. You can get all the details and purchase your tickets (there are still some available as of this post) for the event here:
Join Barnes & Noble - Corte Madera on March 2, 2019 at 2 PM as they host Rush frontman Geddy Lee for a signing of GEDDY LEE'S BIG BEAUTIFUL BOOK OF BASS, the definitive volume on Geddy Lee's personal collection of vintage electric bass guitars, dating from the 1950s to the 1980s.

One ticket grants you admission and one copy of GEDDY LEE'S BIG BEAUTIFUL BOOK OF BASS for Geddy to personalize. You may purchase up to two tickets. This is a signing only; photographs are only allowed from the signing line. Geddy will not sign memorabilia - only the book.
This will be the fifth book signing event Geddy has put on since releasing his book. He's done signings at Book Soup in West Hollywood, IndigoSpirit in Toronto, Bookend Books in New Jersey, and at the Rock Hall in Cleveland.
Speaking of Alex, Lerxst is one of the participants in the 2019 Patrick Warburton Celebrity Golf Tournament to benefit St. Jude Children's Research Hospital at the JW Marriott Desert Springs Resort in Palm Desert, CA this weekend. The event kicked off yesterday with Songwriters Night and will continue through the weekend. It will include a celebrity Jam Session tonight, along with the golf tournament itself over the weekend. Alex Lifeson along with Alice Cooper, Steve Augeri (Journey), Jason Scheff (Chicago), Skunk Baxter (Steely Dan/The Doobie Brothers), Gretchen Wilson and many more (full list of participants here) will be participating in tonight's Jam session. For more information including tickets and registration information, visit patrickwarburtongolf.com. Alex has attended the tournament several times in the past, most recently back in 2016.
The Cleveland Plain Dealer posted their list of the 50 greatest Rock and Roll Hall of Fame bass lines yesterday and Rush's YYZ made the cut at #25:
"YYZ" is Geddy Lee's ultimate performance. His love of jazz and funk are fully present as he shows off literally everything he's capable of on the bass. No wonder it's a favorite of Rush fans everywhere.
In light of last week's Rush t-shirt-filled episode of The Goldbergs, where the Johnny Atkins character sported multiple Rush t-shirts throughout the show, 105.7 WROR decided to run a poll this past week to determine the Best Fictional Rush Fan. The contenders are the aforementioned Johnny Atkins, Peter Klaven and Sydney Fife from the movie I Love You, Man, and Bubbles, Julian and Ricky (aka the Trailer Park Boys). You can take the poll online here.
Back in 2014 a few diehard Rush fans who were inspired by Rush's many charitable donations over the years, put together the 501(c)3 charitable organization Overtime Angels with the goal of helping individuals in need that might not be able to receive help from large charitable organizations. The organization has announced the dates for their third annual RushCamp event/fundraiser over Labor Day weekend later this year. This year's event will take place from Friday, August 30 to Sunday, September 1st at Independent Lake Camp in North East Pennsylvania, and feature performances by David Barrett, Brandon Dyke, Solar Federation and Second Contact. More details and ticket information are coming soon. For all the details visit the Overtime Angels website and check them out on Facebook.
Opening day for the 2019 MLB season is just a few weeks away and reader Ken K (aka The Clansman 2112) wanted me to let everyone know that he has one spot open for his annual rushisaband Fantasy Baseball League that's going into its ninth year. It's a 20 Team Roto League with no entry fees or prizes - they just play for fun and bragging rights, and have a lot of fun talking about baseball and Rush. If you are interested, go to this link to join up - the live draft is on Sunday, March 24th.
Pan Rocks have announced via Instagram that their steel drum Rush tribute project featuring Mike Portnoy will release their video for YYZ this coming Monday, March 4th. You can secure yourself a copy of the tribute album and grab some cool Pan Rocks Rush swag at the Pan Rocks Pledge Music page. Here's some video from the YYZ recording sessions:
Sometime in March of 1974 (March 18th or thereabouts), Rush's debut album was released on Moon Records. The album was then later picked up by Mercury/Polygram and re-released on August 10, 1974. Happy 45th anniversary Rush!! That's all for this week. Have a great weekend!