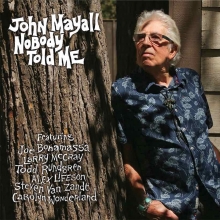 Legendary blues guitarist John Mayall's new album Nobody Told Me releases today via Forty Below Records, and features guest musicians Todd Rundgren, Joe Bonamassa, Larry McCray, Carolyn Wonderland, Steven Van Zandt and Rush's Alex Lifeson. Lifeson is featured on a recording of Evil and Here to Stay (a 1992 Jeff Healey song). Classic Rock magazine recently spoke briefly with Mayall and Lifeson about the track and made a streaming preview available as well:
... "Evil and Here to Stay is just one of the star studded songs you'll be playing over and over," says Mayall. "On this particular track you get to hear some great guitar soloing from special guest Alex Lifeson, who feels right at home with this special groove."

"One of the first songs Rush learned to play as a band in front of an audience was Snowy Wood in 1968," says Lifeson. "So our influences go a long way back with John Mayall.

"When I was asked to do this particular project I was actually quite thrilled by it. Long being an admirer of the many amazing guitar players that have been a part of the Bluesbreakers and to be considered in that esteemed group I was very, very honoured, and it's been a real pleasure." ...
The album is now available for purchase at this location.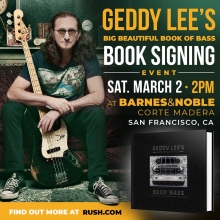 Geddy Lee will be signing copies of his Big Beautiful Book of Bass at Barnes & Noble in Corte Madera, CA (outside San Francisco) next Saturday, March 2nd at 2PM PST. You can get all the details and purchase your tickets (there are still some available as of this post) for the event here:
Join Barnes & Noble - Corte Madera on March 2, 2019 at 2 PM as they host Rush frontman Geddy Lee for a signing of GEDDY LEE'S BIG BEAUTIFUL BOOK OF BASS, the definitive volume on Geddy Lee's personal collection of vintage electric bass guitars, dating from the 1950s to the 1980s.

One ticket grants you admission and one copy of GEDDY LEE'S BIG BEAUTIFUL BOOK OF BASS for Geddy to personalize. You may purchase up to two tickets. This is a signing only; photographs are only allowed from the signing line. Geddy will not sign memorabilia - only the book.
This will be the fifth book signing event Geddy has put on since releasing his book. He's done signings at Book Soup in West Hollywood, IndigoSpirit in Toronto, Bookend Books in New Jersey, and at the Rock Hall in Cleveland. The book appeared on the Toronto Star Bestsellers list last week, coming in at number 10 on the original non-fiction list.
Speaking of Alex, Lerxst will be one of the participants in the 2019 Patrick Warburton Celebrity Golf Tournament to benefit St. Jude Children's Research Hospital next weekend from Thursday, February 28th through Sunday, March 3rd at the JW Marriott Desert Springs Resort in Palm Desert, CA. The event will include a Songwriters Night on Thursday, a Friday celebrity Jam Session, and the golf tournament itself over the weekend. Alex Lifeson along with Alice Cooper, Steve Augeri (Journey), Jason Scheff (Chicago), Skunk Baxter (Steely Dan/The Doobie Brothers), Gretchen Wilson and many more (full list of participants here) will also be participating in the Friday night Jam session. For more information including tickets and registration information, visit patrickwarburtongolf.com. Alex has attended the tournament in the past, most recently back in 2016.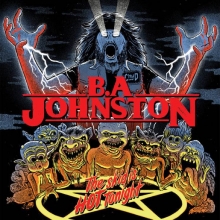 Hamilton, ON based comedic musician and performance artist B.A. Johnston's new album The Skid Is Hot Tonight releases today via Transistor66. The album's first single is a comedic ode to Rush's Geddy Lee titled, appropriately, Geddy Lee. The track is now available for streaming and you can listen to it on YouTube and other streaming platforms. You can learn more about B.A. Johnston via his website at this location.

Actor Sean Marquette portrays the recurring character Johnny Atkins on the ABC '80s throwback comedy series The Goldbergs. The character was first introduced early in Season 3 of the show and is known for being a huge Rush fan and always wearing a Rush concert t-shirt in every episode he appears in. The show even aired an entire episode centered around Rush and featuring Marquette's character back in Season 3 (Season 3, Episode 21 - Rush) as described in this post. This past week's episode (Season 6, Episode 16 - There Can Be Only One Highlander Club) featured the Johnny Atkins character wearing multiple Rush t-shirts throughout the episode. The show's publicist had originally announced that he'd be wearing 11 different shirts, but that wasn't the case exactly. Although he did show up in the episode at least 11 different times wearing a Rush t-shirt, there were actually only 6 different shirts shown; 2 separate Hold Your Fire shirts, a Moving Pictures shirt, a A Farewell to Kings shirt, a Grace Under Pressure shirt, and a Fly By Night shirt.
Speaking of Rush t-shirts, high school junior Ryan Keller of Avon Lake, OH (just outside Cleveland) recently scored a perfect score of 36 on his ACT and was featured in a local news story about it, proudly sporting a Rush explosion logo t-shirt (thanks Noelle N). Good job Ryan! This is more evidence that Rush fans are smarter than everyone else. :)
Prog magazine recently featured a story on progressive metal titled Voivod, Dream Theater, Watchtower and the explosive birth of prog metal, and Rush gets a mention:
... As [Voivod drummer Michel 'Away' Langevin] and his bandmates walked backstage that first night [after opening for Rush], they found a bottle of champagne waiting for them. Accompanying it was a note signed by Rush's Geddy Lee, Alex Lifeson and Neil Peart wishing them luck. "That was a huge moment for us," says Away now. "Rush were so influential. The fact that the drummer wrote the lyrics and the concepts was big for me. And Alex Lifeson was one of [Voivod's then-six-stringer] Piggy's favourite guitarists." But there was much more significance to that bottle of bubbly than just the best wishes of one of prog rock's great bands. Consciously or not, it was a baton being handed down from one generation to the next - an acknowledgement that the future, or one strand of it, belonged to Voivod and their ilk. Voivod's support slot with Rush was one of the key stepping stones in the upward trajectory of prog metal ...
A few years back, mashup artist DJ Cummerbund made some noise in the online music press with his mashup video of R&B singer Kelis's 2003 chart smash Milkshake and Rush's YYZ - cleverly titled YYMilk. Reader Stanley just made me aware of a new mashup video from Cummerbund that includes a crazy number of artists and songs, including Rush's Limelight. According to the description, the video was made for Barron Trump (son of President Trump) for his 13th birthday celebration, and all the included songs/artists are particular favorites of his. You can watch it on YouTube here. Rush starts to pop in around the 1:30-2:30 mark.
Here's John Mayall's recording of Evil and Here to Stay featuring Alex Lifeson:
That's it for this week. Have a great weekend!!