UPDATE - 4/14@11:29AM: Here's a recap and review of last night's Rush episode of The Goldbergs from the A.V. Club ...
UPDATE - 4/14@10:09AM:


The episode is now available to watch online at the ABC website (you have to verify your cable subscription). The show opens with Erica and her friends talking about music at lunch. Then Johnny Atkins buds into the conversation:
Johnny: You guys need to get a clue. There's only one band on the planet that matters - Rush. They're not the canned garbage you listen to. They're real. They're from Canada. It's super cold so they have to rock super hard to stay warm.

Erica: I'll take your word for it.

Johnny: Why take my word for it when you can come to my Corolla and find out for yourself. Unless you're afraid.

Erica: Of being alone with you in your rusted out piece of crap? For sure.

Johnny: Hey - Johnny Atkins respects women. He has bad hair days too. Not many though (flips his ponytail).
The next scene is the one shown in the preview clip below. From that point on Erica becomes a Rush fan, wearing Rush t-shirts (she wears multiple Rush shirts including this Caress of Steel shirt), decorating her room with Rush posters and a lifesize cut-out of Geddy Lee, and also buying Rush albums (they show the Caress of Steel album). She starts dating Johnny, much to the chagrin of her father, and also joins Johnny's Rush cover band - Speedup. Later in the episode she has a falling out with Johnny and he kicks her out of the band. She then plays Tom Sawyer for her two friends, turning them into Rush fans as well. They form their own Rush cover band and enter the battle of the bands competition themselves, and wow the crowd with their Tom Sawyer cover.
----- snip -----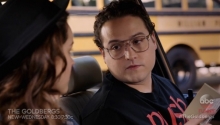 Last week we learned that tonight's episode of the ABC '80s sitcom The Goldbergs is titled Rush and that it promised to include a number of Rush references. Early in Season 3 of the show a new recurring character named Johnny Atkins (played by Sean Marquette) was introduced. He's a cocky band geek who goes to school with Erica and is always shown wearing various Rush t-shirts and carrying a saxophone around his neck. He first appeared in the 2nd episode of the season (A Chrous Lie) where he was Erica's potential date to homecoming. In that episode he was shown wearing three separate Rush t-shirts at different points in the show; a Moving Pictures shirt, a Fly By Night shirt and a Hold Your Fire shirt. He also made appearances in several other episodes this season, but tonight's episode promises to be the most Rush-reference-laden episode to date. The title of the episode is Rush and here's the official episode summary:
When Beverly gives Adam a "best son" trophy, Barry brings to her attention that she always favors Adam. Appalled, Beverly decides to ignore Adam (much to his delight) and smother Barry (much to his dislike), but it backfires. Meanwhile, Erica starts dating a boy who gets her to love the band Rush as much as he does and whom Murray doesn't approve of, on "The Goldbergs," WEDNESDAY, APRIL 13 (8:30-9:00 p.m. EDT) on the ABC Television Network.
TV Guide has posted a 1-minute preview video which gives us some more insight into how Rush fits into the episode. In the scene, Erica and Johnny are sitting in Johnny's car and Johnny says the following as he slips a cassette tape into the car's stereo:
Johnny: Are you ready to step into the musical cocoon and emerge a rock-n-roll butterfly?
Erica: Just play it so I can be proven right.
Rush's Tom Sawyer then starts playing and the camera pans to Erica's astonished face as the narrator (Erica's brother) says the following:
In that moment my sister's mind unlocked as she was ushered into a world of prog-rock. It was an instant attraction in more ways than one.
Johnny and Erica then start making out. You can watch the clip below or online at this location. The episode airs tonight, April 13th and you can watch The Goldbergs on ABC or online at the ABC website here.