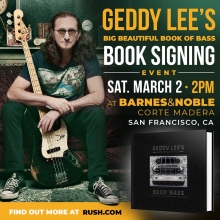 Rush and Geddy Lee announced another book signing event for Geddy's Big Beautiful Book of Bass earlier today. Geddy will be signing copies of his new book at Barnes & Noble in Corte Madera, CA (outside San Francisco) on Saturday, March 2nd at 2PM PST. You can get all the details and purchase your tickets for the event here:
Join Barnes & Noble - Corte Madera on March 2, 2019 at 2 PM as they host Rush frontman Geddy Lee for a signing of GEDDY LEE'S BIG BEAUTIFUL BOOK OF BASS, the definitive volume on Geddy Lee's personal collection of vintage electric bass guitars, dating from the 1950s to the 1980s.

One ticket grants you admission and one copy of GEDDY LEE'S BIG BEAUTIFUL BOOK OF BASS for Geddy to personalize. You may purchase up to two tickets. This is a signing only; photographs are only allowed from the signing line. Geddy will not sign memorabilia - only the book.
This will be the fifth book signing event Geddy has put on since releasing his book. He's done signings at Book Soup in West Hollywood, IndigoSpirit in Toronto, Bookend Books in New Jersey, and at the Rock Hall in Cleveland.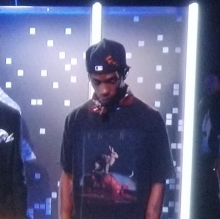 Rapper Travis Scott performed at the 61st Grammy Awards this past weekend sporting a vintage Rush Counterparts t-shirt as seen in this tweet and these photos. The t-shirt he wore was a 1993 Counterparts shirt which pictures a rabbit riding a turtle as seen here. Scott performed a medley of songs from his Astroworld album, beginning with Stop Trying to Be God featuring James Blake, before going into No Bystanders. Some footage of the performance can be seen in this post. Scott was nominated for three Grammys this year: Best Rap Performance and Best Rap Song for SICKO MODE, as well as Best Rap Album for Astroworld. Apparently, Scott may have borrowed this t-shirt from his girlfriend Kylie Jenner as detailed in this pagesix.com article. Kylie Jenner was spotted wearing the shirt a couple of weeks ago and shared a photo on Instagram. Spin magazine also published a tongue-in-cheek article this past week discussing Scott's wardrobe choice and the practice of rap stars wearing vintage rock t-shirts titled Message to Kids: Rush Isn't Cool.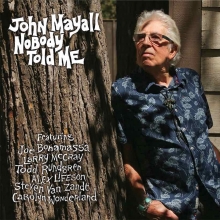 Legendary blues guitarist John Mayall's new album Nobody Told Me will release next Friday, February 22nd via Forty Below Records, and will feature guest musicians Todd Rundgren, Joe Bonamassa, Larry McCray, Carolyn Wonderland, Steven Van Zandt and Rush's Alex Lifeson. Lifeson is featured on a recording of Evil And Here To Stay (a 1992 Jeff Healey song). Relix.com posted a review of the album this past week which you can check out online here. The album is now available for pre-order at this location.
Speaking of Alex, Lerxst will be one of the participants in the 2019 Patrick Warburton Celebrity Golf Tournament to benefit St. Jude Children's Research Hospital later this month from Thursday, February 28th through Sunday, March 3rd at the JW Marriott Desert Springs Resort in Palm Desert, CA. The event will include a Songwriters Night on Thursday, a Friday celebrity Jam Session, and the golf tournament itself over the weekend. Alex Lifeson along with Alice Cooper, Steve Augeri (Journey), Jason Scheff (Chicago), Skunk Baxter (Steely Dan/The Doobie Brothers), Gretchen Wilson and many more (full list of participants here) will also be participating in the Friday night Jam session. For more information including tickets and registration information, visit patrickwarburtongolf.com. Today is the last day to purchase tickets for the event. Alex has attended the tournament in the past, most recently back in 2016.
While Geddy and Alex are keeping busy with their various side projects, it looks like Neil is spending his free time playing in the snow in Quebec. The West Side Beemer Boyz Instagram posted this photo of Neil enjoying the Great White North earlier today:
Reader Rob B let me know about a Rush reference in the new YouTube Premium series Wayne. In episode 4 (Find Something Black To Wear) Rush's Working Man is played as the soundtrack for one 2-minute scene. The backstory of the scene involves the show's protagonist, Wayne, who has been working as a day laborer for a shady contractor. Wayne finds out all of his coworkers on the job are illegal aliens that the contractor decides to bring into INS rather than pay them. Wayne chases down the van, attacks the driver and frees the workers. If you have YouTube Premium, you can watch the episode online here. There's also this recap of the episode from Wherever-i-look.com.
Actors and funnymen Chris Pratt and Will Arnett co-star in the recently released Lego Movie 2. As part of the film's promotion, the pair added some comedic narration to a YouTube makeup tutorial by Allure magazine's Digital Beauty Editor Sable Yong. Arnett makes a humorous Rush reference at about the 5:18 mark of the video which you can check out online here (thanks Caroline C).
Sweetwater interviewed bassist Duff McKagan at the Winter NAMM show last month to talk about his new Fender signature bass guitar. McKagan mentions Geddy Lee's signature Fender Jazz bass a few times during the interview (thanks Eric C). Speaking of which, Prince and The Revolution bass player Mark Brown mentions playing a Geddy Lee Fender Jazz in this recent MusicRadar.com interview (thanks Charlie A).
In celebration of Valentine's Day yesterday, Prog magazine put together their Prog Valentines Playlist, which includes Rush's Tears (thanks RushFanForever):
2112 is loved by Rush fans for many things, not least it's bewilderingly dazzling side-long title track. But tucked away on side two is this short, effective love song, not something the band have really been noted for. It was also the very first Rush song that used a Mellotron, which was payed by Hugh Syme, a man better known for creating many of Rush's album covers.
In celebration of the 38th anniversary of the release of Rush's Moving Pictures album this past Tuesday, UDiscoverMusic.com posted a retrospective profile of the album which you can check out online here.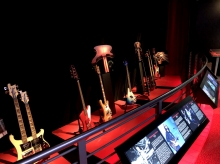 Last month Rush fans from across the country flocked to the Rock and Roll Hall of Fame in Cleveland for Rush Fan Day where Geddy Lee and Alex Lifeson made an appearance as part of Geddy's book signing tour for his Big Beautiful Book of Bass. Geddy also brought along eight iconic basses from his collection which were set up in a temporary display for Rush Fan Day attendees to enjoy (photo here). For those that missed out on Rush Fan Day, the Rock Hall announced earlier this week that Geddy's bass exhibit will be on display through April. They also posted a short video interview with Geddy where he talks about the exhibit and why he chose these 8 basses in particular:
Not only a musician and member of @RUSHtheband but a collector too, a special selection of Geddy Lee's globe-spanning bass guitars are now on display through early April. Get up close to some of Lee's notable instruments. 🎸 pic.twitter.com/odsRZOGb8I

- Rock Hall (@rockhall) February 12, 2019
That's all for this week. Have a great weekend everybody!!