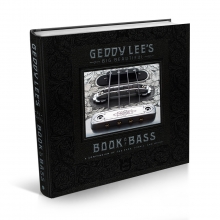 I hope all of my US readers had a happy Thanksgiving yesterday and are surviving the madness of Black Friday. Speaking of which, the Rush Backstage Club is running a Black Friday sale today through Sunday, where they are offering 10% off almost all of their merchandise, and the folks at FANTOONS are also running a sale where fans will get 20% off ALL of their officially licensed Rush merchandise (and all of their other stuff too) today through November 27th at their Etsy Store. Keeping with the Black Friday theme, reader Jason Z noticed that Ashley Furniture has a Black Friday sale advertisement on their home page which features a drumhead that has the Rush starman symbol on it as seen in this screencap. Black Friday typically marks the beginning of the Holiday shopping season, and there's plenty of new Rush merchandise available this year for gift-giving, most notably the Hemispheres 40th anniversary box set that released last week and Geddy Lee's Big Beautiful Book of Bass that releases next month. Geddy will kick off the December 18th release of the book with a book signing event at Bookend Books in Ridgewood, New Jersey where he will sign copies of the book for fans. Unfortunately the event is SOLD OUT, but we're hoping that Geddy plans to hold a few more such events after the Holidays. Geddy posted a few excerpts from the book to his official Instagram page over the past few weeks. There's an excerpt from an interview with John Paul Jones from the book here, an excerpt from chapter one on the Fender bass here, this snippet from the Höfner chapter, and - just this morning - this excerpt from the Rickenbacker chapter. Coincidentally, Ultimate-Guitar.com posted an article yesterday about the Rickenbacker Bass and the musicians who made it famous, including Rush's Geddy Lee:
He is not only a Rickenbacker man, but the Doubleneck Rickenbacker man. Though, Geddy can more identified with a black 1972 Fender Jazz Bass, and the man was honored with Signature Jazz Bass in 1998, he also owns a black Rickenbacker 4001, which he used for live and studio work from 1975 to 1984; the Doubleneck 4080/12 (Double-neck, 4001 bass & 12-string guitar with humbuckers); and a Rickenbacker 3001.
Geddy spoke at length about the book and his writing process in this recent Classic Rock magazine interview. Geddy Lee's Big Beautiful Book of Bass is slated for release on December 18th and you can pre-order it at this location.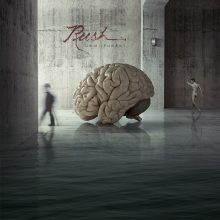 As mentioned above, Rush's new Hemispheres 40th anniversary box set officially released last week and is available as a 2 CD or 3 LP set along with a Super Deluxe edition that includes both the 2 CDs and 3 LPs along with a bonus Blu-ray disc. The set uses the Abbey Road Studios 2015 remastered edition of the album, along with a newly restored bonus recording of the band's June 1979 Pinkpop Festival performance in the Netherlands (with the 2112 performance replaced with one from a Tucson show in November 1978). The Super Deluxe edition also includes a 5.1 Blu-ray mix of the album (from Rush engineer Rich Chycki) and 4 bonus videos. The Super Deluxe edition also includes several exclusive items, including a 40-page hardcover book with unreleased photos and new artwork by original album designer Hugh Syme. The Rush Backstage Club is offering various merchandise bundles which you can check out here. Ole's Andy Curran spoke at length about the box set in a recent Music Life Magazine interview, and Geddy Lee recently sat down with Rolling Stone magazine to discuss the making of the album and its milestone anniversary, along with some interesting stories regarding the 1979 Pinkpop Festival performance that's included in the box set. Over the past week, several reviews of the set have been posted including a review from uDiscoverMusic.com ('Hemispheres': Wrap Your Brain Around Rush's Cerebral Prog Classic), Spirit of Cecilia (Every Soul a Battlefield: Rush's HEMISPHERES), Consequence of Sound (Rush's Hemispheres at 40 Years Old: A Peak of Prog Ambition), and a 4.5-star review from Rolling Stone (Rush's 'Hemispheres' Reissue Celebrates Band's Prog-Era Peak):
... After Hemispheres, Rush would make a major directional shift, streamlining their songs and toning down their albums' geeky conceptual sprawl - and finding an enthusiastic mainstream audience in the process. But as this reissue drives home, Hemispheres wasn't just "the end of a thing" for Lee, Lifeson and Peart; it was also an early-period peak for a group that still had many to come.
You can order the box set now via Amazon (2 CD, 3 LP, Super Deluxe edition), and also check out this unboxing video.
Alex Lifeson was a guest on this past Saturday's edition of the Sports Innerview with Ann Liguori on WPPB 88.3 FM. Liguori's conversation with Alex focused mostly on golf and its role as an escape from the daily grind of touring for him, but they also touched on Rush, music and other subjects, including his side projects and the Hemispheres box set. Alex mentions that he spent some time with Neil out in LA when he was in town for the Medlock-Krieger Golf Classic All-star Concert a few weeks ago, and this prompted Liguori to ask whether Rush would ever tour again:
... No, you know - we're all just sort of doing other things right now. For Neil - at the end of the day - 3 hours of playing the way he played was becoming too much for him and he would not compromise and would not want to play at even 1 percentage less, and I completely understand that. I think I felt at the time that we still had some gas in the tank and it would be great to continue for a little bit longer. But when it was all said and done 41 years of touring is nothing to sneeze at. And there's so many things to do in the world. I've been busy playing with other people guesting on a bunch of different projects and that's been really, really a lot of fun for me. Geddy's been working on his book ... we're all sort of working on other things. ...
The entire 26-minute interview is available for listening online below or at this location.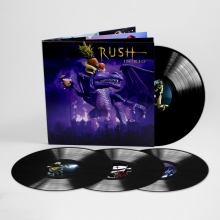 Rush announced earlier this week that they'll be releasing a 4-LP vinyl edition of their 2003 live album Rush in Rio. The set will be produced on 180 gram vinyl with a newly designed jacket, and will also includes a download card containing all of the tracks. The set is slated for release on January 18th and can be pre-ordered via the Rush Backstage Club, or at Amazon. The live album/film was originally released as a 3-CD/2-DVD set on October 21, 2003. This will be the first time it's been made available on vinyl.

Geddy Lee and Alex Lifeson hosted 150 guests for their 4th not-so-annual Excellent Harvest Adventure outing to the Niagara Wine Region last month to benefit their Grapes Under Pressure charity. The group took the 2112 train from Toronto to Peller Estate Vineyards in Niagara-on-the-Lake for a day of good food, good wine and good company, culminating with a gourmet lunch and silent auction. Rush fan Lyle Dennis wrote up a piece for his Medium.com site a few weeks ago describing the day's activities, and just this past week attendee Rodrigo Altaf posted this report:
... As we made our way to Niagara-on-the-Lake, both [Geddy and Alex] started to walk through the train seats and greet everyone who donated for "Grapes for Humanity", the entity behind the whole program - an organization that carries out humanitarian projects in areas of need, particularly in Africa. You can find more about it on their website. I saw both coming at the front end of the train, and tried to contain myself. I told Geddy that my biggest claim to fame as a music fan is the fact that I was at the show when they recorded the Rush in Rio DVD. He smiled and thanked me, and moved on. When Alex came I was a bit more relaxed, and asked if after him, Neil would be the next one greeting us - he said "yeah, but don't wait too long". When asked about a possible tour or album, he jokingly said "yeah, we're aiming at R70. We'll play for 5 minutes and then drop dead". From that point on, the joke with the ones in the nearby seats was to come up with the best name for an R70 tour - "Between the Wheelchairs", "Roll the Broken Bones" and 'Caress of Stamina" were among the best ones. I guess we were too nerdy to come up with better names on the spot. ... One question that I believe the majority of fans asked was about new material and new tour from the band. The response to me is clear: this is by no means the end of Geddy's and Alex' musical journey, but there is ZERO chance of them releasing anything new as Rush. Deluxe editions of "A Farewell to Kings" and "Hemispheres" have recently been released, and a show or two might see the light of day soon, either on CD or DVD. But they'll never tour or record again as Rush. As a fan, we always want one last tour, one last studio album, and we got it - we just didn't know they were IT when they happened. For now, we should be happy they gave us so much and that they're able to step away from the limelight for a bit and still celebrate their legacy with close friends and fans. Just like our collaborator Nick Andreas expressed in his article of March this year: nostalgia is unavoidable, but it's up to us to accept that Rush-as-we-know-it is done. ...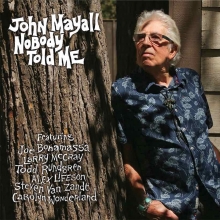 Legendary blues guitarist John Mayall recently announced that his new album Nobody Told Me will release on February 22nd via Forty Below Records, and that it will feature guest musicians Todd Rundgren, Joe Bonamassa, Larry McCray, Carolyn Wonderland, Steven Van Zandt and Rush's Alex Lifeson. A complete tracklisting is available in this Music Tap article, which reveals that Alex played on a recording of Evil And Here To Stay (a 1992 Jeff Healey song).
Popular YouTuber and Rest, Repose drummer Jared Dines recently shared a video rundown of 10 bands that changed his life and shaped him as a musician, one of which was Rush:
Rush showed me a lot of experimental sounds that you can accomplish and Neil Peart was a really cool drummer to see. My dad was a huge Rush fan, so it was a cool bonding experience for us.

There was a Geddy Lee reference on a recent episode of the TV game show Who Wants to be a Millionaire (thanks Lisa S) as seen in this screenshot. Here was the question:
Which of these was the colonist who first proposed the Declaration of Independence, and NOT a member of Motley Crue or Rush, OR the singer of the 1958 hit, "Fever"?
And the 4 answer choices were, A: Peggy Lee, B: Tommy Lee, C: Geddy Lee, and D: Richard Henry Lee.
This past week was a busy one for Rush live concert video releases over the past couple of decades. This past Monday was the 5th anniversary of the release of the Clockwork Angels Tour live video, Tuesday was the 3rd anniversary of the R40 Live video, yesterday was the 13th anniversary of the release of R30, and tomorrow will mark the 10th anniversary of the Snakes & Arrows Live concert video. In celebration of that anniversary and the release of the Hemispheres box set, here's Circumstances from the Snakes & Arrows Live video:
That's all for this week. Have a great weekend!