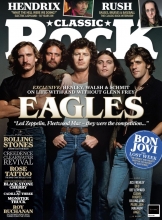 The upcoming December, 2018 issue (Issue #256) of Classic Rock magazine hits newsstands next week and contains a new interview with Rush's Geddy Lee, where he discusses his upcoming Big Beautiful Book of Bass, among other subjects, including his future plans and life after Rush:
I'm going to start going down to the studio and start using all those basses that are staring me in the face and see what happens. I'm not going to promise that I'm going to do a record, this is the way I look at life right now. I kept my family waiting for me for forty-two years, and I'm not doing anything ever again that keeps them waiting. ... But I still love music and I think I still have something to say, but I won't know that until I start banging away downstairs. If I start banging away and it feels like I have something valid to put out there, then I'll go ahead and follow that dream. Well, with my family's permission. ... The first few months after [the R40 tour ended], you're just sort of basking in the post-tour glory; it was a great tour, it was a fantastic memory and the last gig was quite emotional] would say I was a little emotionally bruised for a few months. But of course I had the comfort of my fabulous wife, and we just set off doing what we do: traveling, walking, me enjoying the family. I don't know when it came to me that we wouldn't return. I sort of suspected when we finished that we were really finished. I guess I held out some hope that maybe that wasn't so, but I think over time I just got used to the idea, and over time I started to understand that for Neil to leave was the right decision for him. Since then we've remained friends and we talk all the time. But the first few months 1 think were difficult, and now it's not difficult. I still have moments. I think the book was a fantastically stupid idea for me, it was a ridiculous project. But my life has been ridiculous, and there are so many things about the way I live that are extreme, and yet at the same time I'm a pretty down-to-earth person. But I have these manias and these obsessions, and in many, many ways doing a book was a kind of obsession therapy for me. I mean that in a good way, I think.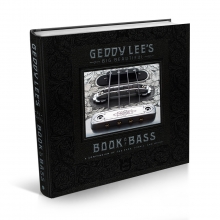 Geddy spoke at length about his writing process, including how he requested that artists bring their historic bass guitars to their interviews with him for the book:
I would reach out to people with a specific thing in mind. Like I knew that John Paul Jones is a profoundly important bass player in my life, but he's also a pre-eminent example of the '62 Jazz bass playing. Listen to all those early Zep records. He said to me when he arrived for the interview that he didn't still have his first bass, but he found one that was identical and he brought it. And that's what I was after with these guys. I wanted to know about where they started, but I also wanted to know what they were passionate about now. I loved their stories. I loved listening to Bill Wyman tell me about when he was a kid and his sister would take him to these dances, and she would be dancing and he would sit there and listen to the band. Or John Paul Jones talking about the first time he heard the bass in some seaside town, and it was booming out of some speakers. Or someone just gawking in the window of a store looking at a Fender bass and wishing one day they would be able to buy one - just like I did.
Geddy posted an excerpt of this interview with John Paul Jones from the book to his Instagram page this past week, which you can check out here, along with an excerpt from chapter one on the Fender bass here. The article also mentions that Neil Peart is supposedly working on a book project of his own. John over at Cygnus-X1.net has transcribed the article/interview and made it available online here. Geddy Lee's Big Beautiful Book of Bass is slated for release next month on December 18th.

Geddy's interview also mentions that Alex Lifeson recently played on a studio recording of Evil And Here To Stay (a 1992 Jeff Healey song) for legendary blues guitarist John Mayall. Alex had actually already mentioned that he'd done some work with Mayall in his Guitar Player magazine interview a few months ago, but didn't mention the specific song. In that same Guitar Player interview, Alex also mentioned working with multi-instrumentalist Marco Minnemann again (Alex made a guest appearance on Minnemann's 2017 album BORREGO). Minnemann first teased this follow-up collaboration with Alex in a Facebook post back in January:
Sunset view from my music studio, while working on a new song together with ALEX LIFESON. This production also features MOHINI DEY on bass and ADI ARGELAZI on vocals. More about this adventure in a little while. We're working on it..... and it's coming together quite nicely I think. - MM
Minnemann finally posted an update on the project to his Facebook page yesterday. Although it too was lacking in details, it did include some cool artwork:
Working on a new collaborative release together with Rush's Alex Lifeson. Watch this space for more details to follow soon.
(Artwork by Tom Colbie)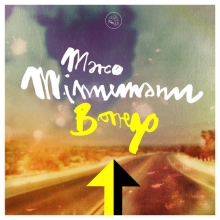 As mentioned above, last summer Lifeson made a guest appearance on Minnemann's BORREGO, playing on 3 tracks, including one which he co-wrote with Minnemann - On That Note. Here's Minnemann discussing Lifeson's contribution to that album and how it came about in a Rolling Stone interview from last September:
I knew Alex already from a few years ago... But I never communicated with him before. The record company that released Borrego-one of the guys is a huge fan of Alex-he asked him if would like to play on this album... Alex wrote back and said, "Oh yes I would really like to." So I was like, "Fuck yes!" I'm a huge fan of his work and Rush is such a great band. What happened next was very interesting... When Joe sent in his guitar tracks, there were really accurate files, maybe just one or two files you would import them into your software and it would already sync up great, the guitar solo was done, everything was perfect. And Alex was perfect too, but he worked completely differently. He sent me instead of one or two files, 13 or 14 files per song and made entire guitar arrangements... It was so rich. You couldtell the difference of Joe being also a session player and Alex being mainly Rush; he doesn't do that many collaborations. So he kind of presented-which I was very proud of and feel very happy about-he kind of worked with me as if he were in Rush. He would offer all these ideas, and it was so rich and beautiful that I took one part... And made a completely new song out of it, and then I played it to Alex. And he was like "Oh this is cool, can I do some more to it?" All of a sudden we started writing a song together, so that's how that happened. It was a very beautiful and very musical experience. [The song is] "On That Note," you'll hear that it has some of these guitar tones he came up with... It sounded so beautiful, it's very haunting, very dark and weird, and I played it back to him after I mixed it and he wrote back saying, "Wow it sounds so scary!" And I just said, "Look I know all of your albums with Rush, including your solo album Victor [1996], and I never heard you make sounds like that!" And he was very delighted about it. When you listen to that song you hear some parts that sound like Rush, so you can hear his imprint. But some stuff is -which made me especially happy- unusual where I thought, "Wow I haven't even heard him doing that with his band."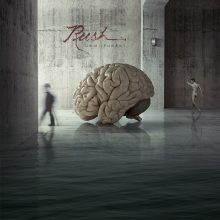 The Hemispheres 40th anniversary box set is slated for release 1 week from today on November 16th, and the record company will be hosting a private launch/listening party and Q&A session in Toronto the evening prior. The event will feature an advanced listening session and Q&A panel hosted by Jeff Woods with Rob Bowman, Richard Chycki, Ray Wawrzyniak, Tom Berry, and Ivar Hamilton. The panel will be sharing insights and behind the scenes stories of the making of this legendary album, and will be playing the 5.1 mix from the upcoming box set. Unfortunately the band will not be attending, in case you were wondering. Although the event is not open to the public, they do plan on filming it and making it available online at some point. The Hemispheres box set will be made available as a 2 CD or 3 LP set along with a Super Deluxe edition that includes both the 2 CDs and 3 LPs along with a bonus Blu-ray disc. The set uses the Abbey Road Studios 2015 remastered edition of the album, along with a newly restored bonus recording of the band's June 1979 Pinkpop Festival performance in the Netherlands (with the 2112 performance replaced with one from a Tucson show in November 1978). The Super Deluxe edition also includes a 5.1 Blu-ray mix of the album (from Rush engineer Rich Chycki) and 4 bonus videos. The Super Deluxe edition also includes several exclusive items, including a 40-page hardcover book with unreleased photos and new artwork by original album designer Hugh Syme. The Rush Backstage Club is also offering various merchandise bundles which you can check out here. There's currently a promotion where if you pre-save the set on Spotify, you can enter for your chance to win a Super Deluxe Edition of the box set. For all the details and to enter, go to this location. You can pre-order the box set now via Amazon (2 CD, 3 LP, Super Deluxe edition), and also check out this unboxing video.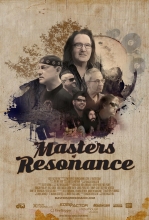 Neil Peart and the R40 drum kit are prominently featured in the Edge Factor documentary Masters of Resonance, which had its first pre-release theater screening as part of the Rush Family Reunion event at the Fox Theatre in Toronto back in June. The documentary's official world premiere took place in August at the GRAMMY Museum at LA Live, and included a post-screening conversation with storyteller and founder of Edge Factor, Jeremy Bout, DW's John Good, and drummer Paul Wertico. The film is now available for purchase on iTunes and will release on other platforms next month. The film's co-producers Jeremy Bout, Larissa Hofman and Francois Driessen were interviewed for the Forest City Film Festival where the film was screened a couple of weeks ago, and you can check out the interview online here (thanks RushFanForever). For more information about the documentary and to keep up on the latest news, visit the website at mastersofresonance.com, and follow them on Facebook and Twitter. You can watch the trailer on YouTube at this location.
In the run-up to their upcoming End of the Road World Tour, KISS sat down with Sirius XM for an interview and look back on some of the best bands that have opened for them, including Rush. A video clip from the interview is available online here (thanks Alessandro), and there's also this Blabbermouth.net article containing a few quotes from Paul Stanley:
... I think for us, RUSH was most exciting. When we first had them playing with us in Canada and John Rutsey was still the drummer. The first album was so... It was HUMBLE PIE, it was [LED] ZEPPELIN. They obviously found their footing in something they wanted to do later on. They were always great. ...
If you have $6 million burning a hole in your pocket and are looking to move, a house formerly owned by Rush's Alex Lifeson in the Greater Toronto neighborhood of Richmond Hill is for sale. From Toronto Life magazine:
The home was built in mid 1980s for Alex Lifeson of Rush. The original design included a recording studio, which appeared in several Rush videos at the height of the band's popularity. The current owner, a toy inventor for Disney and Hasbro, bought the home in 2011 and completed a multi-million dollar renovation over seven years. The recording studio is gone, but the original style remains. ...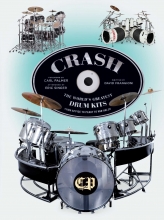 David Frangioni's new coffee table book Crash: The World's Greatest Drum Kits released this past August. The book is an illustrated history of legendary rock drum kits featuring images from live concerts, outdoor festivals, and private recording sessions. Along with the makes and models, each kit is accompanied by commentary about the history of the kit, its special characteristics, as well as its significance to rock history. The book features Neil Peart, Carl Palmer, Ginger Baker, Keith Moon, Ringo Starr, and many more, and is currently available to order via Amazon at this location. CEPro posted a review of the book "from an audiophile's perspective" this past week which you can check out at this location.
It was election day this past Tuesday in the US, and elections always bring rise to the inevitable political rallies, and political rallies often use popular music to motivate their supporters. But when the musician and the politics don't mix, this will often bring rise to lawsuits and cease-and-desist orders, as outlined in this People magazine article highlighting some of the higher profile incidents of musicians telling politicians to stop using their music. One of the incidents featured involved Senator Rand Paul and his use of Rush's music during his 2010 campaign for Senate:
Avowed Libertarian Rand Paul is also a big Rush fan, which comes as no surprise - the group used Libertarian icon Ayn Rand as early inspiration. But they're not really fans of his, and have warned him off of using both "Tom Sawyer" and "The Spirit of Radio" during his campaigns.
Speaking of Tom Sawyer, The Orion posted their playlist of 15 classic rock songs that are truly timeless this past week, and the Rush classic made the cut with the comment, "This song will get everyone in the room singing at the highest pitch possible."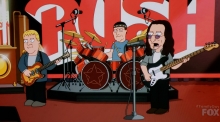 There was a cliché-ridden Rush reference on this past week's episode of the FOX animated series Family Guy (Season 17, Episode 5 - Regarding Carter). At one point in the show Brian references the time that Peter was, "the only one not wearing black jeans at a Rush concert", and the scene then cuts to a Rush concert where Peter is in attendance and ends up having an exchange with the animated Geddy Lee:
Peter: Play "Tom Sawyer"!
Geddy: We already did. And what are you wearing?!
Peter: What? These are my concert khakis.
Geddy: (points at Peter and addresses the crowd): Beat him! Beat him in 6/8th time! And don't let him escape to the completely unoccupied ladie's room!
(crowd starts to beat up Peter)
Peter: (begging on the ground) Uh... No. Please! Uncles who voted for Gary Johnson! Leave me alone!
Geddy: And now a song about radio towers!
There have been several other significant Rush references on past Family Guy episodes including this Chester Cheetah reference back in 2006, and 2 more recent references back in 2016 including this Huckleberry Finn one and this Christmas-themed reference. You can watch a clip of this latest reference below or at this location.
That's all for this week. Have a great weekend!