UPDATE - 7/27@10:33AM: It now looks like the album will be shipping on July 31st rather than July 29th, and can also be ordered via Amazon.
UPDATE - 6/25@9:31AM: The album is now available for pre-order (also at Pledge Music) and the first 1000 CDs sold will be autographed by Marco.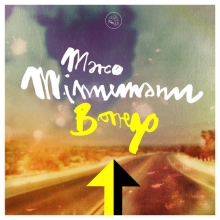 German drummer, composer and multi-instrumentalist Marco Minnemann announced the upcoming July 29th release of his new album BOREGO via his Facebook page this morning. Rush's Alex Lifeson is one of the guest musicians on the album along with Joe Satriani and others:
It is my utmost pleasure to announce my new album, BORREGO. An album inspired by the hauntingly beautiful Anza Borrego desert landscape and its stories. The album also features ALEX LIFESON from RUSH on guitar, who also co-wrote one of the center pieces of the album and delivered amazing and beautiful guitar arrangements on 3 of the tracks. And then, JOE SATRIANI, who performed stunning guitars on 4 of the songs. I feel very honored and grateful for having these legendary artists with me on this release. Other fantastic contributors are Elizabeth Carey on violin, Brigitte Roka and Donna Zed on vocals. And Tony Levin on bass for one of the CD bonus cuts. Watch this space for more clips and news. ...
To learn more visit marcominnemann.com, and you can watch a video preview of the album below or on YouTube. Thanks to Stefan for the heads up.