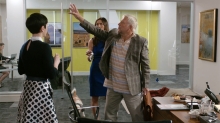 Alex Lifeson has a small role in Trailer Park Boys creator Mike Clattenburg's new CBC comedy-drama Crawford, which premiered on the CBC in Canada last month. Lifeson had a prominent scene in last night's episode (Season 1, Episode 5 - Rukma Vimana) and can be seen in this video preview clip. Actress Jill Hennessy, who plays the lead role of Cynthia in the show, spoke to the Toronto Star a few months ago about the series and working with Alex Lifeson:
... "He's phenomenal," says Hennessy, a RUSH fan. (Hennessy herself has released two albums: her last, I Do, in 2015.) Given the musical connections, the Star says it's surprising that Clattenburg hasn't got Lifeson and Hennessy busking in a Toronto subway in a giant ironic wink to the audience. "That would so work!" says Hennessy. "My character didn't finish high school, she was in a band. And one of her future fans was her boss (Lifeson) at the cereal company. So yes, I think somebody should talk to Mike about that scene. Could you maybe put in a word for me?"
Hennessy's character Cynthia is the matriarch of a dysfunctional family who is an "award-winning cereal executive" for a product called Sugar Maple Pops, Cynthia's husband Owen is a former police chief played by American actor John Carroll Lynch who is unable to use his voice and communicates with his smartphone, and Don is a struggling musician played by Kyle Mac who has been dropped by his label and is a "raccoon whisperer". Lifeson plays the part of Taylor, who is Hennessy's boss at the cereal company. Lifeson spoke about the role in his Globe and Mail interview earlier this year:
... It's fun to put yourself in an uncomfortable situation. If you have a little bit of confidence and you just get out of your own way, these things can happen. The same thing happened when I got asked to do a small role in a TV show, Crawford, a new comedy on CBC from Mike Clattenburg, who created Trailer Park Boys. I thought I couldn't do it - that it was something for real actors. But I ended up doing a few episodes. It definitely was not in my comfort zone. But if you throw a challenge at yourself and dive into it, it can be really gratifying.
According to imdb.com, Lifeson also appears in episodes 9 (I Can't Go to U2 Without You) and 10 (Manny's Way). You can learn more about the show and how to watch it via the CBC website.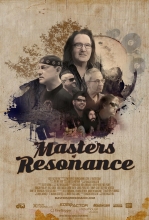 Earlier this year, Edge Factor completed production of their long-awaited documentary Masters of Resonance, featuring Neil Peart and the R40 drum kit. The film had its first pre-release theater screening as part of the Rush Family Reunion event at the Fox Theatre in Toronto last month, and the documentary's official world premiere will take place at the GRAMMY Museum at LA Live on August 8th. The premiere will include a post-screening conversation with storyteller and founder of Edge Factor, Jeremy Bout, DW's John Good, and drummer Paul Wertico, moderated by GRAMMY Museum Artistic Director Scott Goldman. AMEX pre-sales for the event are now open and general tickets will go on sale next Thursday, July 19th. The film will then hit the festival circuit this fall and be released to video-on-demand streaming channels, beginning with iTunes, later this year. Specific screenings and pre-sale information will be posted to mastersofresonance.com as it becomes available. Here's a synopsis of the film as provided by the filmmakers:
When was the last time an object spoke to you, and you listened?

Storyteller and Founder of Edge Factor, Jeremy Bout once believed that a drum was a glorified pail with a lid on it. All drum kits sound the same if you hit them with a keen sense of rhythm, right? Then he met John Good, Co-Founder of DW Drums and realized, "Boy, was I wrong." The innovation, craftsmanship, and sheer brilliance behind the science of drum making inspired Jeremy and the filmmakers at Edge Factor to share the legacy of John and the DW team, in the music documentary film Masters of Resonance.

This film takes you on a journey from the forest to the stage and pulls back the curtain on drum making. It begins with sustainably harvesting the wood in the forests of Michigan, then shows the design, manufacturing, and painting operations in the DW Drums factory. The finished product is revealed, as completed drum kits are played by many of the biggest names in the music industry. These processes are perfectly demonstrated as the DW Drums team creates the iconic Rush R40 tour drum kit, using 1500 year old Romanian bog oak. Along the way, you will witness the unique relationship that these drum makers share with musicians, as Jeremy interviews world class drummers from the DW Drums roster.

Rush drummer Neil Peart, beautifully captures the message of the film when he asks, "What could be more transcendent than a musical instrument?" It's the team's unending pursuit of excellence, willingness to embrace failure to find solutions, and the dedication of each team member that empowers DW Drums to create objects that live forever in the music they create.
For more information about the film and to keep up on the latest news, visit the website at mastersofresonance.com, and follow them on Facebook and Twitter. You can watch the trailer on YouTube at this location.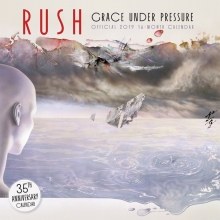 BrownTrout Publishers has released their official 2019 Rush wall calendar, celebrating the 35th anniversary of the 1984 release of Rush's Grace Under Pressure album. This 12"x12", 16-month calendar features the album's iconic cover image, and includes 13 live photos of the band from the Grace Under Pressure era as seen here. The calendar was officially released on June 1st and can be ordered via Amazon and other online retailers.
Last July Jacob Moon and David Barrett, along with drummer Rob 'Beatdown' Brown, performed a free concert of Rush and Rush-inspired music at the Lee Lifeson Art Park in Toronto's Willowdale neighborhood. The crowdfunded event was such a success that they are aiming to perform another such concert, tentatively scheduled for Wednesday, July 25th, also funded through crowdsourcing in order to make the concert free for the whole community. As part of last year's crowdfunding campaign, they also recorded and released a cover of Rush's Time Stand Still produced by Terry Brown. This year the goal is to reach $2112, and use some of those funds to record a cover of Rush's New World Man. As of right now they are about one-third of their way to reaching that goal, so help them out if you are willing/able. To learn more about the crowdfunding campaign along with all the related perks, and to make your contribution, go to this location.
Rush's A Farewell to Kings album was the subject of Classic Rock magazine's most recent Album Of The Week Club review, in which they give the album 4.5/5 stars:
... For 38 minutes [the album] takes the listener on an extraordinary journey, first lulled by an acoustic guitar before the swaggering hookline and revolutionary history motif on its opening title track, then buoyed all the way to the frantic riffing and the heart of a black hole at the end of final number Cygnus X-1. Even the least-loved track, Madrigal (a mournful lament meandering to a sleepy fade) has improved with age. ...
Last year Rush released a 40th anniversary box set edition of the album which you can purchase online here.

The comedy film Blockers released to theaters back in April and is now available for streaming. The movie stars Leslie Mann, Kathryn Newton and John Cena, and follows three parents trying to stop their daughters from having sex on prom night. Back in April, reader Robert B reported that the hotel room number where "the deed" goes down is 2112, and we now have a screenshot thanks to redditor chubert.
Ultimate-guitar.com posted their list of the Top 10 Screams in Rock Music this past week and Geddy Lee's "TORNAPAAAAARTAAAAHHH!" scream in Cygnus-X1 made the cut (thanks Eric at Power Windows):
One of Geddy Lee's best screams comes at the end of Cygnus X-1, a song about an astronaut being sucked into a black hole and reduced to nothing. Guess we all would scream like this in the process. Scream at 9:51
Lost in Vegas is a popular YouTube channel (nearly 500K subscribers) where the 2 hosts George and Ryan play a song that they are unfamiliar with, and react to it in real time, occasionally pausing to expand on their thoughts. While generally covering hip-hop and R&B songs, over the past year they've expanded into rock and metal, and even some progressive rock. Late last year they checked out Rush's YYZ for the first time and absolutely LOVED it. The video garnered a lot of attention, so the guys decided to do some more Rush songs over the past few months, including Working Man and The Spirit of Radio, both of which they also had high praise for. Just this last week they decided to tackle Rush's epic 2112 as seen in here, and caused "heads to explode" according to Loudwire.com:
... Throughout the song, they pause to reflect on certain sections and transitions and this Rush track tests their analytical abilities as they digest each movement and begin to understand what elements unify these pieces. "I haven't heard a groove yet that I have not liked from Rush," says George (right). His appreciation for the complexities of rock and metal drumming has been expressed in other reaction videos and here, he jumps out of his seat in astonishment after one of Neil Peart's cliffhanger drum fills. As "2112" moves on, shedding its aggression for dream-like sequences only to resurrect the energy with a fiery solo from Alex Lifeson, Ryan and George marvel at Rush's versatility. They also pick up on the mood changes of the music as the lyrical narrative develops. ...
Here's the Alex Lifeson preview scene from last night's episode of the CBC's Crawford:
That's all for this week. Have a great weekend!