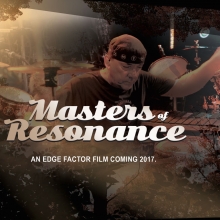 Edge Factor is a media company that produces inspiring and educational documentaries that tell the stories of innovative teams who design and build cutting-edge products. Yesterday they posted a press release and video trailer announcing the upcoming 2017 release of their new documentary Masters of Resonance which features Neil Peart and the R40 drum kit. From the press release:
... something happened last year that sparked a story we never expected: we became part of the DW Drums family. Masters of Resonance is a music film that takes the audience on a journey from the forest to the stadium and tells the story of how a fallen tree rises and lives again, in the music it creates.

I will never forget sitting with Neil Peart and hearing him record voice over for this film, "The entire history of a tree, year by year, can be read in the circular grooves that mark its annual cycle - its growth rings... Like those growth rings, popular music also reflects the 'weather' of its times: evokes and embodies the moods and movements that gave it context." These thoughts have echoed in my mind and marked my awakening: Our lives have all been marked by the Masters of Resonance. ...
You can watch the video trailer below or on YouTube here. Thanks to Eric at Power Windows for the heads up.