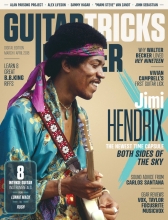 The March/April edition of Guitar Tricks Insider magazine includes a feature on pages 8-9 where Alex Lifeson reveals his Top 5 Essential Albums as seen here. The list includes Steve Hackett's Voyage of the Acolyte, Bill Bruford's Feels Good to Me, King Crimson's Discipline, Jeff Beck's Blow by Blow, and The Jimi Hendrix Experience's Electric Ladyland. The issue also features Rush's Leave That Thing Alone as part of their 8 Intense Instrumentals piece on page 58. You can read a digital version of the entire issue online at this location.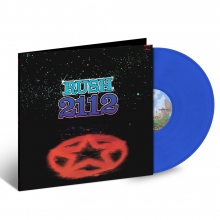 As expected due to their cryptic tweet a couple of weeks ago, yesterday Rush released a blue vinyl, limited-edition version of 2112 that is now available for pre-order via the Rush Backstage Club. This edition is limited to 5000 copies and is manufactured on opaque blue 180-gram vinyl. It also comes with a bonus 2112 Keychain while supplies last. It is essentially the same version that was included in the 2112 box set vinyl re-issue 2 years ago other than the fact that it's blue. You can pre-order your copy via the Rush Backstage Club here for $27.99, with orders shipping out on April 27th.


The long-awaited film adaptation of Ernest Cline's critically-acclaimed, 2011 sci-fi book Ready Player One was released in theaters a couple of weeks ago. The book makes several references to '80s pop culture, with particular attention to cult films, classic arcade video games and music. It also contains several references to Rush including a particularly significant plot point involving the band's 2112 album, so Rush fans were hoping the film would include at least some of these references. Unfortunately, despite Rush's Tom Sawyer being prominently featured in the first trailer for the film, all the major Rush references from the book were excluded from the movie - there's not even any Rush in the soundtrack. The only Rush references in the film are a 2112 t-shirt worn by Lena Waithe's character along with a Fly by Night patch on her jacket, and a 2112 poster and album in Haliday's childhood room. Lena Waithe was recently interviewed for Entertainment Weekly and spoke about the t-shirt:
... You're already in costume, right? So tell me about what Aech wears in real life.
Yeah man, this is the T-shirt, which Ernie [Cline], who's the writer of the book, saw me in it yesterday, and was very excited.

Rush 2112!
He couldn't believe that they found this T-shirt. Everybody wants to be so loyal to the book. We want to make sure we're getting it right,

Is this jean jacket on the chair yours or Aech's?
This jacket is a part of it. Only I'm not wearing it now because it's warm. [Laughs] It's an amazing outfit. These are my kicks, some Adidas situations. This is actually something I would wear. Legit.

Are you a Rush fan too?
Well, look, I wasn't before but now I'm very aware. I can't walk anywhere in this, I get, like, cool points, with people. Like Ben Mendelsohn, who is a huge Rush fan. ...

In the wake of Rush's apparent retirement and the last RushCon event back in 2016, a group of Rush fans got together last year and organized a Rush Family Reunion gathering in Toronto centered around a Massey Hall performance of 2112 by tribute act Classic Albums Live. They'll be carrying on this tradition in 2018 with the 2nd annual (so far) Rush Family Reunion on Thursday, June 21st through Saturday, June 23rd in Toronto. The event will include a kickoff party on Thursday at Alex Lifeson's Orbit Room with guest speaker Terry Brown. Friday's festivities will include a pilgrimage to the Lee-Lifeson Art Park in Willowdale followed by an evening screening of Edge Factor's Masters of Resonance documentary at the Fox Theatre. On Saturday fans will take a harbor cruise on the tall ship Kajama with an all-Rush DJ, and top things off with a Saturday night performance by Rush tribute band 2112: For the Love of Rush at the Duke Live. For all the details, visit the group's Facebook page here.
As mentioned above, the Rush Fan Gathering this summer will include a trip to the Lee-Lifeson Art Park in Toronto's Willowdale neighborhood where Geddy and Alex grew up. One of the features in the Rush-themed park is the Limelight Bandshell - the focal point of the park's amphitheater. Last week the feature was announced as one of the winners in the 2018 Ontario Association of Architects Awards (thanks Eric B).

Currie's Music in Gravenhurst, ON recently obtained Alex Lifeson's 1972/73 4X12 Marshall Straight cab and now have it on display at their shop as seen in this Facebook post (thanks John L).
Blockers is a new comedy that released to theaters last week starring Leslie Mann, Kathryn Newton and John Cena which follows three parents trying to stop their daughters from having sex on prom night. Reader Robert B recently saw the film and reports that the hotel room number where "the deed" goes down is 2112. So if you are planning on seeing the film, keep an eye out for that and get a screenshot for us if you are able.
In celebration of yesterday's anniversary of the 1984 release of Rush's Grace Under Pressure, here's the haunting music video for Afterimage:
That's all for this week. Have a great weekend everybody!