Toronto's famous Massey Hall music venue will close at the end of June for a two-year, $140 million renovation. In the lead-up to the closing, the CBC ran a story earlier this week where they reminisce about the iconic venue with some of the many performers who played there over the years, including Rush's Geddy Lee, who said the following (video here):
The room makes me smile ... It's mixed up with so many great memories, both as a fan and as a performer.
They also chat with members of the Barenaked Ladies, who first played Massey Hall in 1993 where they did a four-night run, breaking the record for consecutive shows by a rock band that had previously been held by Rush. Rush sent the band a bottle of champagne along with a congratulatory note as described by BNL's Ed Robertson (video here):
"I held onto that bottle for two hours, telling everyone 'This is from Rush! This is from Rush!'"
Geddy Lee also spoke about Rush's All the World's a Stage, which Rush recorded over a three-night stint at Massey Hall back in June of 1976 (video here):
It was the first time we recorded live. The first time the recording track was going during a performance, which makes you hyper-aware of every note you play ... That was a young band just starting to break through in the United States. It was also our first live album so we thought, is there any more appropriate place than - A) a homecoming show - B) multiple nights that you can record in case you screw one up you've got 2 more to fall back on. And C) it was Massey Hall! - it was the hall that we'd always dreamed of playing.
You can check out the full story online here, and watch a video with Geddy describing the first show he saw at Massey Hall at the bottom of this post.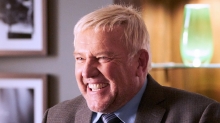 Alex Lifeson has a small role in Trailer Park Boys creator Mike Clattenburg's new CBC comedy-drama Crawford, which premiered on the CBC in Canada last night, although it's already been available at cbc.ca and on the CBC TV app since early February. Actress Jill Hennessy, who plays the lead role of Cynthia in the show, spoke to the Toronto Star a few months ago about the series and working with Alex Lifeson:
... "He's phenomenal," says Hennessy, a RUSH fan. (Hennessy herself has released two albums: her last, I Do, in 2015.) Given the musical connections, the Star says it's surprising that Clattenburg hasn't got Lifeson and Hennessy busking in a Toronto subway in a giant ironic wink to the audience. "That would so work!" says Hennessy. "My character didn't finish high school, she was in a band. And one of her future fans was her boss (Lifeson) at the cereal company. So yes, I think somebody should talk to Mike about that scene. Could you maybe put in a word for me?"
Hennessy's character Cynthia is the matriarch of a dysfunctional family who is an "award-winning cereal executive" for a product called Sugar Maple Pops, Cynthia's husband Owen is a former police chief played by American actor John Carroll Lynch who is unable to use his voice and communicates with his smartphone, and Don is a struggling musician played by Kyle Mac who has been dropped by his label and is a "raccoon whisperer". Lifeson plays the part of Taylor, who is Hennessy's boss at the cereal company. Lifeson spoke about the role in his Globe and Mail interview earlier this year:
... It's fun to put yourself in an uncomfortable situation. If you have a little bit of confidence and you just get out of your own way, these things can happen. The same thing happened when I got asked to do a small role in a TV show, Crawford, a new comedy on CBC from Mike Clattenburg, who created Trailer Park Boys. I thought I couldn't do it - that it was something for real actors. But I ended up doing a few episodes. It definitely was not in my comfort zone. But if you throw a challenge at yourself and dive into it, it can be really gratifying.
You can learn more about the show via the CBC website and catch the latest trailer for the show in this tweet. Lifeson appears briefly at the beginning of the trailer.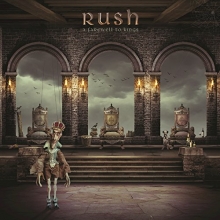 Prog Magazine announced the nominees for their 2018 Progressive Music Awards earlier this week, and Rush's A Farewell to Kings 40th anniversary box set - released this past December - has been nominated in the Reissue of the Year category. You can cast your vote for Rush online at this location. The 2018 Progressive Music Awards will return to the Underglobe, beneath Shakespeare's Globe Theatre on London's Southbank, on Thursday September 13th. For all the details and to vote in all the other categories visit loudersound.com.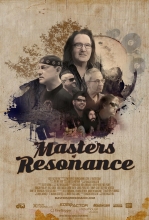 Back in early April, Edge Factor released the trailer for their long-awaited documentary Masters of Resonance which features Neil Peart and the R40 drum kit. The documentary will soon be hitting the film festival circuit and also be released to video-on-demand streaming channels, beginning with iTunes, later this year. Specific screenings and pre-sale information will be posted to mastersofresonance.com in the near future. The film will also be screened as part of the Rush Family Reunion event at the Fox Theatre in Toronto next Friday, June 22nd with tickets available at this location. Here's a synopsis of the film as provided by the filmmakers:
When was the last time an object spoke to you, and you listened?

Storyteller and Founder of Edge Factor, Jeremy Bout once believed that a drum was a glorified pail with a lid on it. All drum kits sound the same if you hit them with a keen sense of rhythm, right? Then he met John Good, Co-Founder of DW Drums and realized, "Boy, was I wrong." The innovation, craftsmanship, and sheer brilliance behind the science of drum making inspired Jeremy and the filmmakers at Edge Factor to share the legacy of John and the DW team, in the music documentary film Masters of Resonance.

This film takes you on a journey from the forest to the stage and pulls back the curtain on drum making. It begins with sustainably harvesting the wood in the forests of Michigan, then shows the design, manufacturing, and painting operations in the DW Drums factory. The finished product is revealed, as completed drum kits are played by many of the biggest names in the music industry. These processes are perfectly demonstrated as the DW Drums team creates the iconic Rush R40 tour drum kit, using 1500 year old Romanian bog oak. Along the way, you will witness the unique relationship that these drum makers share with musicians, as Jeremy interviews world class drummers from the DW Drums roster.

Rush drummer Neil Peart, beautifully captures the message of the film when he asks, "What could be more transcendent than a musical instrument?" It's the team's unending pursuit of excellence, willingness to embrace failure to find solutions, and the dedication of each team member that empowers DW Drums to create objects that live forever in the music they create.
For more details about the film and to keep up on the latest news, visit the website at mastersofresonance.com, and follow them on Facebook and Twitter. You can watch the trailer on YouTube at this location.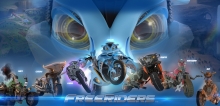 Tandem Digital is the company behind some of the rear-screen animations seen at Rush concerts during Neil Peart's drum solos, as well as being the creative minds behind Neil's website at NeilPeart.net. One of their latest projects is called Freeriders - an animated entertainment property based on motorcycle-animals that live in a totally custom world made for life on two wheels, full of adventure and discovery. The project was created by Tandem Digital's Greg Russell, with David Alper as Executive Producer, and Neil Peart as a co-producer. To learn more about the project and watch a teaser trailer, you can visit the Facebook page and website.
Dodie Miller-Gould wrote an article for LemonWire.com this past week titled Rush, Dust and Uriah Heep illustrate prog rock styles where she utilizes 3 songs from 3 different bands to exemplify the many styles of progressive rock, including Rush's Something for Nothing:
The song is found on 1976's "2112." The entire album and its concept are considered classic. On an album with a 20-plus minute title track, it would seem that it would be difficult for a song to stand out. Of course, this is also one of the songs on "2112" that is close to being a "standard" rock song.

The song starts with a moody exchange between bass and guitar. That exchange prepares listeners for the near-mocking lyrics that essentially scold people who merely hope or wait for what they want, instead of going after it.

The idea of urging people to find their own path is not new in popular music. What sets the song apart is the poetry through which the admonition is given. The first verse reads in part" "...Waiting for the rainbow's end to cast its gold your way/countless ways/ you pass the days."

The bridge is practically screamed in Geddy Lee's aggrieved tenor. Songs that tell listeners how they won't "get wise" are usually beyond the scope of sex, drugs and rock 'n' roll. Also, there is no typical arrangement of chorus and verse.
Last July Jacob Moon and David Barrett, along with drummer Rob 'Beatdown' Brown, performed a free concert of Rush and Rush-inspired music at the Lee Lifeson Art Park in Toronto's Willowdale neighborhood. The crowdfunded event was such a success that they are aiming to perform another such concert, tentatively scheduled for Wednesday, July 25th, also funded through crowdsourcing in order to make the concert free for the whole community. As part of last year's crowdfunding campaign, they also recorded and released a cover of Rush's Time Stand Still produced by Terry Brown. This year the goal is to reach $2112, and use some of those funds to record a cover of Rush's New World Man. To learn more about the crowdfunding campaign along with all the related perks, and to make your contribution, go to this location.
Here's a video of Geddy Lee describing the first show he saw at Massey Hall from his recent CBC interview (Geddy comes in at about the 55-second mark):
That's all for this week. Happy Father's Day to Geddy, Alex, Neil and all the Rush fan dads out there. FANTOONS is having a Father's Day sale where they are offering 25% off ALL apparel with code PROGDAD at their Etsy store. Have a great weekend!