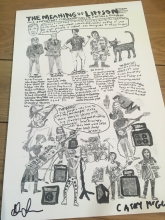 The big news from this past week was a new interview with Alex Lifeson for the Globe and Mail's Between the Acts feature where Lerxst once again reiterates that Rush is "basically done":
It's been a little over two years since Rush last toured. We have no plans to tour or record any more. We're basically done. After 41 years, we felt it was enough. ...
Alex then goes on to describe all of his various side projects that have been keeping him busy over the last couple of years, with particular focus on his regular Meaning of Lifeson column/comic in Dave Bidini's new community newspaper The West End Phoenix, along with revealing his involvement with the CBC's new show Crawford, which premieres next month:
... I've actually been busier lately than I have been in a while. I'm writing a lot. I'm writing on four or five different little projects. I get these requests to do guitar work with other people. It's really a lot of fun for me. It's low pressure: I get to be as creative as I want to be and I can work a little outside of the box, which is really attractive to me.

I'm also writing for the West End Phoenix, a new monthly newspaper in Toronto. [Editor-in-chief and author and a founding member of the Rheostatics] Dave Bidini came to me and asked me if I'd wanted to have fun with a little column, and have artist Casey McGlynn do illustrations for it. It's been great. Casey's illustrations work really well together with what I'm writing.

For my first column, though, I was panicking. I thought, "What am I going to do? What can I do that's going to be funny or different or special in some way?" So, initially I wasn't sure about it. This is not my field. But Dave's a persuasive guy. He told me to write 150 words, that Casey would do his illustrations and that it would be great. I think I submitted 1,200 words. Apparently, I don't have a problem with content.

It's fun to put yourself in an uncomfortable situation. If you have a little bit of confidence and you just get out of your own way, these things can happen. The same thing happened when I got asked to do a small role in a TV show, Crawford, a new comedy on CBC from Mike Clattenburg, who created Trailer Park Boys.

I thought I couldn't do it - that it was something for real actors. But I ended up doing a few episodes. It definitely was not in my comfort zone. But if you throw a challenge at yourself and dive into it, it can be really gratifying.
As far as musical side projects go, Alex has been working with German drummer, composer and multi-instrumentalist Marco Minnemann on a new musical project according to this recent Facebook post from Minnenmann:
Sunset view from my music studio, while working on a new song together with ALEX LIFESON. This production also features MOHINI DEY on bass and ADI ARGELAZI on vocals. More about this adventure in a little while. We're working on it..... and it's coming together quite nicely I think. - MM
Alex also appeared on Minnemann's most recent album BORREGO that released this past summer, playing on 3 of the album's 24 tracks. You can watch a video preview of the album on YouTube, and order it via Amazon.com, lazybones.com, or at Pledge Music. Alex also makes a guest appearance on SoCal rockers Fu Manchu's new studio album Clone Of The Universe that gets released this coming February 9th. Lifeson plays on the 18-minute, side-long album centerpiece Il Mostro Atomico. Drummer Scott Reeder recently posted a story to his blog explaining how Alex's guest appearance came to be. The band will be hitting the road in support of the album next month. For more information visit the Fu Manchu website at fu-manchu.com, and you can pre-order Clone of the Universe at this location. As far as performing goes, Alex sat in with Big Sugar at a Toronto show back in November, and was featured in episode 5 of the new Trailer Park Boys Netflix series Out of the Park USA where he performs a song he co-wrote with Mike Smith (aka Bubbles) called Who's Got Yer Belly?.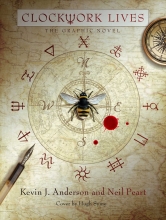 The graphic novel representation of Kevin J. Anderson and Neil Peart's 2015 novel Clockwork Lives - the follow-up to Clockwork Angels - will be getting released as a graphic novel via Insight Comics this coming June according to a listing on Amazon.com, and is now available for pre-order. Anderson first announced plans for the graphic novel via a blog post this past April. You can check out a picture of the graphic novel's cover, which was created by Hugh Syme, here. The 176-page book is currently slated for release on June 19th and can be pre-ordered at this location.

Speaking of author's named Peart, Neil Peart's younger brother Danny has released a new book of poetry titled Another Mountain to Climb. Danny has released several other books over the past decade, including his 2016 book Stark Naked in a Laundromat - 10 stories and 10 poems about growing up in Port Dalhousie, Ontario - which includes an introduction by his brother Neil. You can check out all of Danny's writings on his website at DannyPeart.net.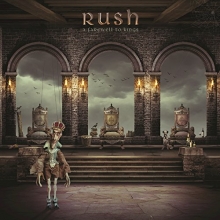 Rush's A Farewell to Kings 40th anniversary box set released last month and is available as a 3-CD set, a 4-LP set or you can get the Super Deluxe edition. Each set includes the Abbey Road Mastering Studios 2015 remastered edition of the album, a complete Rush concert recorded in February 1978 at London's Hammersmith Odeon newly mixed by Terry Brown, and four newly-recorded cover versions of songs from the original album by Dream Theater, Big Wreck, The Trews and Alain Johannes which you can listen to in this post. Rush has also made streaming audio versions of the previously unreleased 1978 live versions of Closer to the Heart, Lakeside Park, 2112, and Neil Peart's drum solo included in the box set available on YouTube and other streaming channels. The set also contains a Cygnus X1 sound effects outtake titled Cygnus X2 Eh which you can listen to here. Additionally, there's a 1.5-minute promotional, unboxing video highlighting the contents of the set which you can watch here. The Super Deluxe edition includes both the 3 CDs and 4 LPs along with an additional Blu-ray Audio disc containing a new 5.1 surround mix of the album by Steven Wilson, along with three original 1977 promo videos from a newly found 2-inch quad video master. John at Cygnus-X1.net has transcribed the liner notes (including Rob Bowman's essay) and made them available online here, along with scans of all the artwork here. A couple of new reviews of the set were posted online this past week including an 8 out of 10 review from PopMatters, and this review from Vintage Vinyl News which had a lot of good things to say about the sound quality as compared to previous CD reissues:
... the previous CD reissues have been so poor, suffering from compressed dynamics and almost losing all the bass lines in the noise floor. This is different - very. The full dynamic range has been restored, Geddy's vocal is less of a shriek and now actually has range, the drum lines are clear and powerful with an extra sense of 'air' around Neil Peart's percussion, Alex Lifeson's guitar lines are more integrated with the rest of the music and now you can actually hear and follow Geddy Lee's bass lines. In short, it sounds as good as the original vinyl, if not better in some regards. The two 'monster' tracks 'Xanadu' & 'Cygnus X-1' are as wonderfully symphonic and overblown as they ever were but the 'pop' numbers such as 'Closer To The Heart' and 'Madrigal' come over with a wonderful touch and musicality. ...
The set is available to order at Amazon (3-CD set, 4-LP set, Super Deluxe set) and other retailers, and is also available in stores.

The Pirates of Somalia is a film that released last month starring Barkhad Abdi, Evan Peters and Al Pacino, and tells the story of rookie journalist Jay Bahadur - who in 2008 formed a half-baked plan to embed himself among the pirates of Somalia. Reader Jose C noticed that at the beginning of the movie one of the lead's friends is wearin a Rush Roll the Bones t-shirt as seen in this screenshot.

This year's Rushfest Scotland will take place at the Dreadnought Rock Club in Bathgate, central Scotland on Saturday May 12th. You can get all the details on their website and by checking out the flyer. Rush tribute band R2 will perform, and all profits from the event will go to St.Columba's Hospice in Edinburgh. For more information visit the Rushfest Scotland website and follow them on Facebook.
RockPasta.com released their list of the Top 5 Rock Band Trios this past week and Rush came out on top at #1.
Progarchy.com posted a Buyer's Guide to Rush on DVD and Blu-Ray this past week, providing a chronological list and concluding with the following recommendation:
... If I had to recommend one set to someone who is unfamiliar with Rush and is wondering what all the fuss is about, I would go with R30. It's a great performance, and the extras provide a nice history of the band. If I had to recommend one set based on performance and setlist, I would go with Snakes and Arrows Live. But if you've read this far, you probably have them all, right?
Speaking of R30, and in celebration of this past week's 38th anniversary of the release of Permanent Waves, here's The Spirit of Radio concert video from R30:
That's all for this week. Have a great weekend!!