UPDATE - 11/24@6:25PM: Who's Got Yer Belly? from Bubbles and the Shit Rockers (featuring Alex Lifeson) now available for streaming here, and on YouTube.
----- snip -----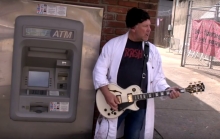 A couple of weeks ago the Trailer Park Boys released the trailer for their new Netflix series Out of the Park USA. The trailer revealed that Rush's Alex Lifeson would make an appearance in the series, which is now available for viewing on Netflix. Alex appears in episode 5 of the series which is titled Memphis. From the episode description:
Ricky has an unfortunate accident when the Boys get to Memphis. Then, they meet Rush guitarist Alex Lifeson, who helps Bubbles record a song.
In the episode, the Boys see a man standing on the sidewalk in front of an ATM in Memphis wearing a lab coat, a RASH t-shirt, a really bad toupee and playing/singing Tom Sawyer very badly on a guitar (a signature Alex Lifeson Gibson Les Paul) as seen in this screenshot. Bubbles recognizes him as Alex Lifeson so they approach him and greet each other. They ask him why he's in disguise on the street corner and Alex says, "it's a long story, but if you've got a few minutes I'll be happy to tell you." Alex then convinces them to go get a bite to eat with him so he can tell his story, and they grab a table at the Kooky Canuck. Alex orders a HUGE cheeseburger as seen here, and then tells his sad story about being lost and hitting rock bottom after things with Rush ended. I won't spoil the story, but Alex eventually helps the Boys get a guitar and some time in a recording studio and then records a song with Bubbles. The song is titled, Who's Got Your Belly? as Mike Smith had teased in a a Twitter post earlier this year. The song was also featured in the show's trailer.
Related Posts:
[Alex Lifeson featured in trailer for new Trailer Park Boys Netflix series Out of the Park USA]
[Alex Lifeson records new song with Trailer Park Boys, will appear in upcoming Netflix series Out of the Park: USA]