UPDATE - 12/2@3:07PM: Here's that Cygnus X2 Eh sound effects outtake from the box set:
----- snip -----
UPDATE - 12/2@9:19AM: Rush have also made streaming audio of the previously unreleased 1978 live version of 2112 and Neil Peart's drum solo available:
----- snip -----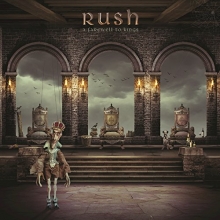 Rush's new A Farewell to Kings 40th anniversary box set edition officially releases tomorrow and pre-orders are already shipping out, with many fans having already received their copies. Fans can purchase either a 3-CD set, a 4-LP set or the Super Deluxe set as described here:
The Super Deluxe Edition includes three CDs, one Blu-ray Audio disc and four high-quality 180-gram vinyl LPs. The set encompasses the Abbey Road Mastering Studios 2015 remastered edition of the album for the first time on CD; a complete Rush concert recorded in February 1978 at London's Hammersmith Odeon, newly mixed by longtime Rush engineer and original A Farewell to Kings producer Terry Brown from the multi-track live tapes; four newly-recorded cover versions of songs from the original album by Dream Theater, Big Wreck, The Trews and Alain Johannes; and an instrumental studio outtake of the spacey sound effects the band has creatively titled "Cygnus X-2 Eh." The Hammersmith show features, for the first-time ever, over 34 minutes of unreleased performances including a complete "2112" suite, "Lakeside Park," a drum solo and "Closer To The Heart." The Super Deluxe Edition's audio content on its CDs is duplicated on its vinyl discs. Meanwhile, the Blu-ray Audio disc contains a brand new 5.1 surround mix of the album by four-time Grammy® nominated surround sound producer Steven Wilson, along with three original 1977 promo videos from a newly found 2-inch quad video master significantly improving the video quality for "Closer To The Heart." The Super Deluxe package also includes an elaborate new 40th anniversary cover treatment by longtime Rush creative director Hugh Syme, who has also created a new piece of artwork for each of the album's six songs, and an extensive 12,000-word liner notes by Grammy®-winning rock historian Rob Bowman.

The Super Deluxe Edition of A Farewell to Kings-40th Anniversary will also include several exclusive items, including a unique King's Ring, with custom velvet pouch and neck chain; two lithographs with original artwork by Hugh Syme; a special 12-inch turntable mat featuring distinctive artwork by Hugh Syme; and a reproduction of Rush's original 1978 A Farewell To Kings tour program. ...
Rush is running a contest where you can enter to win one of the Super Deluxe box sets. The contest ends tonight at midnight PST, so enter now at this location if you haven't already. The band has made streaming audio versions of the previously unreleased 1978 live versions of Closer to the Heart and Lakeside Park included in the box set available on YouTube and other streaming channels. You can listen to Closer to the Heart here, and Lakeside Park here. There's also a 1.5-minute promotional video highlighting the contents of the set which you can watch here. The set is now available to order at Amazon (3-CD set, 4-LP set, Super Deluxe set) and other retailers, and will hit store shelves tomorrow.
Related Posts:
[Geddy Lee and Alex Lifeson on the making of A Farewell to Kings in new Prog magazine interview]
[Listen to unreleased live 1978 Lakeside Park from Rush's upcoming A Farewell to Kings 40th anniversary box set]
[Rush A Farewell to Kings 40th anniversary box set coming December 1st]