UPDATE - 12/2@7:39PM: John at Cygnus-X1.net has transcribed the liner notes (including Rob Bowman's essay) and made them available online here.
UPDATE - 12/2@3:08PM: Here's that Cygnus X2 Eh sound effects outtake from the box set.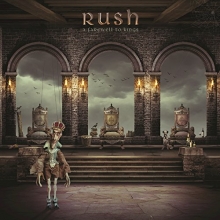 Rush's new A Farewell to Kings 40th anniversary box set edition officially released yesterday, and fans can purchase either a 3-CD set, a 4-LP set or the Super Deluxe set. Each set includes the Abbey Road Mastering Studios 2015 remastered edition of the album, a complete Rush concert recorded in February 1978 at London's Hammersmith Odeon newly mixed by Terry Brown, and four newly-recorded cover versions of songs from the original album by Dream Theater, Big Wreck, The Trews and Alain Johannes. Rush has released streaming audio versions of all 4 covers, including Dream Theater's cover of Xanada here, Big Wreck's version of Closer to the Heart here, The Trews Cinderella Man here, and multi-instrumentalist Alain Johannes' beautiful cover of Madrigal here. The band has also made streaming audio versions of the previously unreleased 1978 live versions of Closer to the Heart, Lakeside Park, 2112, and Neil Peart's drum solo included in the box set available on YouTube and other streaming channels. You can listen to Closer to the Heart here, Lakeside Park here, 2112 here, and the drum solo here. There's also a 1.5-minute promotional video highlighting the contents of the set which you can watch here, and this really cool 360-degree rendering of the album cover from FANTOONS. The Super Deluxe edition includes both the 3 CDs and 4 LPs along with an additional Blu-ray Audio disc containing a new 5.1 surround mix of the album by Steven Wilson, along with three original 1977 promo videos from a newly found 2-inch quad video master. The set is now available to order at Amazon (3-CD set, 4-LP set, Super Deluxe set) and other retailers, and is also available in stores.
Related Posts:
[Rush A Farewell to Kings 40th anniversary edition box set releases tomorrow]
[Geddy Lee and Alex Lifeson on the making of A Farewell to Kings in new Prog magazine interview]
[Listen to unreleased live 1978 Lakeside Park from Rush's upcoming A Farewell to Kings 40th anniversary box set]
[Rush A Farewell to Kings 40th anniversary box set coming December 1st]