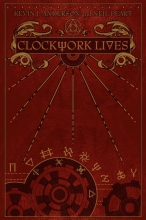 Kevin J. Anderson and Neil Peart's follow-up to their best-selling Clockwork Angels novel is titled Clockwork Lives and officially released via ECW Press back on September 15th. It is described as a steampunk Canterbury Tales and further explores some of the people and places from the Clockwork Angels universe. From the book's description:
... Marinda Peake is a woman with a quiet, perfect life in a small village; she long ago gave up on her dreams and ambitions to take care of her ailing father, an alchemist and an inventor. When he dies, he gives Marinda a mysterious inheritance: a blank book that she must fill with other people's stories-and ultimately her own. ...
Anderson was a guest on the Michael Artsis webshow on BeTerrific!! TV this past week to talk about the novel and some of his other collaborations with Neil Peart. You can watch the half-hour interview below or on YouTube at this location, and order your copy of Clockwork Lives via Amazon at here.
Related Posts:
[Clockwork Lives and Clockwork Angels graphic novel released today]
[Order a signed copy of Clockwork Lives, new sample chapter available]
[Kevin J. Anderon talks Clockwork Lives in new SFFWorld interview]
[Clockwork Lives Limited Edition tarot card sets now available]
[Clockwork Lives Limited Edition, signed hardcover edition now available for pre-order]
[Clockwork Lives: The Bookseller's Tale ebook now available]
[Kevin J. Anderson and Neil Peart's Clockwork Lives cover art revealed]
[Kevin J. Anderson talks Clockwork Angels, Clockwork Lives, 2113 and more in new Rushcast interview]
[Kevin J. Anderson discusses the origins of Clockwork Lives in new video]
[Kevin J. Anderson and Neil Peart's Clockwork Lives official press release and sample chapter]
[Kevin J. Anderson and Neil Peart's Clockwork Lives due in September, now available for pre-order]
[Kevin J. Anderson and Neil Peart working on sequel to Clockwork Angels titled Clockwork Lives]