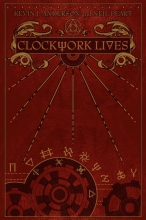 Kevin J. Anderson and Neil Peart's follow-up to their best-selling Clockwork Angels novel is titled Clockwork Lives and is due to release via ECW Press on September 15th. It is described as a steampunk Canterbury Tales and will further explore some of the people and places from the Clockwork Angels universe. Anderson announced via his blog this morning that ECW Press has released a set of limited edition Clockwork Lives tarot cards as a companion to the novel. Each of the 13 cards in the set contains a line illustration of one of the Clockwork Lives characters by Clockwork Angels graphic novel artist Nick Robles. There are 300 sets of the cards available and Anderson will be selling them at the Hard Rock Cafe Denver's Rush party this coming Thursday night, and also at RushCon in Los Angeles at the end of the month. If you can't make either of those appearances, you can also order them (limit 3 per person) via the following links:
US orders $15 + $2.50 postage
Canada/Mexico $15 + $4 postage
International $15 + $8 postage
A limited edition, signed hardcover edition of Clockwork Lives was also made available for pre-order via the Rush Backstage Club a few weeks ago but quickly sold out. It comes in a black linen slipcase that has a gold foil stamp of the alchemical symbols, and includes a ribbon bookmark inside the book. Each book is hand numbered and has a bookplate signed by Neil Peart and Kevin J. Anderson. You can also pre-order the standard hardcover edition here. An ebook preview of a portion of the book is also available. You can order the Kindle edition of Clockwork Lives: The Bookseller's Tale for $2.99 on Amazon at this location, and it is also available in other ebook formats. The ebook also includes an afterword on the writing of the project with Neil Peart. Back in February Anderson released a video of himself discussing the origins of the novel which you can view on YouTube at this location. He also discussed the novel at length in his Rushcast podcast interview from back in March, and Eric at the Power Windows site posted a short interview with Anderson last month where the author answers some questions about his various Rush-related projects including Clockwork Lives which you can read online here.
Related Posts:
[Clockwork Lives Limited Edition, signed hardcover edition now available for pre-order]
[Clockwork Lives: The Bookseller's Tale ebook now available]
[Kevin J. Anderson and Neil Peart's Clockwork Lives cover art revealed]
[Kevin J. Anderson talks Clockwork Angels, Clockwork Lives, 2113 and more in new Rushcast interview]
[Kevin J. Anderson discusses the origins of Clockwork Lives in new video]
[Kevin J. Anderson and Neil Peart's Clockwork Lives official press release and sample chapter]
[Kevin J. Anderson and Neil Peart's Clockwork Lives due in September, now available for pre-order]
[Kevin J. Anderson and Neil Peart working on sequel to Clockwork Angels titled Clockwork Lives]