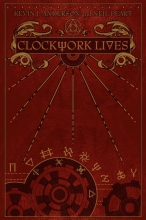 Kevin J. Anderson and Neil Peart's follow-up to their best-selling Clockwork Angels novel is titled Clockwork Lives and is due to release via ECW Press on September 15th. It is described as a steampunk Canterbury Tales and will further explore some of the people and places from the Clockwork Angels universe. Anderson was recently interviewed by SFFWorld to discuss the novel, his friendship with Peart and some of his other projects. Here's what Anderson said regarding what Rush fans can expect from the novel:
... CLOCKWORK ANGELS had the direct story from the album, and Rush fans were eager to see the real background of how the songs fit together (although, to be clear, you can enjoy the novel greatly even if you've never heard the album). I sprinkled countless Rush Easter eggs throughout the prose. CLOCKWORK LIVES is more standalone, without an accompanying album, but I still wove a great many Rush lyric references throughout, and fans will see nods to the Necromancer, the Rocinante, Cygnus. But you don't have to know anything about the music beforehand; these are just great stories, wonderful adventures, some amazing, some tragic, some uplifting. ...
You can pre-order Clockwork Lives at this location. The complete graphic novel version of Clockwork Angels is also due to release on September 15th and can be pre-ordered here.
Related Posts:
[Clockwork Lives Limited Edition tarot card sets now available]
[Clockwork Lives Limited Edition, signed hardcover edition now available for pre-order]
[Clockwork Lives: The Bookseller's Tale ebook now available]
[Kevin J. Anderson and Neil Peart's Clockwork Lives cover art revealed]
[Kevin J. Anderson talks Clockwork Angels, Clockwork Lives, 2113 and more in new Rushcast interview]
[Kevin J. Anderson discusses the origins of Clockwork Lives in new video]
[Kevin J. Anderson and Neil Peart's Clockwork Lives official press release and sample chapter]
[Kevin J. Anderson and Neil Peart's Clockwork Lives due in September, now available for pre-order]
[Kevin J. Anderson and Neil Peart working on sequel to Clockwork Angels titled Clockwork Lives]