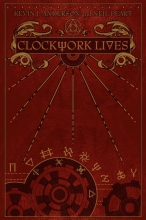 Last month ECW Press put out the official press release announcing Kevin J. Anderson and Neil Peart's new novel Clockwork Lives - the follow-up to their best-selling Clockwork Angels novel. The 304-page novel is due to release via ECW Press on September 15th. Earlier today Kevin J. Anderson revealed the novel's cover art via this Twitter post and his blog:
... The cover art was created by Nick Robles, with design input from Kevin J. Anderson and Neil Peart, and hearkens back to an age of beautiful book making: each copy of the trade hardcover will have an oxblood leatherette cover with embossed gold stamping of gears and alchemy symbols.

Nick Robles also created striking new line drawings to illustrate the featured "tales" in the book, so that this will be a remarkable and innovative volume to be placed proudly on any mantelpiece. ...
Clockwork Lives will feature minor characters from Clockwork Angels and expand on their stories. From the publisher's press release:
... Anderson and Peart have returned to their colorful creation [of Clockwork Angels] in CLOCKWORK LIVES, a steampunk Canterbury Tales that explores the lives of secondary characters in CLOCKWORK ANGELS and introduces a new protagonist. Marinda Peake is a woman with a quiet, perfect life in a small village. Her alchemist father's will leaves Marinda a mysterious inheritance: a blank book that she must fill with other people's stories-and ultimately her own. Styled after Marinda's book, the ECW volume itself will be a beautiful homage to traditional bookmaking. A limited-run collector's edition will also be available.
Anderson also posted a portion of the first chapter to his blog here, and a few weeks ago released a video of himself discussing the origins of the novel which you can view below or on YouTube at this location. He also discussed the novel at length in his Rushcast podcast interview from earlier this week. You can pre-order your copy of Clockwork Lives at this location.
Related Posts:
[Kevin J. Anderson talks Clockwork Angels, Clockwork Lives, 2113 and more in new Rushcast interview]
[Kevin J. Anderson discusses the origins of Clockwork Lives in new video]
[Kevin J. Anderson and Neil Peart's Clockwork Lives official press release and sample chapter]
[Kevin J. Anderson and Neil Peart's Clockwork Lives due in September, now available for pre-order]
[Kevin J. Anderson and Neil Peart working on sequel to Clockwork Angels titled Clockwork Lives]