UPDATE - 7/7@10:48AM: It looks like the limited editions are SOLD OUT now.
UPDATE - 6/18@9:00PM: Eric at the Power Windows site posted a short interview with Kevin J. Anderson earlier today where Anderson answers some questions about his various Rush-related projects including Clockwork Lives, 2113 and more. You can read the interview online here.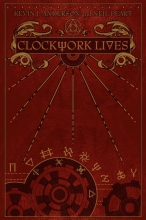 Kevin J. Anderson and Neil Peart's follow-up to their best-selling Clockwork Angels novel is titled Clockwork Lives and is due to release via ECW Press on September 15th. The book will feature minor characters from Clockwork Angels and expand on their stories. A limited edition, signed hardcover edition of the book is now available for pre-order via the Rush Backstage Club (thanks robertrobyn):
The Clockwork Lives Limited Edition Hardcover is placed within a black linen slipcase that has a gold foil stamp of the alchemical symbols, and includes a ribbon bookmark inside the book. Each book will be hand numbered and have a bookplate signed by Neil Peart and Kevin J Anderson. This release is limited to 500 copies.
You can also pre-order the standard hardcover edition here. An ebook preview of a portion of the book is also available. You can order the Kindle edition of Clockwork Lives: The Bookseller's Tale for $2.99 on Amazon at this location, and it is also available in other ebook formats. The ebook also includes an afterword on the writing of the project with Neil Peart. Back in February Anderson released a video of himself discussing the origins of the novel which you can view on YouTube at this location. He also discussed the novel at length in his Rushcast podcast interview from back in March.
Related Posts:
[Clockwork Lives: The Bookseller's Tale ebook now available]
[Kevin J. Anderson and Neil Peart's Clockwork Lives cover art revealed]
[Kevin J. Anderson talks Clockwork Angels, Clockwork Lives, 2113 and more in new Rushcast interview]
[Kevin J. Anderson discusses the origins of Clockwork Lives in new video]
[Kevin J. Anderson and Neil Peart's Clockwork Lives official press release and sample chapter]
[Kevin J. Anderson and Neil Peart's Clockwork Lives due in September, now available for pre-order]
[Kevin J. Anderson and Neil Peart working on sequel to Clockwork Angels titled Clockwork Lives]