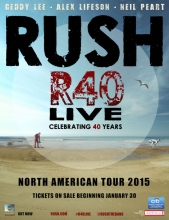 Rush's R40 Live tour woke up from its 11-day nap to kick off the third and final (??) leg of the tour in Kansas City last night. After tonight the band will make their way west to Denver and Salt Lake City, up into western Canada and the Pacific Northwest, then back down through the American Southwest before finishing things up with a couple of shows in SoCal. The band broke out its standard B setlist last night, so it looks like they will likely settle into their A-B-C setlist rotation for at least the next few shows of the third leg with tomorrow's crowd in Denver probably getting setlist C. That said, I'm hearing that we may see that extra special song with a guest musician in Vancouver next week and also in Los Angeles. On the last leg we were treated to that extra song at the 2nd show in Toronto, the Newark show, and at MSG in New York. For more on that song and the guest musician(s), check out the SPOILERS in the New York thread, and for complete tour coverage for each show, visit the tour page. Attendance and sales figures for a few of the R40 Live tour dates have slowly been trickling in over the past few weeks. This week Billboard Boxscore reported that the band's June 25th show at the Wells Fargo Center in Philadelphia was a sellout, with gross sales of $1,340,006 and attendance at 13,476. That makes 3 sellouts out of the 4 shows reported so far. Forbes ran an article this week on the secondary ticket market for Rush's tour, with the following analysis:
... On average, a ticket to see Rush is $197.38 on the secondary market, although some cities are considerably cheaper, including their July 17 date in Vancouver, where the average ticket price is $109.32 with a get-in price as low as $12. Their July 19 show in Seattle is notably more expensive, sporting an average ticket price is $490.46 with a get-in price as high as $171. ...
Ultimate Classic Rock has teamed up with Vivid Seats for a contest where they are sending one lucky winner and a guest to see Rush's July 25th show at the MGM Grand Garden Arena in Las Vegas, complete with airfare, a two-night stay at the MGM Grand Hotel and Casino, and a dinner voucher for one night. For all the details and to enter visit the Ultimate Classic Rock website here; the contest runs through July 13th. A couple of weeks ago Rush in partnership with Qello Concerts launched a Qello Concerts Rush channel, providing full-length Rush concerts and documentaries streamed on demand to any device. The channel also includes exclusive behind-the-scenes webisodes from the R40 Live tour, with a new webisode airing each week through the end of the tour. The first R40 Live backstage webisode featuring Alex Lifeson's guitar tech Scott Appleton was made available a couple of weeks ago and can be seen online here. The 2nd episode featuring violinist Jonathan Dinklage was posted this morning and can be seen here.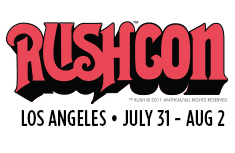 The folks at RushCon sent out a newsletter this past week announcing some exciting news regarding this year's RushCon 15 Rush fan convention, specifically in regards to the planned Rush fan documentary to accompany the live DVD that was filmed in Toronto last month:
You have probably heard that Rush, in conjunction with Fadoo Productions, is creating a feature-length documentary about the lives of Rush fans to be released with the upcoming R40 DVD. RushCon is a by-the-fans, for-the-fans event, so it is no surprise that the crew will be documenting RushCon. Come live in the limelight with us as we celebrate Rush together. You might be captured playing a game, in the crowd, or hanging out with your Rush friends. Do you have a unique Rush fan story? Has the band and music influenced your life in a significant way? The filmmakers want to hear from you! You could be chosen for a feature interview by the documentary crew during RushCon! Share your story here.
You can share your Rush story online using this form. Keep in mind that you will need to attend RushCon to participate and be filmed by the crew during the convention (duh!). All participants will also need to sign a release form, and not all interviews will make the final cut of the documentary. The 15th annual convention will take place July 31st to August 2nd in Los Angeles - the first time it's ever been held outside of Rush's hometown of Toronto. For all the details and to register for the convention, check out the RushCon website, and be sure to follow RushCon on Facebook and on Twitter for all the latest news and info.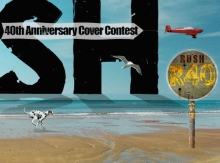 Back in May Rush's rights management company Ole (Ole aquired the Rush catalog last year) teamed up with Indaba Music to launch a Rush cover song contest where the winner would get $5,000, 2 tickets and a meet & greet for Rush's August 1st show in LA, and more. The contest ended up receiving over 150 submissions and earlier this week Indaba announced the winners, all three of whom submitted covers of Rush's Limelight. The winner of the grand prize was Matthieu Romarin of Montpelier, France with his moody, electronic cover of Limelight. Winning the 2nd place prize of $3000 and a Rush swag pack was Jacob Moon of Hamilton, ON (remember him?), and taking home the 3rd place prize of $1000 and a Rush swag pack was Kenny Schick of Boulder Creek, CA. The contest's judges consisted of representatives from both Ole and Anthem/SRO. In addition to the cash, tickets and meet-n-greet, Romarin will get a meeting with an Ole Media Management Creative Rep, a limited edition Rush Fender Squier Bass, and a lyric video of his Limelight cover on Ole's YouTube channel. The David Barrett Trio entered their cover of Closer to the Heart in the contest, but didn't end up winning any prizes. Earlier today they made the song available for free download via their website. The Trio has close ties to Alex Lifeson who helped produce both of their studio albums, the second of which released earlier this year.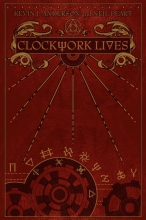 Kevin J. Anderson and Neil Peart's follow-up to their best-selling Clockwork Angels novel is titled Clockwork Lives and is due to release via ECW Press on September 15th. It is described as a steampunk Canterbury Tales and will further explore some of the people and places from the Clockwork Angels universe. Anderson announced via his blog earlier this week that ECW Press has released a set of limited edition Clockwork Lives tarot cards as a companion to the novel. Each of the 13 cards in the set contains a line illustration of one of the Clockwork Lives characters by Clockwork Angels graphic novel artist Nick Robles. There are 300 sets of the cards available and Anderson will be selling them at RushCon in Los Angeles at the end of the month. If you can't make RushCon, you can also order them online here.
Drummer and Rush fan Denis Richard Jr. made a trek to the legendary Le Studio last month to fulfill a lifelong dream. He set up his kit in the very spot that Neil Peart did when he recorded his drum parts for many of Rush's most iconic songs. He then recorded himself playing along with Rush's The Spirit of Radio and posted the video to YouTube. Very cool!
Guitar World posted their list of The 10 Best Stage Names of All Time earlier this week and Alex Lifeson made the cut at #7 (thanks RushFanForever):
Zivojinovich. Say it backwards, and you might find yourself in the Bizarro World. That's certainly where Rush guitarist Alex Lifeson found himself New Year's Eve 2003, when he tangled with police at the Naples Ritz-Carlton Hotel in Florida. The brawl had several repercussions for Lifeson: a broken nose, a lawsuit, and the publication of his real name, Zivojinovich. It's Serbian, reportedly, for "Lifeson."
In addition to being the discoverer of Rush and a prominent radio historian/consultant, Donna Halper is on the board of directors of the Massachusetts Broadcasters Hall of Fame, who is currently running an online auction fundraiser. One of the items up for bid is an R40 tour book signed by all 3 members of Rush. For all the details and to place your bid, visit biddingforgood.com at this location. The auction runs through July 21st.
Clevelander Bill Bregar recently wrote an op-ed piece for the Plain Dealer on the upcoming 2016 Republican National Convention, which will take place in Cleveland next summer. He brings up Rush's Working Man when describing Clevelanders:
... Cleveland is hardworking and hard-rocking. We cranked out the Rush song "Working Man," driving our rusting beater cars in the 1970s, as snow blasted in off Lake Erie. Geddy Lee's voice shredded our Spark-O-Matic speakers. It fit perfectly. Still does. I guarantee that, even today in Cleveland, the lawyers, the PR flacks, the urban gentrifiers - they still blister their eardrums to "Working Man" in the car driving down the East Shoreway. Dodging the potholes. ...
And while on the subject of politics and Republicans, Rolling Stone posted an article earlier this week on 34 Artists Who Fought Politicians Over Their Music. One of the featured items was regarding Rush and GOP presidential candidate Rand Paul:
When: 2010
Songs: "The Spirit of Radio," "Tom Sawyer"
Controversy: Kentucky Senator Rand Paul is both a libertarian and an ardent Rush fan - he's quoted their lyrics in speeches and played their songs at a victory rally and in a campaign video. The prog rockers were known libertarians too - they praised Ayn Rand in the liner notes to their album 2112 - but nonetheless, the band hit Paul with a cease-and-desist letter. At the time, Rush's attorney said the action was taken due to copyright issues and that, as Canadians, the group had no desire to mix music with politics.
Result: Five years after the controversy, Paul continues to suffer the indignity of hearing just how much his favorite band dislikes him. Rush drummer and lyricist Neil Peart is now an American citizen and recently told Rolling Stone that he would never vote for Paul and that it's "very obvious" that the politician "hates women and brown people."

Rush is one of the many artists featured on the cover of issue #50 of Dutch magazine Lust for Life as seen here. The cover is a recreation of The Beatles' Sgt. Peppers Lonely Hearts Club Band album cover, and the feature is titled the 50 Most Important Albums of All Time with Rush's 2112 coming in at #45. Thanks to Eric at Power Windows for the heads up.
Yale Hollander wrote a story for the St. Louis Jewish Light this past week titled Rushing toward maturity where he regrets the fact that he missed what might be his last chance to see Rush live. In similar fashion, Joe Hadsall of the Joplin Globe also laments about missing Rush's show in Kansas City last night, and describes all the life lessons he learned from Rush songs in this article.
Debra Ross wrote a great piece for KidsOutAndAbout.com Rochester this past week where she uses her love for Rush to drive home her message about teaching kids to live what you love and not to stomp on someone's joy. You can check out the article online here.
VH1 posted a story several weeks ago where they profile some of the women who appear on several classic rock album covers, including Paula Turnbull - the woman featured on the cover of Rush's Permanent Waves album:
... the cover of Rush's Permanent Waves LP makes an unmistakably powerful statement. Its visual centerpiece (albeit off to the right side) is fashion model Paula Turnbull, who poses as a sexy, clueless, panty-flashing 1950s glamour queen on a suburban street where, behind her, Armageddon rages unacknowledged. ... Paula worked steadily as a model before and after Permanent Waves, but her best-known other work occurred two years later, when she reprised her role as the same intriguingly oblivious sexbomb on the cover of Rush's tremendous live album, Exit... Stage Left.
The Foo Fighters' have been occasionally covering Rush's Tom Sawyer as part of their Sonic Highways Tour tour over the past several months. Earlier this week they played the Molson Canadian Amphitheater in Toronto and not surprisingly covered the song once again for Rush's hometown crowd. Just before the song drummer Taylor Hawkins made a comment about all the Rush t-shirts he saw in the audience. Dave Grohl then chimed in saying, "that's great because we have not one, but TWO special guests". The crowd then went crazy thinking that maybe Geddy Lee and Alex Lifeson would come out and make a guest appearance like they did at a Foos show in Toronto back in 2008. But it turned out the special guests were Grohl's mom and Geddy Lee's mom. Once they broke into Tom Sawyer, they would occasionally show a shot of the 2 moms up on the big screen as seen in this video. Rush also posted a photo of the 2 moms to their Facebook page with a message from Geddy:
Thanks Foo Fighters & Dave's Mom for making my mom's night at your concert ..surreal! She loves u guys forever for playing Tom Sawyer ;)
- Geddy
The story caused quite a buzz in the online music press, getting picked up by Billboard, the Toronto Star, Q107, Music Times and Alternative Nation to name a few.
That's it for this week. Rush is back!!! Have a great weekend everyone!