UPDATE - 7/10@11:03AM: The second webisode is now available here.
UPDATE - 6/26@12:50PM: It looks like the entire, 2-minute backstage interview with Alex Lifeson guitar tech Scott Appleton is available to watch for free here.
UPDATE - 6/26@11:14AM: The first R40 Live backstage webisode is now available. It follows Alex Lifeson's guitar tech Scott Appleton backstage at Rush's tour stop last month in Bristow. You have to sign up with Qello to watch the full episode, but there's a 24-second preview available here.
Watch "R40 Live from the Road" exclusive webisodes on Qello Concerts - the on-demand streaming destination for RUSH concerts and documentaries! This week hear about life on the road from Alex's guitar tech. #r40live

Posted by RUSH on Friday, June 26, 2015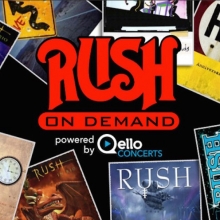 Rush just announced that they have teamed up with Qello Concerts for the launch of Rush On Demand, providing full-length Rush concerts and documentaries streamed on demand to any device. From the Rush.com press release:
... On the Qello Concerts Rush channel, fans get exclusive behind-the-scenes webisodes from the R40 Live tour. A new webisode airs each week through the end of the tour. Plus, Rush fans get access to Rush's entire concert film catalog in one streaming destination-including Clockwork Angels, Rush in Rio, R30, Time Machine: Live in Cleveland, and more. ... Rush on Demand with Qello will launch this Friday with the first backstage R40 webisode!
Quello Concerts offers a 1-week free trial, with a $7.99 monthly cost after that or an optional yearly plan for $69.99. There is also a free version which gets you one track from every concert, a preview of every documentary, and Qello TV, which has 30+ channels of continuous concert programming.