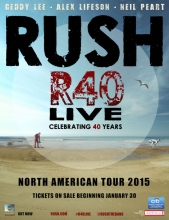 Date/Time: Saturday, June 27th @ 7:30PM
Show Number: 22
Venue: Prudential Center
Place: Newark, NJ
Twitter: #R40NJ | #R40Live
Instagram: #R40NJ
YouTube: Newark Rush R40 Live Tour
Setlist: Version E
Photos: Cygnus-X1.net | NJ.com | BenShotMe.com | B51 Photography
Reviews: NJ.com | Billboard | Washington Times | Radio.com | CBS New York | Baeble Music | NYS Music
UPDATE - 7/15@11:42AM: Here's a review from NYS Music.
UPDATE - 7/13@11:08AM: Here's a review of the Philly, Newark and New York shows from Baeble Music's Mark Brown.
UPDATE - 7/10@4:13PM: Here's a great gallery of photos from B51 Photography.
UPDATE - 7/8@3:33PM: Here are some photos from this show as well as the Boston show from BenShotMe.com.
UPDATE - 7/2@9:07AM: Here's a review from CBS New York.
UPDATE - 6/30@5:26PM: There's some incredible, multi-angle video of that special performance with the guest musician below the fold ...
UPDATE - 6/30@4:15PM: Here's a review from Radio.com.
UPDATE - 6/29@9:13PM: Here's a YouTube playlist of the entire show.
UPDATE - 6/29@11:45AM: Documentary filmmaker Michael Moore was at the show as seen in this tweet from Kelly D and this meet-n-greet tweet. Reader Thomas P also spotted him at the side of the stage, and at one point Ray Danniels escorted him down to the 5th row.
UPDATE - 6/29@8:13AM: Here's a review from the Washington Times.
UPDATE - 6/28@4:12PM: Here's a review from Billboard.
UPDATE - 6/28@12:50PM: Here's a gallery of photos from Cygnus-X1.net, and a review from NJ.com.
UPDATE - 6/28@9:52AM: You can watch some great 4th row video of that special performance with the guest musician below the fold ...
UPDATE - 6/27@10:45PM: Another epic show has come to an end. The Newark crowd was lucky enough to see the first appearance of the E setlist, and a new guest musician on that one song. Get the full setlist here. Good night Newark!
UPDATE - 6/27@9:25PM: They are back from intermission and they've already deviated a little from setlist D. I'm calling it - you guessed it - E! Full setlist so far here.
UPDATE - 6/27@9:03PM: Setlist change! They played setlist D with that extra song and a different guest musician. Details below the fold.
UPDATE - 6/27@7:30PM: The show should be getting started in about 15 minutes with setlist A expected. I'll let everyone know if anything changes. Have fun Newark!
Rush's R40 Live tour makes its way to New Jersey tonight to play the Prudential Center in Newark for stop #22 of the tour. After tonight the band will play 1 final show at Madison Square Garden on Monday before taking a well-deserved 11-day break until July 9th in Kansas City. The band returned to their standard 3-setlist rotation this past week for the 3 shows following their stint in Toronto, and tonight's performance in Newark should see the band playing its A setlist. I went ahead and entered that set into the Newark setlist page for now, but I'll update it if anything changes and finalize it once the show is over. For more discussion on the setlist along with a preview of the show, check out the pre-show SPOILER review below the fold. The Prudential Center is sponsoring a Fan Fest at Championship Plaza starting at 4PM, featuring music, entertainment, and games. Championship Plaza is located on the corner of Edison Place and Mulberry Street, across from the PNC Bank tower entrance. Some fans will also be gathering at the Edison Ale House around 6PM. The doors for the show will open at 6PM with a 7:30PM start time listed, so Rush will likely hit the stage at 7:45-ish. For everyone going to the show, have fun, be safe and make sure to share your reports, reviews, photos and video with us. RUUSSHHH!!!
*** WARNING ***
*** SPOILERS BELOW ***
...
...
...
...
*** SPOILER UPDATE *** Here's a beautifully-edited, multi-angle YouTube video of the performance of Losing It with Jonny Dinklage on electric violin:
*** SPOILER UPDATE *** Here's some 4th row YouTube video of last night's performance of Losing It with Jonny Dinklage on electric violin:

*** SPOILER UPDATE *** They switched things up and played setlist D with Clockwork Angels stringer Jonathan Dinklage on Losing It. There's a great photo of Jonny in this tweet from Kelly D. By the way, Jonny happens to be the brother of actor Peter Dinklage, who appears in the Roll the Bones rap video.
*** pre-show SPOILER review *** Since Rush has settled back into their 3-setlist rotation for now, tonight they should be pulling out the A set for the Newark crowd. However, everyone has been wondering if/when we'll get to see that special D setlist with Losing It that Rush played for the DVD filming in Toronto last week. Rumor has it that we'll see it at least 3 more times starting with tomorrow night's show at Madison Square Garden. If that's the case, then it'll be interesting to see who will be the guest electric violinist. Will Ben Mink make the trip? Will it be a Clockwork Angels stringer? Charlie Daniels? I am hearing that it will also be played in Vancouver (where Ben Mink resides) and in Los Angeles for the final show. Here are some other quick notes about the anticipated setlist and the show:
* The opening video (The World Is ... The World Is ...) depicts cartoon versions of the band that evolve as time moves forward in a time lapse sort of progression - with outfits, hair styles, backdrops and music to match. It also includes a custom road sign for each city, and ends with silhouettes of the band being dumped onto the stage as the screen rises up to introduce the band playing the opening track.
* The entire setlist is played in reverse chronological order, beginning with Clockwork Angels, and ending in the encore with a short snippet of the unreleased, early '70s track Garden Road.
* As the show progresses back in time, the stage props and instruments also devolve to coincide with the songs being played. Props are swapped out by roadies in red, R40 mover outfits.
* Photos of fans (submitted by fans via Rush.com prior to the tour) are shown on the big screen at multiple points throughout the show.
* During the rap section of Roll The Bones a video is played with the following celebrities lip-syncing the rap: the Trailer Park Boys, Paul Rudd & Jason Segel, Jay Baruchel, Les Claypool, Tom Morello, and Peter Dinklage.
* The intermission video (No Country for Old Hens) shows outtakes from the intermission videos from all of the band's recent tours, ending with the South Park Tom Sawyer video that segues into the band playing Tom Sawyer to open the 2nd set.
* For the 2nd set, Neil Peart's R40 drum kit is replaced with a retro, late '70s-era replica kit dubbed El Darko featuring double bass drums.
* Every show/setlist so far has been identical from Jacob's Ladder on through the encore.
* Jacob's Ladder makes its first live appearance since 1980.
* Cygnus X-1 Book Two: Hemispheres - Prelude had not been played since 1994.
* Cygnus X-1 Book One - The Voyage: Part 3 was last played live in 1980, although Prologue was played in 2002.
* Xanadu includes both Alex Lifeson and Geddy Lee using doubleneck guitars.
* The Mel's Rock Pile skit before the encore reprises Eugene Levy's character from an old SCTV skit as seen here.
* Lakeside Park was last played live in 1978, and this performance is truncated, leaving out the bridge/last verse.
* What You're Doing was last played live in 1977.
* The closing video (Exit Stage Left) shows video of the band exiting the stage taken from various live footage. It then shows the 3 band members trying to get into their dressing room and being thwarted by the puppet from A Farewell to Kings, who is having a party with all the other characters from Rush's album covers. He says Rush isn't on the list and sends them away. Alex Lifeson says the memorable line, "Fuck you puppet!". The band then walks off into the sunset down the hall, wondering what they should do now. ...
Photos from Instagram using hashtag #R40NJ: