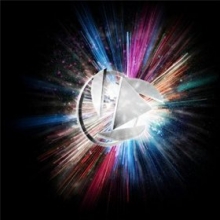 After releasing a series of instrumental singles back in 2011 including Hollowbody, Sonar and Disappearance, the Alex Lifeson-produced David Barrett Trio released their first full-length studio album back in early 2013. The self-titled album was produced by Alex Lifeson, Rich Chycki, and Alan Parsons. Today the band announced the release of their follow-up studio album DB3 II. From the press release:
... The new release was recorded in Fall 2014 at BAHM Studio in Toronto, Canada. While being unmistakably "DB3", the 10-song set presents a distinct evolution in composition. ... The Trio evolved their recording process as well, taking the helm on the tracking and mixing, while still maintaining the beneficial mentoring offered by friend of the band and Canadian music legend Alex Lifeson (RUSH), who produced the epic closing track "The Elegant Universe". DB3 II also expands their sonic universe, featuring guest vocalist Michael Sadler (SAGA) on Coppermine, with lyrics by long time collaborator Paul Reid. Legendary Celtic guitarist Tony McManus also makes a guest appearance, lending his flare for Far Eastern sonics to The Elegant Universe and David Barrett presents a stellar acoustic solo performance on "The Kid Stays In The Picture". ...
As mentioned in the press release, Alex Lifeson offered plenty of support and guidance throughout the making of the album. This past summer he visited the studio for a recording session with celtic guitar virtuoso Tony McManus who guests on the new album, and the session was documented in this Facebook photo gallery. Back in December The Trio also released their first live DVD/CD A Whisper To Thunder, which was captured in April, 2013 at a live performance in Toronto. The show was in support of The Trio's first release and featured a state-of-the-art, stadium level spectacle of light and sound, with a laser show designed by long-time Rush lighting director Howard Ungerleider. For all the details and to purchase your copy of DB3 II or A Whisper To Thunder, just visit davidbarretttrio.com. You can keep up with The Trio by following them on Facebook, and purchase DB3 music on Amazon.