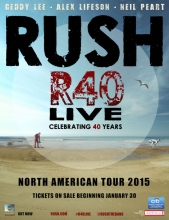 We are now 2 weeks and 7 shows into Rush's R40 Live tour and the band has been playing to packed houses and garnering rave reviews across the board. After kicking off the tour in Tulsa 2 weeks ago, the band headed north through Lincoln, St. Paul and St. Louis - then played 3 shows across Texas this past week, hitting Austin, Dallas and Houston. Next up is New Orleans tonight, then they'll make their way across the southeastern US for 4 shows to finish out the first leg of the tour. The band has been playing their standard 3-hour evening with Rush show format with 2 sets separated by an intermission, pulling out about 25 (depending on how you count them) songs from their 40-year catalog, and alternating between 3 A-B-C setlist versions. We can expect to continue to see this 3-setlist rotation as Alex Lifeson confirmed it in his recent Classic Rock interview, saying that the band has "three sets - A, B, C - which we'll be rotating throughout the tour". Each setlist maintains a core of about 20 songs common to every show, with the remaining 5 or so slots changing from night to night and the encore remaining unchanged. There is still one track that the band has been consistently playing in soundchecks that has yet to make an appearance. For more on that, check the spoilers in the Houston show open thread, and for complete tour coverage for each show, visit the tour page. Although it hasn't been officially confirmed yet, rumors (now independently confirmed by several sources) began circulating after opening night that Rush will be filming both Toronto shows for a future DVD release; Rush plays 2 back-to-back shows at the Air Canada Centre in Toronto on Wednesday, June 17th and on Friday, June 19th. There are currently a few Rush meet-n-greet and ticket giveaway contests going on. Live Nation launched an #R40Memories Sweepstakes a couple of weeks ago where the grand prize winner will get a trip for two to Las Vegas to see Rush, complete with a meet-n-greet, air fare, hotel accommodations, merch pack and $200 spending money. They are asking entrants to submit photos of their favorite Rush memories as seen here, although its not a requirement for entry. The contest runs through June 12th and you can get all the details and enter the Sweepstakes at this location. Rush's rights management company Ole (Ole aquired the Rush catalog last year) is also running a contest with Indaba Music for a Rush cover song contest where the winner will get $5,000, 2 tickets and a meet & greet for Rush's August 1st show in LA, and more. And you can still enter the Rush Backstage Club's meet & greet contest too.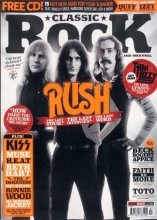 The July, 2015 issue of Classic Rock magazine hit newsstands in the UK earlier this week and includes a cover feature on Rush along with new interviews with Geddy Lee and Alex Lifeson. The cover depicts a '70s-era photo of the band with the main tagline reading, "Rush: The Last Tour? The Last Interview? The Last Word." along with this featured quote from Geddy: "Can we go on forever? Clearly not. - Geddy Lee". The feature contains separate, extensive interviews with both Geddy Lee and Alex Lifeson that were conducted in Toronto just prior to the band heading into production rehearsals in Tulsa a few weeks ago. In these very frank and revealing interviews, Geddy and Alex discuss a wide range of topics including the R40 Live tour, their health and the future of Rush. Here's Alex Lifeson on whether this will be Rush's last tour:
... We'll see. Right now the tour is what it is. Whether we add more dates, I think it all boils down to Neil, really. It's a very athletic endeavour for him to go on tour. He's sixty-two years old. Physically it's difficult. And it's the same for me. ... I've had [arthritis] for ten years, and this is the first time I'm really feeling it in my hands and my feet. That's the way it goes. But it's a lot harder for Neil. He's got tendonitis in his arm. To be honest, I don't know how he gets through playing the way he does, being in that sort of discomfort and pain. But he's a very stoic guy. He never complains. ... [Neil] wants to spend more time at home and with his family. I get it. He's never been keen about touring. It's always a difficult thing for him. ... Neil knows that we're not ready for the end, and he doesn't want to ruin that for us. Keep in mind: we're like brothers. And we went through a terrible period with him in his life and supported him and he'll never forget that. I think he feels, as I would too, an obligation to us for having stood by him. So he's not willing to let that go. Maybe now he is. And I get it. It's not like, what a jerk, he doesn't want to do this any more? I get it. ...
Alex also thinks there's still a good possibility of another Rush album. He then goes on to talk a bit about the band's past drug use and reveals that he regularly smokes marijuana for medicinal purposes to help with his arthritis; he has a prescription in Canada where medicinal marijuana is legal. Geddy Lee is clearly the healthiest member of the trio and is pushing for the band to continue the R40 Live tour into Europe:
... These days it's Lee who is driving Rush forward. He wants to tour more. If he gets his way, the band will return to the UK and mainland Europe in 2016. Whatever happens next, he says, will be dependent on how the other two guys are feeling after the US tour: "If everyone's really digging it, the way I think we will, then we might carry on." ...
Good news for European fans! And here's what Geddy had to say about the band's future:
... I'm just trying to enjoy the ride. Can we go on forever? Clearly not. We don't know if this is the end. And if it is the end, it's going to happen in bits and pieces. If we can't go out and do a massive tour in the future because everyone can't agree on that, there's nothing to say we can't do another record or one-off shows here and there. That's the best way I can describe it. ...
You can read the interview online here (registration required, *SPOILERS*). Classic Rock also posted extra, online-only bonus material from both interviews including some discussion on the possibility of making another Rush album and how a tour might fit into the plans. Here's what Alex Lifeson had to say about it:
... Geddy and I have talked about getting together on our next time off and just writing for the fun of it. Neil loves recording and always has. ... I could see us doing two or three weeks of dates. A few years back I saw David Gilmour, the On An Island tour. I think he did eighteen dates on that tour. He was out for a few weeks, and that was it. When I saw that show, oh my God, it was so amazing. He was playing so well. And what a fantastic presentation! And he probably put the same amount of work into doing those three weeks that we would put into doing ten months. And that's kind of cool, that you would commit that amount of energy and work to do just a few dates and that's it. I can see us doing something like that. ...
And here's Geddy Lee's take on it:
... to do another record, it has to have that one hundred per cent commitment from all of us. I don't think you can go into a Rush record, or any Rush project, half-assed. You've got to really want to do it. ... The conversation about future albums has to wait until after this current tour. But there is no negativity about it. ... I can see us making a record and playing live but not playing a lot of shows. I can see us doing a record but not doing a tour. ...

Rush's 12 Months of Rush vinyl reissue campaign continued earlier this week with the release of the Hemispheres reissue, which even includes the same 12"x24" poster that came with the original release as seen here. Rush is releasing all of the Mercury-era Rush albums on vinyl along with a few select titles on Blu-ray audio throughout 2015. The 12 Months of Rush will see the band releasing one or two titles a month throughout the year. They started with Fly By Night in January (Vinyl, Blu-ray Audio), Caress of Steel in February, both 2112 and All the World's a Stage in March, and A Farewell to Kings last month on both vinyl and Blu-ray Audio. You can watch a 15-second promotional video for the 12 Months of Rush on the Rush YouTube channel here. All titles are reissued on high-quality vinyl with a 320kbps MP4 Digital Audio download code, with Fly By Night, A Farewell to Kings and Signals also having a Blu-ray Audio release. The rest of the reissue titles will be released throughout the remainder of the year and can be ordered/pre-ordered at the links below:
AVAILABLE FOR PURCHASE

Fly By Night (01/27/15) - Vinyl | Blu-ray Audio
Caress of Steel (02/17/15) - Vinyl
2112: Hologram Edition (03/17/15) - Vinyl
All the World's a Stage (03/17/15) - Vinyl
A Farewell to Kings (04/21/15) - Vinyl | Blu-ray Audio
Hemispheres (05/19/15) - Vinyl

AVAILABLE FOR PRE-ORDER

Permanent Waves (06/16/15) - Vinyl
Moving Pictures (07/21/15) - Vinyl
Exit ... Stage Left (07/21/15) - Vinyl
Signals (08/18/15) - Vinyl | Blu-ray Audio
Grace Under Pressure (09/15/15) - Vinyl
Power Windows (10/20/15) - Vinyl
Hold Your Fire (11/17/15) - Vinyl
A Show of Hands (12/1/15) - Vinyl
Speaking of the vinyl reissues, the 2112 reissue was a special Hologram Edition which included a custom, hand-drawn hologram of the Red Star of the Federation in the album's dead wax runout of side two. The spinning hologram is revealed by focusing a source of light directly above the turntable while playing as seen here. This past week the News-Gazette published an article on Tristan Duke - the optics expert and photographer who created the hologram for Rush's album and others. You can read the article online here.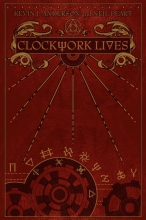 Kevin J. Anderson and Neil Peart's follow-up to their best-selling Clockwork Angels novel is titled Clockwork Lives and is due to release via ECW Press on September 15th. The book will feature minor characters from Clockwork Angels and expand on their stories. Last month a portion of the book was made available for sale as an ebook. You can order the Kindle edition of Clockwork Lives: The Bookseller's Tale for $2.99 on Amazon at this location, and it is also available in other ebook formats. The ebook also includes an afterword on the writing of the project with Neil Peart, and a cameo from Vertical Horizon's Matt Scannell. Anderson will be selling signed, hard copies of the Bookseller's Tale for just $1 at the Wordfire Press booth at Denver Comic Con this weekend, as seen in this Facebook post. Back in February Anderson posted a portion of the first chapter of Clockwork Lives to his blog here, and released a video of himself discussing the origins of the novel which you can view on YouTube at this location. He also discussed the novel at length in his Rushcast podcast interview from back in March. You can pre-order your copy of Clockwork Lives at this location, and order Clockwork Lives: The Bookseller's Tale here.
Reader RushFanForever located this recent, 3-part podcast interview with Max Webster bassist/producer Mike Tilka. Max Webster and Rush were both on Anthem Records in Canada, and Max Webster supported Rush on tour during the late '70s and early '80s, so Tilka has plenty of great stories about Rush which he shares in the podcast. You can listen to the interview online here.
Female Rush fan (aka Geddicorn) Margaret Moffett wrote an article for the Greensboro News & Record earlier this week titled Confessions of female Rush fan: I'm a nerd.

One of the sponsor's of Indy car driver and Oakville, Ontario native James Hinchcliff's Schmidt Peterson Motorsports Honda is Rush's R40 Live tour as seen in this Twitter photo. Unfortunately Hinchcliff crashed the car during a practice run earlier this week and had to undergo surgery as detailed in this ESPN article. Hinchcliff continues to recover from his injuries but is doing much better, and will be replaced in the race by Ryan Briscoe.
Press of Atlantic City's Vincent Jackson wrote an article earlier this week titled The Who, other rock bands popularize concept albums, and featured Rush's 2112 among his list of popular conceptual albums:
The Canadian power trio had its comercial breakthrough with this album. The concept part only lasts 20 minutes, one-side of the original vinyl album. A merging of a progressive and hard rock, "2112" is a seven-part suite about a dystopian future set in 2112 when the world is ruled by the "Priests of the Temples of Syrinx," who are opposed to music. ...
This past Wednesday David Letterman ended his 33-year career in late-night with a star-studded final episode. Back in 2011 Neil Peart performed this epic, 6-minute drum solo on Letterman's show as part of their Drum Week celebration. Congrats Dave, and thanks for all the laughs!
That's all for this week. The R40 Live tour continues tonight in the Big Easy. Hello New Orleans! Have a great weekend everyone!