UPDATE - 5/21@9:14PM: Here's a review and photo gallery from On Tour Monthly.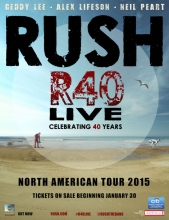 Date/Time: Monday, May 18th @ 7:30PM
Show Number: 6
Venue: American Airlines Center
Place: Dallas, TX
Twitter: #R40DALLAS | #R40DAL | #R40Live
Instagram: #R40DALLAS
YouTube: Dallas Rush R40 Live Tour
Setlist: Version C
Photos: Cygnus-X1.net | On Tour Monthly
Reviews: Fort Worth Star Telegram | Dallas Observer | On Tour Monthly
UPDATE - 5/20@10:41AM: Heavy metal singer King Diamond (Mercyful Fate) was at the show and got a meet-n-greet with Geddy Lee and Alex Lifeson as seen in this photo that was posted on the King Diamond Facebook page (thanks RushFanForever).
UPDATE - 5/19@1:16PM: Here's a review from the Dallas Observer (thanks Tom B).
UPDATE - 5/19@8:33AM: Here's a review from the Fort Worth Star Telegram, and a gallery of photos from Cygnus-X1.net.
UPDATE - 5/18@11:45PM: And that's a wrap! They played the same Version C setlist that was played in St. Paul - as expected - with no surprises. Get the full setlist here. A HUGE thanks to Stewart M and Tom D for texting me setlist updates from the show. Good night Dallas!
UPDATE - 5/18@9:51PM: Intermission time and no surprises in Set 1 - they played the Version C set. Full setlist so far here. Geddy said, "Hello Houston!" at one point but quickly corrected himself. Oops!! :)
UPDATE - 5/18@8:46PM: The show has started! Follow along with the setlist here.
UPDATE - 5/18@7:36PM: The doors are open and the show should get underway in a little over an hour from now. You can follow along as the setlist gets updated here.
Rush continues their trek across Texas tonight where they'll play the American Airlines Center in Dallas for show #6 of the R40 Live tour. They'll then play one more Texas date in Houston on Wednesday before making their way across the Southeastern US for 5 more shows to finish off the first leg of the tour. The band seems to have settled into a pattern of alternating between 3 different setlists, so we are expecting them to play their Version C set tonight - the same one they played in St. Paul last week. There's certainly no guarantee of that though, and Rush could always still surprise us with something new. For more discussion on that, check out my pre-show SPOILER review below the fold. I'll post any deviations from the expected Version C setlist to this post. Otherwise, you can just follow along as I update the setlist here. Reader Bradley Z wanted me to let everyone know about a pre-show gathering at the Hooters in downtown Dallas starting at 6PM. Get all the details at the event's Facebook page here. For everyone going to the show tonight, have fun, be safe and make sure to share your reports, reviews, photos and video with us. Rush!!!
*** WARNING ***
*** SPOILERS BELOW ***
...
...
...
...
*** pre-show SPOILER review *** As mentioned above, Rush looks like they've settled into a 3-setlist rotation and tonight's setlist should be the same as was played in St. Paul (Setlist Version C) Tuesday night. That said, it's still possible that they'll throw in something new. The band will often play songs in soundcheck that they are considering adding into the setlist at some point. One song that has been heard at soundcheck on at least 2 occasions so far (St. Paul and Austin) is Losing It - which was played with a triggered/recorded violin part (video proof from Austin here). From the rumors currently floating around, they do plan on pulling that song out at a few select shows with a guest violinist(s) at some point, with the likely candidates being Toronto, NYC, Vancouver and Los Angeles. So it will probably not be heard tonight, although you never know. Something else to keep an eye on is the fact that Rush has played all the songs listed in the tourbook credits so far except for The Big Money. It's not clear why the song hasn't been played yet, although it could have simply been dropped for some reason. It also hasn't been heard in soundcheck, so it seems unlikely that it will be added in at this point.
Photos from Instagram using hashtag #R40DALLAS: