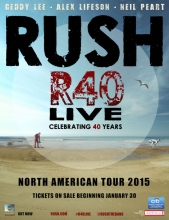 Rush's R40 Live tour kicks off one month from today at the BOK Center in Tulsa, so I thought I'd take some time out to round up all the latest rumors and information regarding the tour. In Geddy's That Metal Show interview back in February, Geddy revealed that the band would be heading into full rehearsals out in Los Angeles on Monday, March 30th. Geddy Lee and Alex Lifeson did indeed head out to LA two Sundays ago on March 29th to meet up with Neil Peart, and one lucky fan was on Geddy and Alex's flight from Toronto to LAX as seen in this Facebook photo. Geddy and Alex took some time out from rehearsals this past Monday for a visit to Fretted Americana in Beverly Hills for some guitar shopping along with an impromptu jam session. From the Fretted Americana Twitter feed:
Canadian day at FA today. @TheRealPhilX @Danielspree and guests #GeddyLee and #AlexLifeson jamming and tellin stories. #nocamera

- Fretted Americana (@FrettedAmerican) April 7, 2015
Speaking of guitar shopping, a couple of photos showing Geddy Lee playing on a new, seafoam green jazz bass appeared on Facebook last week. It's unclear exactly when/where these were taken, but they look to be recent. According to one fan who was at Fretted Americana on Monday and chatted briefly with Alex, the band apparently has prepped about 35 songs for the tour, although they won't be playing them all each night. They'll instead be alternating out as many as 6 or 7 per night for a solid 3-hour set. They did something similar on the last tour, although with only 3 or 4 songs. So it sounds like they have the setlist nailed down for the most part. Hopefully they paid some attention to the setlist requests made over at RushPetition.com. The petition collected votes from nearly 5000 Rush fans with the top 5 vote getters being Losing It, Different Strings, Cut To The Chase, The Fountain of Lamneth and Vapor Trail. An alternating setlist is consistent with what Neil said in his Sirius XM interview back in February as well:
As we started to plan this tour it was remarkable how in sync that we were about what we wanted to accomplish and express and present for people and how to go about it and working on the setlist and so on. Of course there were way too many songs, and so we said, "well, we'll play this song one night and we'll play this other song the other night", accommodating everybody's preferences and tastes. It's more than personal. You're thinking of the presentation of the band to an audience who have been around for decades also. So that they will have - not necessarily expectations - but you want to deliver something worthwhile as a statement that kind of encapsulates and punctuates that time together. I think we might call it "Jammin' to the Oldies" [laughs]. That would be one approach we could take. But it really was fun discussing different approaches that we might take to it, and how to choose from among all the material. And it was simply "done" once the three of us started sharing email lists of songs and all that. We said, "we played a lot of that last tour, so we can set that album aside, and what about this one we haven't played for a while?" We want to do a complete chronological presentation of all that time too. It was just nice how easily those decisions were arrived at, and any time there was "too much", there was nobody saying, "I won't play that". There were too many songs that we all wanted to play and possibly resurrect as we've done and so we said, "well ok, we can do all those songs, just not all on the same night."
That Neil Peart interview along with Alex Lifeson's Q107 interview tend to indicate that the tour will take a retrospective look at Rush's 40-year career and include a good bit of older material that the band will alternate from night to night in some way. From Alex's interview:
... That's always a tough one. We've already gone through a couple of different setlist scenarios. We've been doing some editing. Dropping some stuff. We have an idea about how we want to approach it in terms of the whole show from front to back. We're working on these production ideas. It's gonna be really, really cool. We're gonna have a lot of fun with it, and I think our fans are gonna really, really like this little musical trip that we're planning. ...
There won't be any new material played, string section or opening band (they haven't had an opening band in over 20 years), and it sounds as if things will be stripped down a bit compared to other tours, with Neil not opting for a spinning kit or full V-drums setup this go-around. The tour also sounds like it will be very fan-focused - almost like a fan appreciation tour. Rush even requested fan photo submissions via Rush.com a couple of weeks ago to celebrate the band's 40th anniversary, with the assumption being that they'll be using these photos in some shape or form on the R40 Live tour (not confirmed). We can also probably safely assume that they will be taping the show at some point given that they've captured every tour since Vapor Trails for later release on DVD. They generally tend to tape shows towards the end of a tour, like to have an extra day of rest beforehand, and tend to tape a couple back-to-back shows - one show as backup and another as primary. This would make one of the west coast shows such as LA a very likely possibility (although the Toronto shows might work as well).
UPDATE - 4/8@5:48PM: Looks like Crankbunny's Instagram account is now private, so the links below no longer work.
Norma V. Toraya (aka Crankbunny) is an animator that has done some work for Rush on recent tours. It looks like she's also doing some work for the upcoming R40 tour judging by a few of her Instagram posts over the last several weeks (thanks Kelly D). She posted a couple of storyboard photos last month that looked like they might be Rush-related, along with this photo of some animation glyphs/notes. That latter photo contains some chicken scratch writing, and if you look closely you can see a few phrases such as Neil across and the word alex here and there. But a photo she posted this past Wednesday all but confirms she's doing work for Rush. That photo includes an #R40 hashtag, and shows a computer screen with some animation software running. There are a few movie (.mov) files listed where the filenames contain the words Geddy, Alex and Neil, and in the upper left of the photo is an audio file that might be giving away a potential song on the setlist. You can check out the photo on Instagram here (maybe potential SPOILER?).
Related Posts:
[Rush R40 Live 2015 tour rumor updates]
[Rush R40 Live 2015 tour ticket sales and pre-sales update]
[Rush R40 Live 2015 tour pre-sales round 2 open thread]
[Rush R40 Live 2015 tour ticket sales and pre-sales update]
[Rush R40 Live 2015 tour pre-sales open thread]
[Rush R40 Live 2015 tour official announcement!]