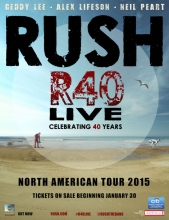 As the R40 Live tour draws near (just 2 months away!), the inevitable rumors are starting to swirl about the possibility of Rush adding more dates to the 35 North American shows they already have lined up. While Europe and South America seem to be a long-shot at this point, promoters on both continents seem to be actively courting the band to come there. The rumors I've been hearing include a few European festivals in the latter part of summer, and/or a September/October run of dates in South America. These kinds of rumors tend to pop up every time Rush tours, regardless of whether the band is realistically considering fitting these into their schedule or not. Promoters are often overly zealous and optimistic about the prospects of the band coming to their neck of the woods (especially in South America), so I'm still very skeptical at this point, although anything could happen I suppose. That said, there are also rumors about the band adding a few more shows to the North American leg. These sound a bit more plausible based on what was said in some recent interviews. In Alex Lifeson's Q107 interview back in late January, he was specifically asked about the omission of Cleveland from the tour itinerary and had the following to say at about the 11-minute mark:
... You know - we're still working on some things ... we're still trying to massage a couple of things. So we'll see what happens in the next little while ... the couple of omissions that are unfortunately present at this time - we're still working on it. ...
Also, Donna Halper was interviewed for the Rushcast podcast last month and was asked the same question. At about the 14-minute mark of the interview she mentions that she had spoken with Rush's management and that they had tried to fit Cleveland into the schedule but couldn't due to logistics. She then went on to say:
... they are still trying to get a date together for Cleveland. They are still working on it. ... the story isn't over yet. ...
I'm guessing that if they do decide to add dates, it would be more than just Cleveland (Pittsburgh, Milwaukee, etc.?). This all sounds promising, but the only aspect of adding dates that gives me pause is how they would fit them into the current schedule. Rush has followed a strict pattern for recent tours of playing a dozen-ish shows with at least one day in between, 10-ish days off, another dozen-ish shows, etc. Adding any shows would mean breaking from this pattern unless they just add another leg in mid-August or possibly extend that last late-July leg. They could potentially shorten their breaks between legs as well, but back-to-back shows are extremely unlikely. Geddy mentioned in his That Metal Show interview a couple of weeks ago that each member of the band is currently rehearsing on their own, and that they'll be getting together for band rehearsals in April. Rumor also has it that the band is meeting in Toronto this week or next for some tour video filming, and will make a final decision on any additional dates then. Hopefully there will be some good news on that front soon! As far as the setlist goes, all three members of the band have been fairly tight-lipped outside of a few vague comments. Recent interviews with both Neil Peart and Alex Lifeson tend to indicate that the tour will take a retrospective look at Rush's 40-year career and include a good bit of older material that the band will alternate from night to night in some way. There also won't be any new material (unless they decide to surprise us!), string section or opening band (they haven't had an opening band in over 20 years). It also sounds as if things will be stripped down a bit compared to other tours, with Neil not opting for a spinning kit or full V-drums setup this go-around. We can also probably safely assume that they will be taping the show at some point given that they've captured every tour since Vapor Trails for later release on DVD. They generally tend to tape shows towards the end of a tour, and usually like to have an extra day of rest beforehand. They also usually tape a couple back-to-back shows - one show as backup and another as primary. Given all this, I'd speculate (I don't have any inside info) that they'd be taping one of the west coast shows with LA a very likely possibility (although the Toronto shows might work as well). If you haven't already done it, you can make your setlist requests for the tour at RushPetition.com. Rush is very aware of the Rush Petition site and have admitted to considering it when picking out setlists for past tours.
Related Posts:
[Rush R40 Live 2015 tour ticket sales and pre-sales update]
[Rush R40 Live 2015 tour pre-sales round 2 open thread]
[Rush R40 Live 2015 tour ticket sales and pre-sales update]
[Rush R40 Live 2015 tour pre-sales open thread]
[Rush R40 Live 2015 tour official announcement!]