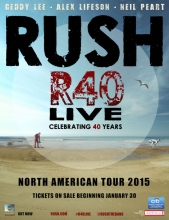 Rush's R40 Live tour kicks off in just 2 short months! Earlier this week I posted a roundup of all the latest rumors and information that we know so far, including the possibility of adding more dates to the 35 North American shows they already have lined up. While rumors of possibly adding a European and/or South American leg in the late summer/early fall are starting to surface, these seem unlikely and probably originated with overly optimistic/zealous promoters on the 2 respective continents. That said, there are also rumors about the band adding a few more shows to the North American leg. These sound a bit more plausible based on some recent interviews with both Alex Lifeson and Donna Halper. If they do decide to add some shows, the big question and what makes me still skeptical would be how they could fit them into the current schedule. Rush has followed a strict pattern for recent tours of playing a dozen-ish shows with at least one day in between, 10-ish days off, another dozen-ish shows, etc. Adding any shows would mean breaking from this pattern unless they just add another leg in mid-August or possibly extend that last late-July leg. They could potentially shorten their breaks between legs as well, but back-to-back shows are extremely unlikely. Geddy mentioned in his That Metal Show interview a couple of weeks ago that each member of the band is currently rehearsing on their own, and that they'll be getting together for band rehearsals in April. Rumor also has it that the band is meeting in Toronto this week or next for some tour video filming, and will make a final decision on any additional dates then. Hopefully there will be some good news on that front soon! As far as the setlist goes, all three members of the band have been fairly tight-lipped outside of a few vague comments. Recent interviews with both Neil Peart and Alex Lifeson tend to indicate that the tour will take a retrospective look at Rush's 40-year career and include a good bit of older material that the band will alternate from night to night in some way. There also won't be any new material (unless they decide to surprise us!), string section or opening band (they haven't had an opening band in over 20 years). It also sounds as if things will be stripped down a bit compared to other tours, with Neil not opting for a spinning kit or full V-drums setup this go-around. We can also probably safely assume that they will be taping the show at some point given that they've captured every tour since Vapor Trails for later release on DVD. They generally tend to tape shows towards the end of a tour, and usually like to have an extra day of rest beforehand. They also usually tape a couple back-to-back shows - one show as backup and another as primary. Given all this, I'd speculate (I don't have any inside info) that they'd be taping one of the west coast shows with LA a very likely possibility (although the Toronto shows might work as well). If you haven't already done it, you can make your setlist requests for the tour at RushPetition.com. Rush is very aware of the Rush Petition site and have admitted to considering it when picking out setlists for past tours.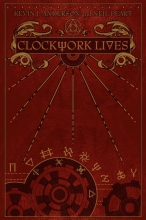 Last month ECW Press put out the official press release announcing Kevin J. Anderson and Neil Peart's new novel Clockwork Lives - the follow-up to their best-selling Clockwork Angels novel. The 304-page novel is due to release via ECW Press on September 15th. Yesterday Kevin J. Anderson revealed the novel's cover art via Twitter and a post at his blog:
... The cover art was created by Nick Robles, with design input from Kevin J. Anderson and Neil Peart, and hearkens back to an age of beautiful book making: each copy of the trade hardcover will have an oxblood leatherette cover with embossed gold stamping of gears and alchemy symbols. Nick Robles also created striking new line drawings to illustrate the featured "tales" in the book, so that this will be a remarkable and innovative volume to be placed proudly on any mantelpiece. ...
Clockwork Lives will feature minor characters from Clockwork Angels and expand on their stories. Anderson also posted a portion of the first chapter to his blog here, and a few weeks ago released a video of himself discussing the origins of the novel which you can view on YouTube at this location. He also discussed the novel at length along with his upcoming 2113 anthology of Rush-themed stories in his Rushcast podcast interview from earlier this week. You can pre-order your copy of Clockwork Lives at this location.
Rush will be the recipient of the 2015 Allan Waters Humanitarian Award at the 2015 Juno Gala Dinner & Awards ceremony next Saturday, March 14th in Hamilton, ON. The award recognizes outstanding Canadian artists whose contributions have positively enhanced the social fabric of Canada. You can read all the details including Rush's response to the news in the press release.
Throughout 2015 Rush will be releasing all of the Mercury-era Rush albums on vinyl along with a few select titles on Blu-ray audio. They are calling it the 12 Months of Rush, as they will be releasing one or two titles a month each month. They started with Fly By Night last month (Vinyl, Blu-ray Audio), and last Tuesday they released their vinyl reissue of Caress of Steel which you can order at this location. Next up after that are 2112 and All the World's a Stage 1 week from this coming Tuesday on March 17th. The 2112 vinyl reissue will be a special Hologram Edition as described in this Rush.com press release and seen in this 1-minute demo video. All titles will be reissued on high-quality vinyl with a 320kbps MP4 Digital Audio download code, with Fly By Night, A Farewell to Kings and Signals also having a Blu-ray Audio release. Fly By Night (Vinyl, Blu-ray Audio) and Caress of Steel are already available, and you can pre-order All the World's a Stage, 2112 and several of the other titles at the links below:
2112: Hologram Edition (03/17/15) - Vinyl
All the World's a Stage (03/17/15) - Vinyl
A Farewell to Kings (04/21/15) - Vinyl | Blu-ray Audio
Hemispheres (05/19/15) - Vinyl
Permanent Waves (06/16/15) - Vinyl
Moving Pictures (07/21/15) - Vinyl
Exit ... Stage Left (07/21/15) - Vinyl
Signals (08/18/15) - Vinyl | Blu-ray Audio
Grace Under Pressure (09/15/15) - Vinyl
Ultimate Classic Rock posted their list of the Top 100 '70s Rock Albums yesterday and 2 Rush albums made the cut - Fly By Night and 2112.

Just one week after the reappearance of Kreiger's Rush-themed van mural to the show in Episode 8 of Season 6, the latest episode of FX's Archer (Season 6, Episode 9 - Pocket Listing) has included yet another Rush reference. About a minute into the 2nd segment, Kreiger is sitting at a computer station with several monitors, one of which is displaying a large YYZ under what looks to be a screen titled KreigDOS v1.2. You can check out a screenshot here (thanks John W).
Bryan Schwartzman at The Jewish Daily Forward penned an article earlier this week explaining Why I'm Paying $120 To See Rush and how prog rock helped him grapple with the Holocaust
... I didn't get turned onto Rush until college, long after the band's heyday. At 19 or 20, I was moving away from the crazy idea that what I listened to defined who I was and that music was the only thing worth believing in. It was around this time that I began exploring Judaism, traveled to Israel, and truly internalized the truth that the world didn't begin with my birth and that what was written in the Torah several thousand years ago was at least as important as what Eddie Vedder and Kurt Cobain had to say. Still, Neal Peart's lyrics are always probing physical concepts such as the nature of reality as well as social constructs. Perhaps that is why I found solace in songs like "Freewill," "Closer to the Heart," "The Trees," and "Time Stand Still" at a time when I was grappling with Jewish observance, even considering whether I wanted to spend the rest of my life in America or Israel. ...
RollingStone.com's readers poll last week asked folks to come up with the 10 Best Rush Songs and - not surprisingly - at the top of the list was Tom Sawyer. 2112 came in at #2 with Limelight in the number 3 position. You can check out the entire list here.
Paul Gleason and his wife Katy wrote an article earlier this week for Stereo Embers magazine titled Learning to Love Prog from My ADHD/Hypersomniac Wife. In the article Katy describes how prog rock bands like Rush help her cope with her ADHD and idiopathic hypersomnia.
This review of the 2016 Mazda MX-5 Miata at Driver.ca contains a nice little Rush reference (thanks Adam):
... Buy one in a decade's time, when everyone's whirring to work in autonomous Audis, tapping away with noses buried in their iPhone 10s, and then carve up traffic with Rush's Red Barchetta cranked up to full blast. ...
Good advice when driving in ANY car really. :)
Tennis star Venus Williams was recently interviewed for Tennis Now magazine and was asked about her favorite Karaoke song:
TN: Reading your web site I was surprised to see one of your favorite karaoke songs was "Tom Sawyer" by Rush. That song probably came out before you were even born and is really demanding to sing. How did you get turned on to Tom Sawyer?

Venus: Yeah, Tom Sawyer was my favorite karaoke song from a couple of years ago. You know, that song works for me. It works for my pitch. When you get to karaoke, you've got to figure out what your pitch is and then go for it. I can't go too low. I'm a little bit better higher. Growing up, my parents had us listening to everything from all kind of genres. So I'm kind of open-minded toward all types of music.

Beloved Star Trek actor Leonard Nimoy passed away last Friday. While that news is not exactly Rush-related, Nimoy's final tweet reminded many Rush fans of one particular song from the band's Clockwork Angels album:
A life is like a garden. Perfect moments can be had, but not preserved, except in memory. LLAP
Not to end on a sad note, here's the R30 Overture from Rush's R30 DVD to help us get ready for the band's R40 Live tour:
That's all for this week. Live long and prosper.