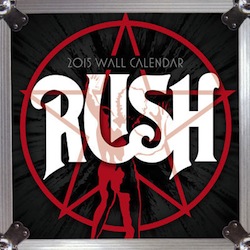 Since last year's Clockwork Angels tour came to a close and Rush embarked on a year-plus long break, there obviously hasn't been much in the way of Rush news to report outside of a few band member side projects (music projects from Alex and book projects from Neil) , some special Rush reissues (Rush ReDISCovered 40th anniversary LP set, Presto SACD, etc.), and the occasional award or public appearance. But now that Labor Day has passed us by and summer is coming to a close, Rush fans will hopefully begin to get some news regarding Rush's 2015 tour that Alex Lifeson assured us was being planned back in March of this year. There's not really any news yet, but I'd venture to guess that we should be hearing something within the next few months. Speaking of 2015, the official Rush 2015 wall calendar has been available for pre-order since way back in March, but finally started shipping from Amazon and other retailers last week. The calendar measures 12"x12" and features Rush's iconic Starman and Rush Explosion logos on the cover, along with 12 vintage Rush touring photos inside. John over at Cygnus-X1.net has scanned all the images from the calendar and made them available online here. You can order your copy of the calendar at this location.

Rush was one of the answers in this past Wednesday's mini-crossword puzzle in the New York Times mobile app. The 5-across clue was 2013 Rock and Roll Hall of Fame Inductees. You can check out a screenshot here (thanks Eric C).
Yahoo! Music posted their list of the Worst Album Covers of All Time last week and for some reason included Rush's Power Windows (thanks Steve L). Here's what they had to say:
A shirtless young boy who looks like Howard Jones is caught trying to use his television remote control to close a window. A window, it should be noted, that has no discernible "power." It's just an old house window. Somebody get this kid a more comfortable chair!
Uncle Joe Benson of 100.3 The Sound featured Rush for his The Story segment of his Uncle Joe's Rock & Roll Morning Show earlier this week. The segment included a snippet of a Geddy Lee interview (likely from an old episode of Uncle Joe's syndicated Off the Record program) where he briefly talks about the first concert he attended, which was Cream at Massey Hall in Toronto. They then play Limelight. You can listen to the segment online here (thanks John at Cygnus-X1.net).
The September issue of Guitar Player magazine includes a 10-plus page spread celebrating the 60th anniversary of the Fender Stratocaster. Included in the feature is a list of the 60 most iconic Strat songs, one of which is Rush's Limelight. The issue is currently available for sale on newsstands. Thanks to RushFanForever for the heads up.
80s glam rock parody band Steel Panther recently played a secret show under the name Jam Prancer at the World Famous Viper Room for the 21st Anniversary week of the venue on the Sunset Strip. At one point in the performance they joke about becoming a Rush tribute band and start playing The Spirit of Radio. They then go into a discussion about Geddy Lee being ugly. You can watch/listen to it on YouTube at this location (at about the 23-minute mark). Thanks to Facebook user Bob B for the heads up.
This coming week 3 Rush albums will celebrate anniversaries; on Monday Hold Your Fire turns 27, on Wednesday Test For Echo turns 18, and on Tuesday 1982's Signals celebrates its 32nd anniversary (it's also Neil Peart and Carrie Nuttall's 14th wedding anniversary). To celebrate the anniversary of Signals here's a 1000-piece Signals jigsaw puzzle to keep you occupied until Rush's next album comes out. You can purchase one for yourself here.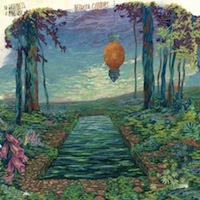 Earlier in the summer we learned that Alex Lifeson makes a guest appearance on Toronto-based folk rock trio The Wilderness of Manitoba's upcoming Between Colours album. The track that Alex plays on is titled Shift and you can give it a listen below or on SoundCloud at this location. Between Colours will be released on Pheromone Recordings in Canada on Tuesday, September 16. From Exclaim.ca
... the group's upcoming album was tracked at Revolution Recording in Toronto with producer Joe Dunphy (Skydiggers, By Divine Right, Elliott Brood). The album is said to be split into two five-song sections representing "day" and "night," and features guest appearances from Rush's Alex Lifeson and the Rheostatics' Michael Phillip Wojewoda, among others. ...
The band will be having an album release party at Lee's Palace on October 16th in Toronto, and will be embarking on a month-long Canadian tour in support of the album on September 19th.
In celebration of the 2014 NFL season kicking off this week, Ultimate Classic Rock is running a bracket-style contest among 16 fictional, band-themed football teams. Round one of the first-ever Hard Rock Football League championship pits ZZ Top's Texas Eliminators up against Rush's Toronto Rush. Rush is way out in front currently, but if you haven't already, go vote for Rush! I wonder if they realize that there's already a real Toronto Rush - although it's an Ultimate Disc League team rather than football. Speaking of the NFL football season kicking off, here's last year's ESPN Monday Night Football commercial featuring Peyton Manning and Rush's Tom Sawyer.
That's all for this week. Have a great weekend everybody!