UPDATE - 8/4@9:06PM: Reader RushFanForever sent a Facebook message to the band and learned that the track Alex Lifeson plays on is titled Shift.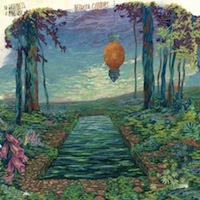 According to Exclaim.ca, Alex Lifeson makes a guest appearance on Toronto-based folk rock trio The Wilderness of Manitoba's upcoming Between Colours album. From the article:
... Between Colours will be out on September 16 on Pheromone Recordings. The album was laid down at Revolution Recording in Toronto with producer Joe Dunphy (Skydiggers, By Divine Right, Elliott Brood). Guests include Rush guitarist Alex Lifeson (who plays a guitar solo) and Rheostatics member Michael Phillip Wojewoda (who contributes theremin), plus a handful of drummers. The album is split into two distinct sides, with the first five songs representing "day" and back half representing "night." It's apparently an evolution from the band's past work, and a press release describes it like this: "The expanding instrumentation and layered guitar and synth effects combine to create one-listen pop hooks and adventurous sonic exploration." ...
The article includes the album art along with a track listing, but doesn't indicate what song Alex's guitar solo appears on. There's also a preview of the track Leave Someone over at SoundCloud.