UPDATE - 8/15@9:58AM: I've also learned from Keram that the other track Alex played on is Moving Dark Circles.
UPDATE - 8/14@4:03PM: Here's a great photo gallery from the event including several of Alex Lifeson.
UPDATE - 8/14@3:20PM: Here's some camera phone video of part of an Alex Lifeson guitar solo from the CD release party (thanks Asif K).
UPDATE - 8/14@10:16AM: Keram posted a recap of the CD release party to his blog this morning including another photo with Alex Lifeson in it (thanks RushFanForever).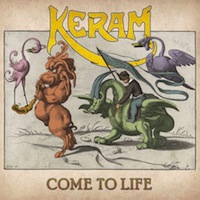 Canadian-born actor and musician Keram Malicki-Sanchez collaborated with Alex Lifeson and 20 other renowned artists over the past several years to create his Come to Life album. The album officially launched via a listening party in Toronto for Indiegogo contributors back in late May. An official CD release party was also held last night at the Supermarket Restaurant and Bar in Toronto and Alex Lifeson made a surprise guest appearance along with a few of the album's other contributors. You can see photos of the event on Keram's official Facebook page (thanks RushFanForever). The album is available for digital purchase via a number of outlets including iTunes, Amazon, Bandcamp, and eMusic; and physical copies can be purchased via Amazon or via CDBaby. In addition to playing guitar on the album, Alex Lifeson is also executive producer. Alex plays guitar on the 11-minute track The Devil Knows Me Well and also on Mary Magdalene, which you can listen to below or on YouTube at this location.
Related Posts:
[Keram's Come to Life album featuring Alex Lifeson now available]
[Keram Malicki-Sanchez unveils new track featuring Alex Lifeson from upcoming Come to Life album]
[Alex Lifeson guest appearance on Keram Malicki-Sanchez album Come to Life]