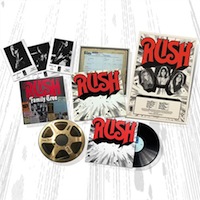 Rush celebrated the 40th anniversary of the release of their 1974 debut album with a special Rush ReDISCovered LP box set containing a re-mastered version of the album on 200g vinyl which released last week. First week sales of the release have propelled the album back into the Billboard 200 album charts where it currently sits at #127. You can get all the details regarding what's contained in the set by watching this promotional video and checking out the Rush.com press release. Also, John over at Cygnus-X1.net has transcribed/scanned the contents of the box set and made them available online (scans, liner notes). The band is running a Twitter contest through May 22nd where they'll be giving away a copy of the box set signed by Geddy Lee and Alex Lifeson. For all the contest details and how you can enter, just visit this location. And MusicVaultz is also giving away a copy of the box set with this Rush Trivia Contest for Canadian residents. In celebration of the release I'm asking everyone what their favorite track off the debut album is. Take the poll and let us know! If you haven't already, you can order your copy of Rush ReDISCovered here.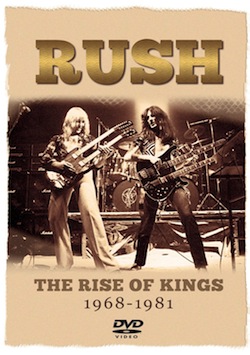 The new unofficial Rush documentary Rush: The Rise Of Kings (1968-1981) released this past Tuesday in North America. Here's a short description of the 2-hour DVD from the Amazon editorial review:
...This film traces the history of Rush from the bar rooms of Toronto in the late 1960s to the world's largest arenas in the late 70s and early 1980s, by which time they were amongst the biggest bands on the planet. Through a stunning combination of rare and classic footage, the testimony of friends, colleagues and those who worked with the group across the years, plus exclusive and archive interviews and a host of other features, this programme makes the very unique history of Rush come alive in a manner previously undocumented.
John over at Cygnus-X1.net transcribed/scanned the liner notes earlier this week and made them available online (liner notes, scans). From the liner notes it looks like the list of people interviewed were Alan Cross, Ian Grandy, Jerry Ewing, Martin Popoff, Neg Raggett and Paul Northfield. A 3-minute video preview is also available and can be seen at this link. You can order you copy of the documentary here.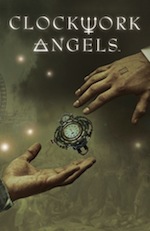 The second of six issues of the graphic novel version of Clockwork Angels was released last week. In addition to the standard cover that will be available in comic and book stores, there is an exclusive, limited edition cover available via BOOM! Studios and the Rush Backstage Club. The first issue of the graphic novel was released back on March 19th and there were a number of different covers and subscription options made available as described in this post. Assuming a release schedule of one issue every 6 weeks, issue 3 should be out on June 11th.
Speaking of Clockwork Angels, the paperback edition of Clockwork Angels: The Novel will be available this coming Tuesday, May 13th with a new Headlong Flight cover by Hugh Syme, and can be pre-ordered here.
Rush is up against Judas Priest in Ultimate Classic Rock's Hall of Fame contest. Voting for this round is open through this Sunday, May 11th so go vote for Rush! And Consequence of Sound is running a bracket poll to determine the Greatest Drummer of All Time and Neil Peart has made it into the 2nd round where he's up against one of his idols - Keith Moon. To place your vote just visit this location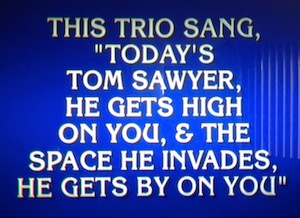 One of the answers in the We're a North American Band category on this past Monday night's episode of the American quiz show Jeopardy! made reference to Rush's Tom Sawyer:
This trio sang, "Today's Tom Sawyer he gets high on you, & the space he invades, he gets by on you"
The question was - of course - What is Rush?. Here's a video clip of the Rush reference segment that was uploaded to Facebook. There have been several Rush-related questions on the show in recent years. This is the first one of 2014, but there were three just last year; one back on July 16th, another back on April 8th used a Geddy Lee reference, and on March 1, 2013 a Neil Peart reference was used. Rush was also referenced on the show back in February of 2011.
Speaking of Rush TV references, there was a minor Rush reference on last week's episode of The CW's Supernatural (Season 9, Episode 20 - Bloodlines). In the episode Sam and Dean identify themselves as FBI agents Bonham and Peart. There have been several other Rush references on the show over the years, as detailed here. Thanks to Eric at Power Windows for the heads up.
Foo Fighters drummer Taylor Hawkins was recently interviewed by Canoe to discuss his new side project The Birds of Satan and their self-titled EP which released a few weeks ago. The band's prog-meets-hard-rock sound was inspired by the likes of Queen, Aerosmith and Rush. When asked about what makes him such a huge Rush fan here's what Hawkins had to say:
I love all of them. (Bassist) Geddy Lee, he's a bad motherf-er. He comes off as this kind of quiet guy. Oh, my God, you get into a corner with that guy, he is so funny and he's a smartass and he's a bad ass. He's a motherf-er, one of the funniest goofiest guys in the world, he really is, and obviously a brilliant bass player, and they're just a great f-ing true rock and roll band and I love them. I've always loved them. And I owe them so much. And obviously you will hear a lot of Rush on my record. It comes right out of the gate kind of like a Rush album.
You can read the entire interview online here and learn more about The Birds of Satan at thebirdsofsatan.com.

A one day celebration of Rush and their 40th anniversary will be taking place at the Dreadnought Rock club in Scotland next Saturday, May 17th. Rushfest Scotland will consist of a full day of Rush-themed events culminating in a 2-hour set from Scotland's premier Rush tribute band Moving Pictures. For all of the details visit the website or follow them on Facebook.
This past Wednesday, May 7th was dubbed World Password Day by Intel Security to help raise awareness of the dangers of insecure passwords. The infamous favorite bad password of Rush fans was mentioned in this Popular Mechanics article discussing the holiday:
... The backers even created a Space Invaders-style game called Password Blaster in which you can zap bad passwords like "pass," "dylan," or "2112" (are you there, Rush fans?) by typing them. ...
Kevin Williams over at Progarchy.com posted an article last week describing the importance of Rush's Tom Sawyer and the Moving Pictures album in shaping his love of music. The article is titled The Beginning of a Beautiful Friendship - Rush's Tom Sawyer and Moving Pictures, and you can check it out online here (thanks Bryan M).
Music Times posted an article earlier this week where they list 5 Bands Who Hit Their Stride After Adding a New Member. Coming in at #3 on thier list was Rush:
Though Rush's line-up has remained the core power trio of Geddy Lee, Alex Lifeson, and Neil Peart for 40 years, Peart wasn't a member of the band for its first six years. The band's eponymous debut featured drummer John Rutsey, and though the album features fan favorite "Working Man," it's a relatively straightforward and forgettable hard rock album. It wasn't until Neil Peart replaced Rutsey in 1974 that Rush's music took on its progressive shape that led the band to success.
Former Skid Row frontman Sebastian Bach was interviewed on a recent edition of The Metal Gods rock show and brought up Neil Peart when discussing his upcoming autobiography:
... I would like it to be a positive, uplifting book. When I read page after page after page of how wasted and f**ed up and drunk or high some guy got ... it becomes sad to me; it's not glamorous or interesting. ... there'll be some of that in my book, obviously. But anybody can be drunk, anybody can be a junkie. Nobody can play the drums like Neil Peart from RUSH. That's interesting, that's something that's remarkable and rare. And when I read a book by Neil Peart, it's not the lowest common denominator, like the dreads of society or the worst things that you can think of. Actually, the opposite of that; it's the most positive things that he [chooses] to put down on a page. ...
Here's the 3-minute promotional video for the Rush: The Rise of Kings documentary: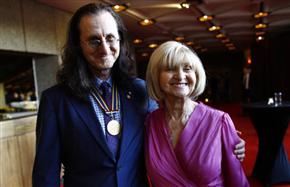 That's all for this week. Have a great weekend! And a BIG happy Mother's Day to all the Rush fan moms out there, and the Rush moms themselves; Mary Weinrib, Melanija Zivojinovich and Betty Peart.