UPDATE - 5/7@10:59AM: John over at Cygnus-X1.net has transcribed/scanned the liner notes and made them available online (liner notes, scans). From the liner notes it looks like the list of people interviewed are Alan Cross, Ian Grandy, Jerry Ewing, Martin Popoff, Neg Raggett and Paul Northfield.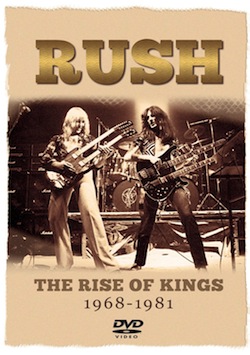 The new unofficial Rush documentary Rush: The Rise Of Kings (1968-1981) releases today in North America. Here's a short description of the 2-hour DVD from the Amazon editorial review:
...This film traces the history of Rush from the bar rooms of Toronto in the late 1960s to the world's largest arenas in the late 70s and early 1980s, by which time they were amongst the biggest bands on the planet. Through a stunning combination of rare and classic footage, the testimony of friends, colleagues and those who worked with the group across the years, plus exclusive and archive interviews and a host of other features, this programme makes the very unique history of Rush come alive in a manner previously undocumented.
A 3-minute video preview is also available and can be seen below or at this link. You can order you copy of the documentary at here.