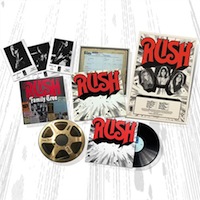 UPDATE - 5/1@12:16PM: Here are some comments from Geddy Lee regarding the debut album that were sent out with the Rush.com newsletter announcing the release Tuesday:
"There are so many memories associated with the re-release of our very first album that one hardly knows where to begin. Like most first albums, it is sort of a miracle that it came into being at all. We originally recorded most of the songs in a studio in downtown Toronto, between the hours of 2 a.m. until 8 a.m. AFTER we had finished playing 5 sets a night at a local rock club. You can imagine the logistics of that.. good thing that we were so.. er... resilient!

We managed to record an album's worth of material in a matter of days and the engineer who worked with us then mixed the entire record in one evening. After the club date ended we came in to hear the final mix and we were crushed with disappointment, it sounded so ..well... polite .... nothing at all like the way we sounded live and not at all what we wanted. He simply did not understand us. So the next day we ran to our manager for help and we were directed to an ex-pat British engineer and producer named Terry Brown.

We met with Terry and instantly felt we were on better footing. After he had come to hear us play live, he suggested that we come to his studio, Toronto Sound, and re-record many of the overdubs and record a few of the "newer" songs that we had written and then re-mix the rest. It wasn't perfect but it sounded sooo much better and more importantly it sounded like us! Terry saved the album.. no question about that! It began a very happy collaboration between us that endured until 1981 after we had completed the Signals album."

- Geddy Lee on the making of Rush self-titled debut album
----- snip -----
Rush is celebrating the 40th anniversary of the release of their 1974 debut album with a special Rush ReDISCovered LP box set containing a re-mastered version of the album on 200g vinyl which releases today in North America. You can get all the details regarding what's contained in the set by watching this promotional video and checking out the Rush.com press release. Last week the band announced a Twitter contest where they'll be giving away a copy of the box set signed by Geddy Lee and Alex Lifeson. For all the contest details and how you can enter, just visit this location. And MusicVaultz is also giving away a copy of the box set with a Rush Trivia Contest for Canadian residents. In celebration of the release I'm asking everyone what their favorite track off the debut album is. Take the poll and let us know! If you haven't already, you can order your copy of Rush ReDISCovered here.
Related Posts:
[Rush ReDISCovered debut album LP box set release delayed]
[Geddy Lee on Rush's debut album in new Radio.com interview]
[Rush ReDISCovered debut album LP box set coming in April]
[Rush debut album 40th anniversary re-issue coming in 2014]