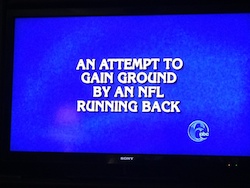 One of the answers in the Also a 4-Letter Band category on tonight's episode of the American quiz show Jeopardy! made reference to Rush:
An attempt to gain ground by an NFL running back
The question of course was - What is a Rush?. This is the 3rd Rush-related answer to appear on the show this year. Back on April 8th the show used a Geddy Lee reference, and back on March 1st a Neil Peart reference was used. Rush was also referenced on the show back in February of 2011. Thanks to CheeseCorn for the heads up and Tim B for the screenshot.