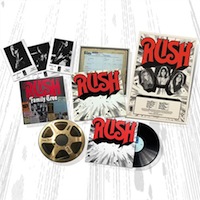 Rush will be celebrating the 40th anniversary of the release of their 1974 debut album with a special Rush ReDISCovered LP box set containing a re-mastered version of the album on 200g vinyl, which is due for release one week from this coming Tuesday on April 15th. You can get all the details in the Rush.com press release and pre-order your copy at this location. The band released a 40-second promo video via YouTube last week which you can check out here. On a related note, a couple of weeks ago Alex Lifeson announced via a Rolling Stone interview that the band is planning some kind of anniversary tour in 2015. Alex didn't reveal many details but did mention that they want to "try and play different material this time", and that he's "always wanted to do some rarer Rush material, and this should be a good opportunity to do that". He also anticipates that it will be a "long tour".
Guitarist John Wesley's latest album Disconnect released earlier this week and Rush's Alex Lifeson makes a guest appearance, playing a guitar solo on the track Once a Warrior. 30-second previews of all the tracks on the album are available for listening online here and the entire album can be streamed on Spotify at this location. The official music video for the title track can be seen at this location. Thaddeus Wert at Progarchy.com calls the album his favorite of 2014 so far in his review which you can check out here. Wesley was interviewed for both The Prog Report and the Huffington Post early last month and in both interviews spoke a bit about the album, Porcupine Tree and working with Alex Lifeson. At one point in the Prog Report interview Wesley talks about how he and Porcupine Tree frontman Steven Wilson connected through Rush's music, and how much Alex Lifeson's guitar sound influenced Porcupine Tree's sound on their last few albums (at about the 9-minute mark):
... there was this heavy guitar element to Porcupine Tree that was coming out. I hate to say it but we have to give credit to Alex Lifeson for that. It was kind of a weird sub-conscious thing ...
Later in the interview (at the 16:45 mark) Wesley talks at length about how Alex Lifeson came to appear on Disconnect, and calls his solo on Once a Warrior "classic Alex". You can listen to the entire interview online at this location and order your copy of Disconnect at here.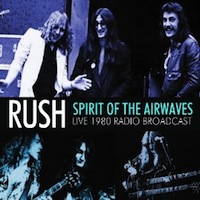 A live radio broadcast recording of a February, 1980 Rush concert titled Spirit of the Airwaves was released on CD in Europe last month, with a vinyl version also slated for release. It was recorded over a series of shows in mid-February of 1980 at the Kiel Auditorium in St. Louis during the Permanent Waves tour. The vinyl version was originally slated for release on April 1st but seems to have been delayed. The status of the CD is also unclear, as it looks like most retailers no longer have it in stock or are listing it as on backorder. Amazon in the US and Canada had been listing the CD, and even shipped several copies, but now list it as unavailable. The release has actually already been available for digital download in Europe since December 9th and can currently be purchased on iTunes and other digital music providers there (but not in the US/Canada). This unofficial release is similar to the Rush ABC 1974 live CD from a few years back, and is essentially a packaged release of a bootleg that's been around for many years; namely the St. Louis '80 bootleg that was sourced from a direct A/D transfer of the original 2LP (4-sided) record set provided to radio stations for broadcast.
Matt Kibbe, CEO of FreedomWorks, was a guest on NPR's Weekend Edition this past Sunday to talk about his new book Don't Hurt People and Don't Take Their Stuff. A snippet of Rush's 2112 was played for the segment when Kibbe described how Rush helped him find his libertarian voice. Here's an excerpt from the show's transcript (thanks Snow Cat):
Matt Kibbe was just 13 when he fell under the spell of a certain rock band.

MATT KIBBE: Well, I was listening to a lot of Led Zeppelin, but it was the band Rush really got me starting to read and pay attention to ideas.

MARTIN: On the Rush album, "2112," the band sings of a futuristic society, in which thought and expression are controlled by a top-down autocracy.

(SOUNDBITE OF SONG, "2112 OVERTURE/THE TEMPLES OF SYRINX")

MARTIN: Now, many years later, you could say Matt Kibbe has turned those early teenage notions into a career. He's the head of FreedomWorks, the grassroots organization that helped launch the Tea Party. His latest book is called "Don't Hurt People and Don't Take Their Stuff: A Libertarian Manifesto." ...
A few years ago I first let you know about a group of Rush fans that had organized a YouTube channel dedicated to the legendary Le Studio in Morin Heights, Quebec where Rush recorded several albums including Permanent Waves and Moving Pictures. The idea of the channel was to collect videos and news stories about Le Studio and help keep fans updated on any revitalization efforts, with the eventual goal of creating some kind of documentary. After a long period of silence, the channel has finally posted an update explaining the project's current status including when the documentary may see the light of day. You can check it out on the Le Studio YouTube channel here (thanks HighFidelityRob).

Eric at Power Windows reported earlier this week that
page 71 of the 2014 Zippo lighter catalog includes two official Rush lighters with a retail price of $30.95 each. One lighter has the album cover from Vapor Trails, and the other has a Hemispheres-era group shot of the band. Unfortunately, the lighters were included in the catalog by mistake and aren't actually available. Apparently the licensing agreement fell through before going into production but after the catalog had gone to print.
The Spokane Arena in Washington state ran a Facebook promotion over the last several weeks where they asked the people of Spokane to tell them what sort of live entertainment they would like to see play the Arena. They posted the results earlier this week and Rush ended up at #20 on their list as shown here (thanks RushFanForever).
Canoe posted an article yesterday on the most annoying concert behaviours and Rush gets a mention (thanks ou812112):
Bladder blather Speaking of bathrooms, you can always tell the male or female dominance of an artist by the length of the bathroom lineup. Here's a tip for venues -- if you're booking Rush or a band of that ilk, please re-purpose the ladies bathroom. I haven't left you out ladies -- same should go for any Justin Bieber or Robin Thicke concert.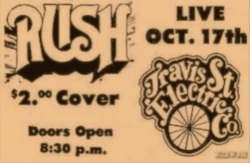 This past Wednesday Eric over at Power Windows dug up this rare, early Rush radio interview from 1974 that had been posted to YouTube this past summer. It was recorded on October 17th, 1974 backstage at a club called the Travis Street Electric Co. in Dallas, TX. Neil had joined the band just a few months prior to the interview. You can listen to the 6-minute interview below or on YouTube here:
That's all for this week. I hope everyone enjoyed my little April Fools joke earlier this week! Have a great weekend everyone!