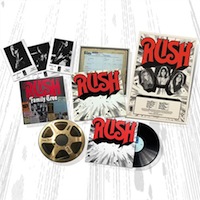 Today is the first day of March - the month that marks the 40th anniversary of the Moon Records release of Rush's debut album. The album was re-released on Mercury Records the following summer. Back in December we learned that Rush would be celebrating the anniversary with some kind of re-issue of the album, but little was known about the release until just today. On April 15th Rush will be releasing a special Rush ReDISCovered LP box set to celebrate the album's anniversary. From the Rush Backstage Club:
... This release features their debut vinyl album re-mastered with impeccable care at Abbey Road studios by Sean Magee, who has been previously responsible for all recent Beatles vinyl re-masters. The Re-discovered vinyl is encased in a 12 x 12 high quality box. Pressed on audio-phile 200 gram vinyl on the Direct Metal Mastering process, this is the highest quality vinyl currently available. This release contains a re-production of the original 1974 Canadian retail poster (only 500 were ever originally printed) and individual Moon Records publicity photos of Geddy Lee, Alex Lifeson & original drummer John Rutsey. This release also contains a first time ever Rush Family Tree, tracing origins of the band dating back to 1965 and a memorabilia collage of early Canadian and US gig ads, reviews, photos and the first ever Rush bio. ...
You can check out a photo of the box set contents here and pre-order your copy at this location. Thanks to robertrobyn for the heads up.