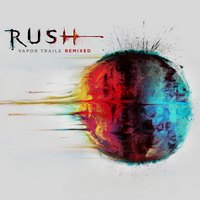 As I'd mentioned in last week's Friday updates post, September was a HUGE month for Rush releases. A Farewell to Kings (1977) and Caress of Steel (1975) were both September releases, and just this past week Hold Your Fire (September 8, 1987), Signals (September 9, 1982), and Test for Echo (September 10, 1996) all celebrated anniversaries. Neil Peart and his wife Carrie Nuttall also celebrated an anniversary this past week; they were married back on September 9, 2000. And the big event of the past week was Neil Peart's 61st birthday yesterday. We are still awaiting the release of Audio Fidelity's SACD (Super Audio CD) version of Rush's Hemispheres, which had been originally scheduled for release on September 3rd. Most retailers are now listing the release date as October 1st, and you can order your copy here. The long-awaited Vapor Trails remix had also been scheduled for an October 1st release, but it now looks like we'll be getting it a day early on September 30th, although the Rush: The Studio Albums 1989-2007 box set is still coming out on October 1st. Earlier this week Amazon Europe posted some 30-second sample clips of the album online here (the clips are not available at Amazon in North America or the UK). Although the clips are just 30-second, mp3-quality snippets, you can definitely hear the difference from the original recordings. Here are Geddy Lee's comments about the remix from Rush.com:
... "Vapor Trails was an album made under difficult and emotional circumstances - sort of like Rush learning how to be Rush again - and as a result, mistakes were made that we have longed to correct. David Bottrill's remixes have finally brought some justice and clarity to this deserving body of our work," says Geddy Lee. "Every song has been given a new life, from the fire of 'One Little Victory,' 'Secret Touch,' and 'Ceiling Unlimited' to the melodic musicality of 'Sweet Miracle' and 'How It Is'... these songs have been redeemed. Thank you David!" ...
The David that Geddy refers to in the Rush.com post is Grammy-winning Canadian producer David Bottrill. You can pre-order the Vapor Trails remix at this location, and the Atlantic-era The Studio Albums 1989-2007 box set here. You can also pre-order the double LP 180g vinyl version of Vapor Trails here.
Another highly-anticipated upcoming Rush release is the Clockwork Angels concert video, which should see the light of day at some point closer to the Holidays, although the band still hasn't announced any official release date. The video is being produced by Fadoo Productions and earlier this summer we learned from the company's CEO Bob McCown that the video will likely premiere on HBO at some point this fall with the DVD/Blu-ray release following shortly thereafter. A 2-minute trailer for the film was mistakenly posted online back in June and is still floating around the internet.
Speaking of Clockwork Angels, Kevin J. Anderson's novelization of the album was released a year ago last week on September 4th. The Rush Backstage Club has launched a new contest where you could win a signed copy of the novel. For all the details and to enter just go to this location.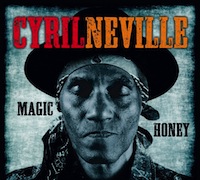 Cyril Neville is the youngest member of the Neville Brothers - the legendary first family of New Orleans R&B. Neville released a new solo album earlier this week titled Magic Honey which includes a bluesey cover version of Rush's Working Man. You can listen to a 30-second sample of the track on YouTube at this location, and order your copy of Magic Honey here. The album is available on iTunes as well, and you can also purchase the Working Man track individually for download here.
Speaking of Rush covers, Canadian folk musician Jacob Moon recently announced a few weeks ago that he is working on a new CD titled Fascination which will include covers of Rush's Limelight and Subdivisions. It'll also include covers of songs from Yes, Marillion, Radiohead and Peter Gabriel, along with two new original songs. He also launched a RocketHub campaign to fund the project and he's already reached his goal (thanks RushFanForever). In his latest RocketHub update from earlier this week he announced that he'll soon be entering the studio with the David Barrett Trio to record Limelight and should have some photos and rough mixes to share with us soon. Jacob Moon garnered the attention of Rush and their fans when he posted a YouTube video of himself performing an impressive rooftop solo rendition of Rush's Subdivisions a few years ago. The video quickly went viral, and Rush later asked Jacob to perform the song at their Canadian Songwriters Hall of Fame induction ceremony back in March of 2010.

Early last month a new book project with the working title Rush Fan Stories kicked off with the launch of a website at RushFanStories.com and a Rush fan survey. The project aims to publish a Rush book with the primary focus being on Rush fans and their stories. Over the last month the project has collected hundreds of surveys from Rush fans the world over. They've also launched a Facebook page and have lined up the perfect person to write the book's foreword. From an update posted to the Rush Fan Stories website earlier this week:
... The biggest news to report is that Donna Halper has agreed to write the Foreword! Donna is credited for discovering Rush and was instrumental in helping them get their first record deal. Rush Fan Stories will be a better book because of Donna, considered by many to be Rush's #1 fan. ...
The update also includes a report on the results of the survey so far and more information on how you can help contribute to the project. For all the details be sure to visit the RushFanStories.com website and follow them on Facebook.
Author and music journalist Martin Popoff's new illustrative history of Rush titled Rush: The Illustrated History was released back in May. Popoff made an appearance to meet fans and sign copies of the book at the Indigo Eaton Centre in Toronto on this past Saturday, September 7th. To order your copy of Rush: The Unauthorized Illustrated History via Amazon, go to this location.
Rush was featured in an MSN Entertainment article from earlier last month titled Rock's long-haul truckers, where they featured a photo gallery of bands with decades-spanning careers (thanks ou812112). What they had to say about Rush will likely piss off a few female Rush fans that I know:
Ask a woman - any woman - her thoughts on Toronto's prog-rock pioneers and she'll look at you as if you had two heads. Rush is a guy's band and has been since time immemorial which is roughly when the trio launched (actually 1968 but you take our point). Yet the very things that have failed to ingratiate Rush with the ladies - no hunky members, protracted drum solos, wonky sci-fi lyrics and serious, heads-down musicianship - is precisely what has enthralled the guys year after year. You can bet Rush ain't complaining as they make their way to the bank.
Our good friend John over at Cygnus-X1.net was interviewed earlier this week by Rich Castle of Deathscream.net. John discusses Cygnus-X1.net and how it came about, how he became a fan, his favorite Rush albums, the Spirit of Rush fanzine and more. The interview runs for about an hour and you can check it out online here. Speaking of John and The Spirit of Rush, he has added issue #12 of the fanzine to the archive, and also recently posted some great old photos from Rush's appearance at the PinkPop Festival back in 1979.
Reader stergios2112 let me know about a Rush reference in the Making of Death Magnetic video from Metallica, which documents the recording of the band's 2008 album Death Magnetic. The full movie is available for viewing on YouTube and at the 1:09:14 mark singer James Hetfield is attempting to sing a high note and remarks, "We should get Geddy Lee in here." You can watch it online here.
Dream Theater's John Petrucci was recently interviewed for MusicRadar.com to discuss the band's new self-titled album track-by-track, and mentions Rush when discussing the track Looking Glass (thanks Setlist Scotty):
"The song is definitely a tip of the hat to Rush. We're such fans - they've been a huge influence on us, and we continue to admire and look up to them. One of the great things about them is how they write really uplifting songs with positive messages, but they always sound cool.

"It's really interesting. The Spirit Of Radio, Limelight - those are big, big songs with big arena-rock riffs in a major key. Even Free Will has that. The songs aren't dark, but they're tough. It's really hard to write something that can cut both ways like that, but that was my goal.

"The Looking Glass has a few different stylistic changes: There's the Rush arena-rock major riff, but the verses are tricky as far as time signatures, and the style is a little darker. The pre-choruses are very pretty and flowing - they're in half-time - and the choruses open up and get really hooky. From verse to pre-chorus to chorus to riff, you've got a lot of musical styles, and that helps to keep things interesting."
Dream Theater's self-titled album releases on Tuesday, September 24th and can be pre-ordered here.
As I'd mentioned at the beginning of the post, yesterday Neil Peart turned 61 years old. 48 years before that on September 12, 1965 Neil turned 13, and on his birthday that year his parents bought him a pair of drum sticks, a practice pad and some drum lessons with Don George at the Peninsula Conservatory of Music. Neil spoke about Don in a news update at NeilPeart.net last year. He mentioned how he took lessons with Don for 1 year and then hadn't seen him since up until the band's show in Toronto last year on October 14th where the above photo was taken. Don was recently interviewed for Drum Talk TV and discusses some of his collection of materials dating back to 1923, as well as demonstrates and talks about his magic formula for teaching drums to all ages. He also talks a little about his most famous student - Neil Peart. The interview was filmed with an in-studio audience and it can be viewed on YouTube at this location.
To celebrate Neil Peart's birthday, Ultimate Classic Rock posted their list of the Top 10 Neil Peart Rush Songs ... whatever that means (thanks ou812112).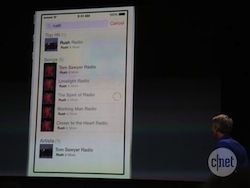 This past Tuesday Apple Inc. held a live event where they introduced the new iPhone 5s and 5c. They also demonstrated several of the new features of iOS 7. It was live-blogged on CNET.com, and at about 1:15PM when Apple senior vice president of Software Engineering Craig Federighi was demonstrating to the audience how to make an iTunes radio station, they used Rush as their example! They mentioned that they were going to show (via creating a Rush radio station) how to get a pure dose of awesome. The CNET liveblogger also remarked that, "Never have I heard so much applause for Rush!" You can see a photo of the Rush reference here and watch some YouTube video below or at this location.
This coming Wednesday, September 18th marks a very important day in Rush history. On that day back in 1968 - 45 years ago - the initial incarnation of Rush played their first paid gig at The Coff-In coffeehouse located in the basement of an Anglican Church in Toronto. Have a great weekend everybody!