UPDATE - 9/5@9:31AM: John has just added issue #11 to the archive.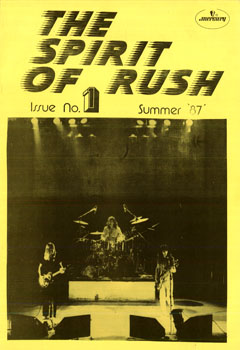 The Spirit of Rush was a quarterly, pre-internet Rush fanzine that was published starting in 1987 up through its untimely demise in 2002. It was the brainchild of British Rush fan Michael "Mick" Burnett, who tragically passed away on July 31, 2002 of a heart attack. John over at Cygnus-X1.net with the help of former contributors and co-editors of the fanzine has created an archive of back issues of the Spirit of Rush and made them available online here. Here's John explaining the origins of the fanzine and his plans for the archive:
... In the pre-internet age, Mick was essentially creating the ultimate Rush fan site through his quarterly magazine - and fans and the band quickly took notice. Out of the humble beginnings in 1987, the Spirit of Rush grew in popularity year after year, expanding its reach well outside of Europe to all four corners of the globe. As Rush progressed through the late 1980's into the 1990's, so too did the Spirit of Rush. ... In August of 2002, after publishing over 60 issues since that fateful summer in 1987, tragedy struck the fanzine. The editor and founder of the Spirit of Rush, Mick Burnett, passed away suddenly after suffering a heart attack. Just a month later, Mick was celebrated and remembered during a Rush convention in England - one that was essentially sponsored by the fanzine. Following the 63rd issue of the fanzine, one that was dedicated to Mick, a final issue was released after which the Spirit of Rush closed its doors forever. ... With the help and blessing from both Monica Zimmerman, a former contributor to the Spirit of Rush, and Janet Balmer, one of the co-editors of the fanzine, this site will now host an archive of all of the issues of the fanzine. Each issue will be carefully scanned and presented on individual pages for all to enjoy. To start off this new section of Cygnus-X1, the first ten issues of the Spirit of Rush are available below. New issues will be posted on a weekly basis in chronological order. ...
This archive is a treasure trove of information and a great glimpse into the pre-internet days of Rush fandom. It's something that I think every Rush fan will definitely want to check out. A big thanks to John and everyone involved in putting this archive together. You can check out the first 10 issues of the archive here with more to come over the coming weeks/months.